Union Minister Kiren Rijiju called the Delhi Golf Club incident a 'clear case of racial discrimination', where a woman from Meghalaya wearing a traditional Khasi attire was asked to leave a dining room because she appeared like a 'maid' to club staff. "It was a clear case of racial discrimination. Such an elitist mindset of some people will destroy the social fabric of the country," he said. Speaking to the media, Rijiju said no one had the right to judge a person by his or her attire.
He also said that he asked Delhi Police Commissioner Amulya Patnaik to take appropriate action with regards to the incident that occurred on June 25. Rijiju added that he would speak to the Urban Development Ministry with regards to the same. Meghalaya Chief Minister Mukul Sangma had earlier spoken about the incident and discussed it with Rijiju.
"I urge the Home Ministry to take cognizance of Delhi Golf Club incident and direct Delhi Police to register a Suo Moto case, and investigate it," Meghalaya CM Sangma was quoted as saying by ANI. He also said that incidents like these would have an impact on the "inclusive character" of the nation.
READ | Delhi Golf Club says Meghalaya woman's ouster was 'unfortunate' and being given political overtones
On Sunday, Tailin Lyngdoh, a woman from Meghalaya, was allegedly asked to leave the dining room in the Delhi Golf Club because staff members believed that her traditional outfit looked like a "maid's uniform", her employer Nivedita Barthakur Sondhi was quoted as saying to PTI.
Following that, the club issued a statement on Tuesday addressed to the club member who had invited Sondhi and her son's governess, Lyngdoh, to lunch and apologised for the incident. However, in the statement the Delhi Golf Club said the incident was being given a "political and cultural overtone". In its statement, the Delhi Golf Club also said that the apology was "unconditionally accepted" adding that the club management had immediately investigated the incident. The club added it was confirmed that the guests were not asked to leave the premises.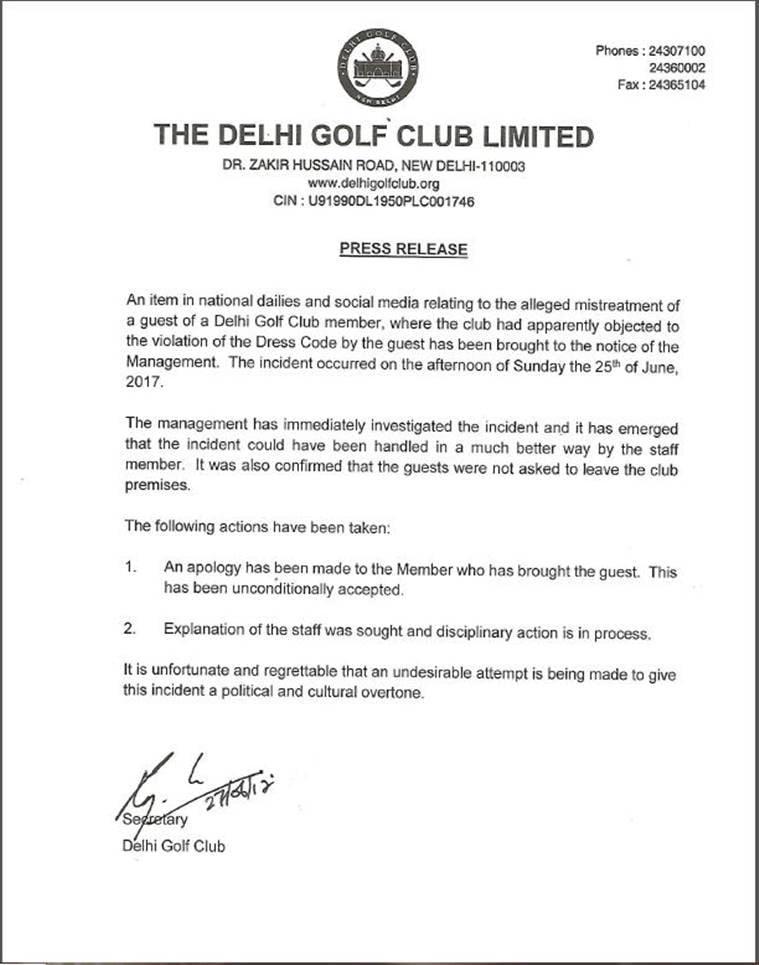 Responding to its statement, Rijiju said there was "no point issuing a statement" and that the club must accept it was wrong and act accordingly.
READ | Khasi woman says told to leave Delhi Golf Club over attire
According to the guest Nivedita Barthakur Sondhi, Lyngdoh, who was wearing a jainsem, a traditional Khasi outfit, was asked to leave by two staffers "who told her she looked like a maid and was not allowed there". She added that neither she nor Lyngdoh were contacted by the club or were offered an apology over the incident.
Earlier, through a Facebook post, Sondhi said, "Lyngdoh, an extremely proud, Khasi lady who has travelled the world in her jainsem from London to UAE, was thrown out of The Delhi Golf Club because her dress was taken for a maid's uniform."
The Indian Express website has been rated GREEN for its credibility and trustworthiness by Newsguard, a global service that rates news sources for their journalistic standards.