Besides stubble burning, a "multi-day dust storm" in Iraq, Kuwait and Saudi Arabia was the main cause of Delhi's smog between November 6 and 14, according to a study by the System of Air Quality And Weather Forecasting And Research (under the Ministry of Earth Sciences) and India Meteorological Department (IMD).
The study, released on Thursday, says that the dust storm was responsible for 40 per cent of the pollution on November 8, when the average air quality index was 478, indicating "severe" levels of pollution. While stubble burning was responsible for 25 per cent of the pollution, "local sources" also played a role.
If external sources had not affected air quality, the average concentration of PM 2.5 would have been about 200 micrograms per cubic metre instead of 640 micrograms per cubic metre, says the study.
Also Read: EPCA allows entry of trucks into capital
"There was a large multi-day dust storm that emerged in Iraq, Kuwait and Saudi Arabia in the last week of October 2017 and continued up to November 3 and 4. This dust storm was carried by relatively cool winds," says the report, adding that strong winds at a height and low wind speed close to the surface meant that the pollutants were carried towards Delhi.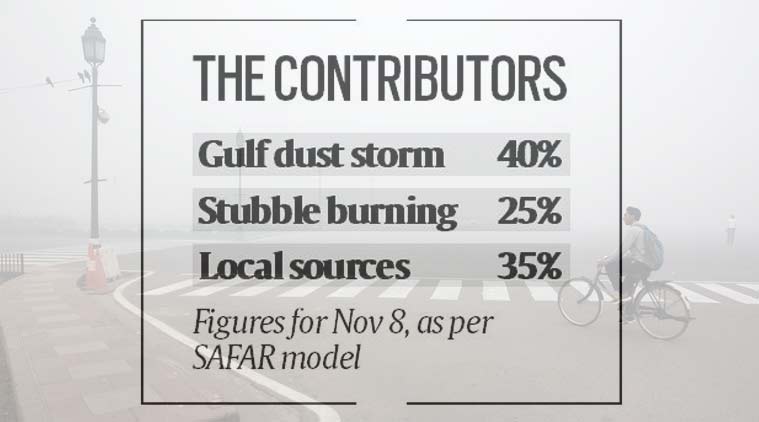 "Stubble burning in Punjab, Uttar Pradesh and Haryana… was very high on November 6 and upper-air winds became North Westerly (towards Delhi) with high speed and started pumping pollution in Delhi," it adds.
An earlier study conducted by researchers from the National Physical Laboratory had found that pollutants can travel over long distances, and pollutants from Middle East can affect air quality in Delhi in the winter because of the North Westerly winds.
Also Read | NASA images show stubble burning has reduced: Khattar
According to the SAFAR and IMD report, the imposition of emergency measures such as a ban on construction and entry of trucks in Delhi made a positive difference of around 15 per cent.
Also Read | Not enough power plants to convert stubble to fuel, NTPC tells green panel
The report says that the weather conditions that persisted locally between November 8 and 14, "calm winds, cool temperature, inversion layer trapped pollution within Delhi territory".
The Indian Express website has been rated GREEN for its credibility and trustworthiness by Newsguard, a global service that rates news sources for their journalistic standards.