The onset of winter, a thick blanket of smog and a spurt in respiratory infections — it's a familiar story in the capital. But a spate of studies by top medical institutes has thrown up alarming trends that had so far gone unnoticed — from premature births and underweight children to a flare-up in arthritis to increased risk of stroke. Kaunain Sheriff M reports on how the city's air has become a silent killer.
Between 2007 and 2012, a study examined 10,565 births at Sir Ganga Ram Hospital (SGRH) to assess the link between air pollution and birth outcomes in the capital. For this, maternal and neonatal data was gathered and linked to air pollution data — based on distance to the nearest air quality monitoring station.
The study was conducted to assess if there were any gaps in the information maintained by city hospitals for environmental public health tracking. It concluded that information related to the mother's socio-economic position, substance abuse, exposure to second-hand tobacco smoke and nutritional status were crucial to identifying environmental factors, and were linked to the health of the baby and the mother.
But the study threw up another unexpected — and alarming — trend: Delhi's toxic air is shrinking newborns; with the air not only adversely affecting the growth of the foetus, but also resulting in premature births.
The hospital, in collaboration with the Public Health Foundation of India, the Indian Meteorological Department and the London School of Hygiene, published the trend in 2015. Two years later, in October 2017, a Lancet study echoed what the 2015 study had pointed out: More than half a million Indians are estimated to have died prematurely in 2015 due to particulate matter (PM) 2.5.
The recent smog in the city has led to a sudden spike in the number of people lining up at OPDs — complaining of sore throat, burning eyes and a smoker's cough — even if they don't smoke. But there's another section of the population that's suffering in silence: the newborns. "It's alarming. You are building a future that is totally dark. You are looking at short-term effects, look at the long-term ones," said Dr Neelam Kler, chairperson of the department of neonatology, Institute of Child Health, at SGRH.
The principal investigator of the 2015 study, Dr Kler said, "We linked birth outcomes with the historical data of pollution, and looked at data related to birth rate and foetal growth. The key findings were that the birth rate had come down when the air quality worsened. This is the same trend that has been seen in industrial countries such as the UK during industrialisation. It also showed that in most cases, poor air quality affected the weight of newborns."
She added, "This is the long-term effect of air pollution — it adds to the burden of an already high rate of premature births in the country. This is like a nuclear disaster. These babies have high morbidity and an increased risk of death. There is also an increased risk of respiratory diseases that can cause neurological damage. In the long-term, these babies risk contracting hypertension and cardiovascular diseases."
About 20% of approximately 15 million global premature births every year are in India, and Dr Kler pointed out that rising pollution levels will further increase the burden.
"Foetal growth depends on three factors. One is the genetic growth factor; the second is the nutritional milieu — and malnutrition of the mother continues to be great concern for India. The third is that certain things can have a deleterious effect on foetal growth and result in adverse stimulus. This can cause foetal malformation. If there is an increase in the quantity of lead or any other pollutant, it will act as a deterrent for foetal growth. This is the long-term effect," Dr Kler explained.
Lasting damage
Days after Diwali, when the city witnessed a spike in pollution levels, one particular OPD in AIIMS saw 155 cases on October 25. And on November 8, when the capital was engulfed by smog, it saw 263 cases. But this OPD does not deal with respiratory diseases; it sees patients suffering from autoimmune diseases.
Particulate matter is one of the deadliest components of air pollution, which can settle deep in the lungs and get absorbed into the blood stream. The most visible effect is respiratory problems and cardiovascular diseases.
But the trend at the rheumatology OPD at AIIMS suggested that PM is taking a toll on the autoimmune system too. In fact, the rheumatology department at AIIMS, following a three-year investigation, recently concluded that rheumatoid arthritis flares up with increase in PM levels.
The study, which involved 1,000 patients, showed another worrying trend: 30% of them were "healthy" but showed presence of "inflammatory markers" — which meant the disease could be triggered in the future.
The study also revealed that 18% of patients tested positive for auto antibodies, which trigger autoimmune diseases — that can have pathological effects like tissue damage, altered organ growth and altered organ functions.
Dr Uma Kumar, head of the rheumatology department at AIIMS and the principal investigator of the study, said: "Our OPD has witnessed a spike in the number of patients. These are follow-up cases — patients who already had arthritis and autoimmune diseases. The study had found that autoimmunity is linked to pollution levels. In these diseases, the consequences are long-term. It can start from childhood and manifest decades later. When someone is exposed to such pollution levels for years, they are at risk of developing autoimmune diseases. In such cases, disability is higher. Today, children are exposed to bad air quality — after 30 years they might get arthritis."
Dr Kumar added, "During the smog, we saw a flare-up of diseases. Our study found that autoimmunity is connected to pollution levels. We now have scientific data to prove it. When PM levels are very high, it enters the blood. These foreign particles not only increase inflammation but also bring changes in the body's cellular proteins."
"In autoimmune diseases, there are various presentations. The most common one is rheumatoid arthritis — multiple joints are inflamed, disability sets in. If not treated, it results in deformity. This form of arthritis is predisposed to hypertension, diabetes and stroke, and is a precursor to coronary artery disease. So, it increases mortality. At the AIIMS OPD, a significant population is of those who are in their reproductive age. This is a major cause of concern," she said.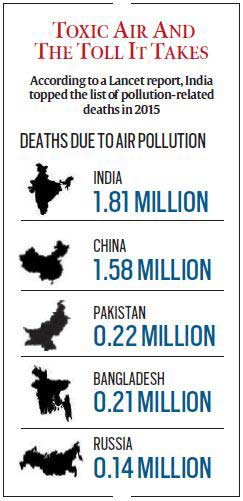 AIIMS is now going a step further and investigating the link between autoimmune diseases and pollution at a cellular level. "In the next phase, we will be conducting an epigenetic study. Residents who have lived in Delhi for 10 years and those who stay in Himachal Pradesh, where pollution level is low, will be examined at a cellular level," Dr Kumar said.
Links to the brain
Even as the department of rheumatology begins examining this link, the neurology department is knocking on doors of Delhi residents to examine another critical link: between the brain and rising pollution levels. Stroke is the second most common medical emergency that leads to disability, next only to road accidents.
In June 2016, the National Institute for Stroke and Applied Neurosciences at Auckland University of Technology published a study in Lancet, showing a link between stroke and pollution. It examined data from 188 countries, including India. "We did not expect the effect would be of this magnitude, or increasing so much over the last two decades. Our study is the first to demonstrate a large and increasing hazardous effect of air pollution on stroke burden worldwide," The Guardian quoted Valery Feigin, the director of the institute, as saying.
The study revealed that ambient air quality was linked to 17% of the burden of stroke and that 75% of the burden was linked to lifestyle choices — such as smoking and diet. It was after this that AIIMS decided to study the link between stroke and pollution. So far, over 1,000 patients who suffered a stroke have been examined. It will take at least two more years to complete the study.
In the meantime, AIIMS noticed another trend: that the onset of stroke in the capital is 55 years, much lower than the worldwide age of 70. Moreover, at least 40% of stroke cases are seen in those under the age of 45.
"There are many factors, including lifestyle, for this. The international study has shown a direct link between stroke and ambient air quality. Once we complete our study, we can estimate how many of these cases reported in the capital are linked to pollution. The findings will be very significant as the burden globally is estimated to be 15 million people suffering a stroke every year. Five million are left with permanent disabilities," said Professor Kameshwar Prasad, head of the neurology department at AIIMS.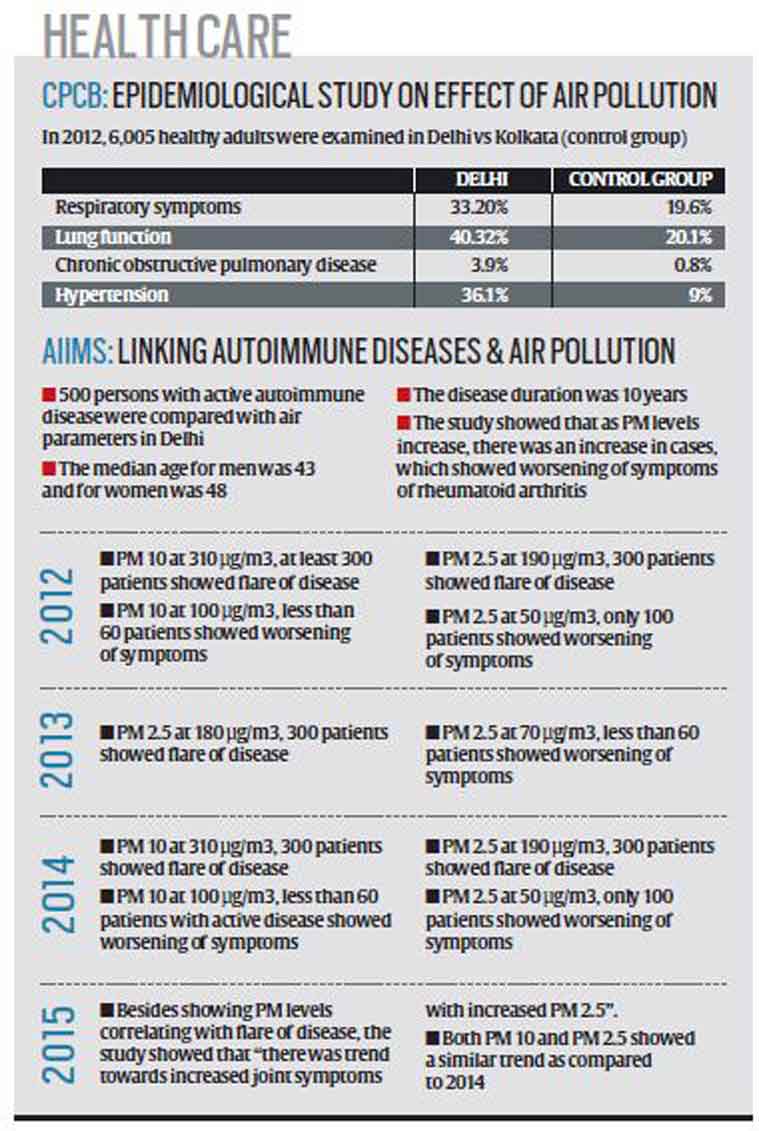 Calling air pollution a "silent killer", AIIMS director and the country's top pulmonologist, Dr Randeep Guleria, said the visible impact is seen in patients with a history of chronic respiratory diseases — like bronchitis and asthma. "But we can't say how many of these deaths related to respiratory illnesses were due to air pollution," he said.
So far, no study has been conducted in the country to ascertain the number of deaths caused by air pollution. But Dr Guleria said the two OPDs at AIIMS — pulmonology and paediatric —will be tracked throughout the year to establish a link.
"It's a medical emergency. We know there are a significant number of deaths in winters. But this study will show how many deaths are actually linked to air pollution," he said.
The Indian Express website has been rated GREEN for its credibility and trustworthiness by Newsguard, a global service that rates news sources for their journalistic standards.