Odisha Chief Minister Naveen Patnaik conducted an aerial survey of flood-hit Ganjam, Gajapati and Rayagada districts of the state on Saturday. Following the survey, Patnaik chaired a meeting wherein he announced a monetary relief to be paid for 15 days to people affected by the cyclone and resultant flooding in Ganjam and Gajapati districts and Gunupur sub-division of Rayagada district.
"On an average a family of four will be assisted with more than Rs 3,000 as relief," Patnaik told reporters in Bhubaneswar.
He said the relief amount will be provided at the rate of Rs 60 per adult and Rs 45 per child per day for 15 days.
The depression over Odisha has moved East-Northeastwards in the past six hours and is likely to maintain as a depression for the next 12 hours and weaken thereafter, according to India Meteorological Department (IMD). The National Disaster Response Force (NDRF) and Orissa Disaster Rapid Action Force (ODRAF) have rescued 1,27,262 people and sheltered them in 963 relief camps.
Putting a damper on Durga Puja festivities, the MeT department Friday issued a warning of heavy to very heavy rainfall in Gangetic West Bengal till Saturday. The incessant rain has affected Bengal's Jhargam and Paschim Medinipur districts adjoining Odisha.
Live Blog
Cyclone Titli Hightlights on the passage of the storm in Andhra Pradesh, Odisha and West Bengal. Read in Bengali. 
Indian cyclones difficult to predict: Scientists
Although the Odisha government has been criticised for not being able to predict the landfall of Cyclone Titli, scientists say prediction is difficult because of budgetary and meteorological factors. For Indian cyclones developing over the ocean, scientists say they have to largely rely on satellite images (a top view) that reveals little data on moisture content and intensity. Indian scientists get a more detailed picture only when a cyclone is 300-400 km from the coast, which reduces preparation time. Cyclone Titli was more hard to read because it changed directions. Read more
Bay of Bengal gets leftovers of landfalls in Philippines, China and South Asia: Scientists
Adjacent to the northwest Pacific, which is one of the world's most active basins for typhoons, the Bay of Bengal receives the remnants of major landfalls in the Philippines, China and South Asia. From these places come low-pressure systems that develop into a monsoon depression or a cyclone. The reason that cyclones such as Titli, Phailin (2013) and Hudhud (2014) typically strike in October is that wind shear — the difference within wind speeds and direction at two different levels — is low during this time.
BJP, Congress accuses Odisha government of unpreparedness
The Opposition BJP and the Congress on Sunday accused the BJD government in Odisha of failing to make proper arrangements to deal with Cyclone Titli and the subsequent floods in the state. Read more
Flood situation has improved: Spl relief commisioner
The flood situation in Odisha improved marginally Sunday, paving way for the administration to expedite the relief and restoration work, Special Relief Commissioner (SRC) B P Sethi was quoted saying by PTI.
Additional ODRAF, NDRF teams to be dispatched to Gajapati district
Three additional ODRAF and two NDRF teams will be dispatched to Gajapati to step up restoration work: BP Sethi
Situation has considerably improved in Ganjam and Gajapati districts: Spl Relief Commissioner, Odisha
"Electricity supply has been restored in many places in Ganjam, one of the worst-affected districts in the state. In Gajapati, too, the Odisha Forest Development Corporation (OFDC) personnel have been pressed into service to clear roads by removing the uprooted trees," Special Relief Commissioner (SRC) B P Sethi told reporters after a review meeting with Chief Secretary A P Padhi, PTI reported.
Death toll climbs to 24
The death toll due to the cyclonic storm mounted to 24 Sunday after 15 people were reportedly killed in a landslide at Barghar area in Gajapati, PTI reported.
Rs 4 lakh to be sanctioned for kin of deceased in Mahendragiri hills landslide: Spl Relief Commissioner, Odisha
Electricity restoration work is near completion &water supply resumed in Ganjam dist. Received report that landslide in Mahendragiri hills claimed 15 lives. We'll sanction Rs 4 lakh for kin of deceased after we get report from dist officer: Spl Relief Commissioner, Odisha #Titli pic.twitter.com/UZg3VqVPDO

— ANI (@ANI) October 14, 2018
Andhra Chief Minister announces compensation
Andhra Pradesh Chief Minister Chandrababu Naidu announced compensation of Rs 1200 per tree for coconut farmers. He said Rs 25,000 will be paid towards loss of the cashew farmers and Rs 40,000 will be financed for re-harvesting.
శ్రీకాకుళం తిత్లీ తుపాను బాధితులను అన్ని రకాలుగా ఆదుకుంటాము. కొబ్బరి రైతులకు చెట్టుకు రు.1200 చొప్పున నష్టపరిహారం అందిస్తాము. జీడితోటలు నష్టపోయినవారికి హెక్టార్‌కు రు.25000 పరిహారం చెల్లించి, మళ్లీ పంట వేసుకోవడానికి రు.40,000 ఆర్ధిక సాయం చేస్తాము. pic.twitter.com/phBeWj84ib

— N Chandrababu Naidu (@ncbn) October 14, 2018
Landslide in Odisha, 12 feared dead: SRC Commissioner
At least 12 people, including five children, are feared dead and four others are missing after a cave inside which they took shelter during Cyclone Titli collapsed following heavy rain in Odisha's Gajapati district, officials said on Saturday. Five families had reportedly taken shelter inside the cave located on a mountain at Barghara village in Rayagada block of Gajapati district Friday, they said.
Read full report here
Cyclone Titli leaves a trail of destruction across Odisha, 15 dead
Cyclone Titli, which caused significant damage to roads and housing infrastructure in the states of Andra Pradesh, Odisha and West Bengal, has proved to be most disastrous to the farming sector with standing crops seriously damaged. Read more here
Odisha CM announces monetary relief
Odisha Chief Minister Naveen Patnaik announced a monetary relief on Saturday to be paid for 15 days to people affected by Cyclone Titli and the resultant flooding in Ganjam and Gajapati districts and Gunupur sub-division of Rayagada district. Patnaik made the announcement after an aerial survey of the cyclone-hit areas of Ganjam, Gajapati and Rayagada districts earlier Saturday. "On an average a family of four will be assisted with more than Rs 3,000 as relief," Patnaik told reporters in Bhubaneswar. (PTI)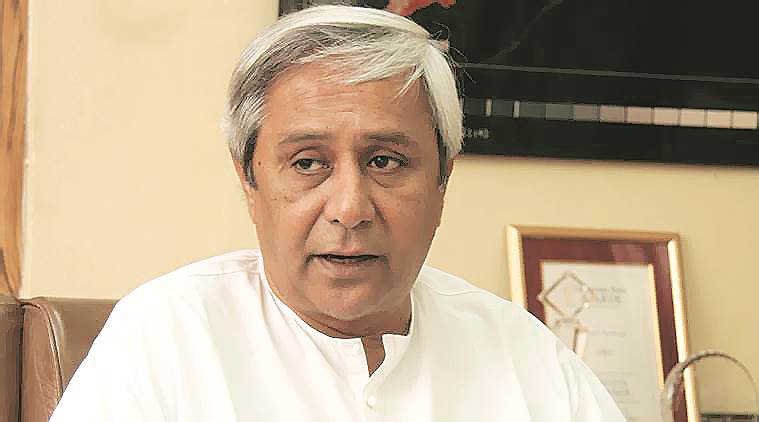 Odisha CM Naveen Patnaik conducts aerial survey; set to announce relief package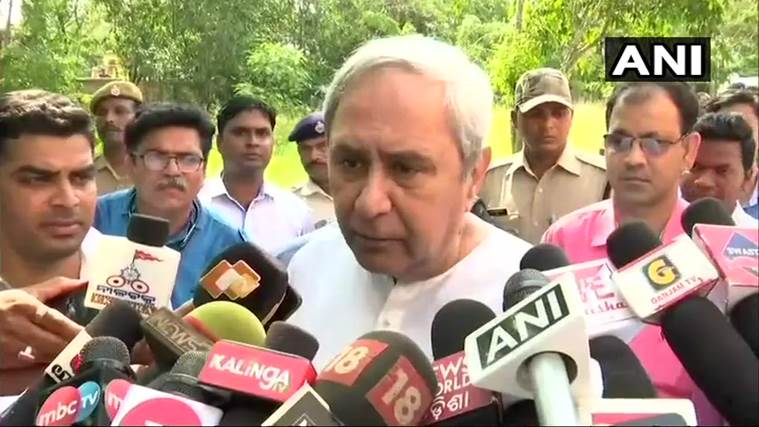 Odisha Chief Minister Naveen Patnaik conducted an aerial survey of the flood-affected Ganjam, Gajapati and Rayagada districts, the chief minister also said he would announce a package for the flood-hit people. "The maximum damage has been done to the agricultural crop, the roads and the trees. The relief work is going on at top speed as well as the restoration work," Patnaik was quoted as saying by PTI.
"I shall convene a meeting on the flood situation Saturday evening and announce a package for the affected people," he added.


Heavy rainfall warning issued for Assam, Meghalaya, Mizoram, Tripura and Manipur
Regional Specialized Meteorological Center has made forecasts for rainfall for many places with heavy rains at isolated places very likely over south Assam, east Meghalaya, Mizoram, Tripura and Manipur during next 24 hours.
Navy's diving team during a rescue and relief operation at Aksa village in Ganjam district in Odisha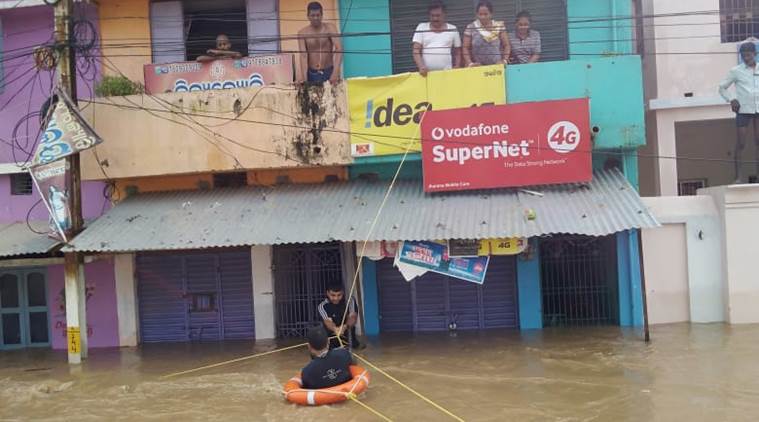 (Image Courtesy: ANI)
Mamata Banerjee says her govt is well prepared to tackle natural disasters
West Bengal Chief Minister Mamata Banerjee said on Saturday her government is well prepared to handle natural disasters and has already built shelters and relief godowns in the districts. An sms-devised early warning system to alert people during any natural calamity as also been devised by the state government, PTI reported.
Today is International Day for Disaster Reduction. Our govt has developed an SMS-based early warning system for alerting people of the State regarding the advent of natural calamities. Flood shelters & relief godowns have been constructed at district, subdivision and block levels

— Mamata Banerjee (@MamataOfficial) October 13, 2018
Indian Navy helps in rescue operation in Odisha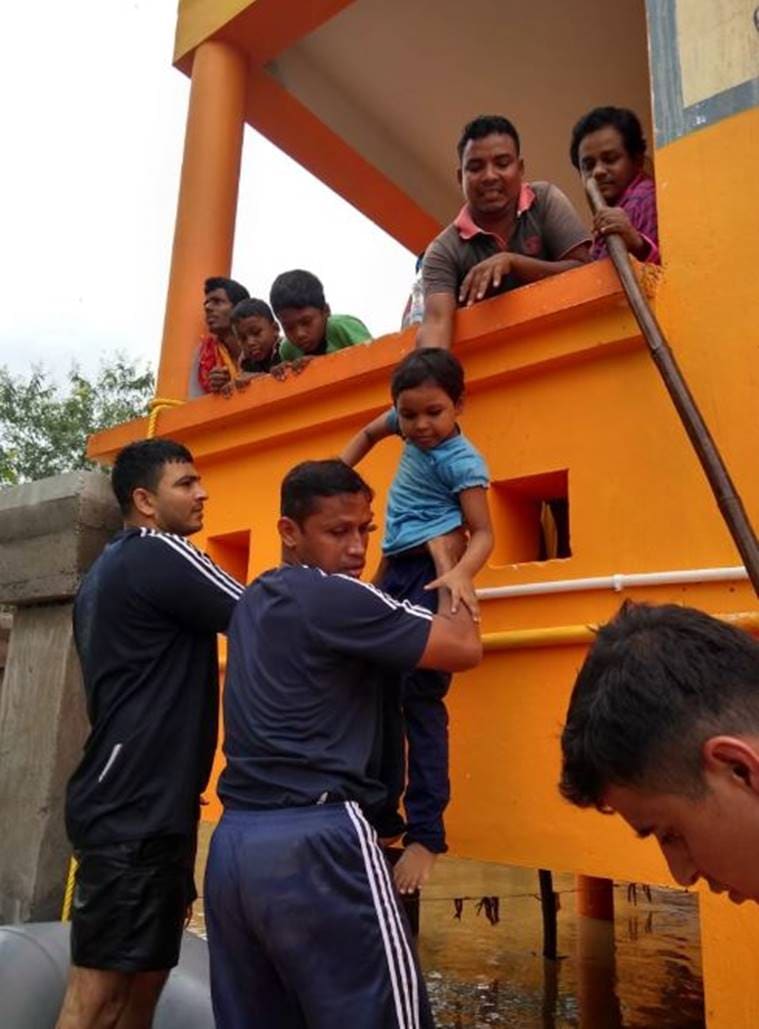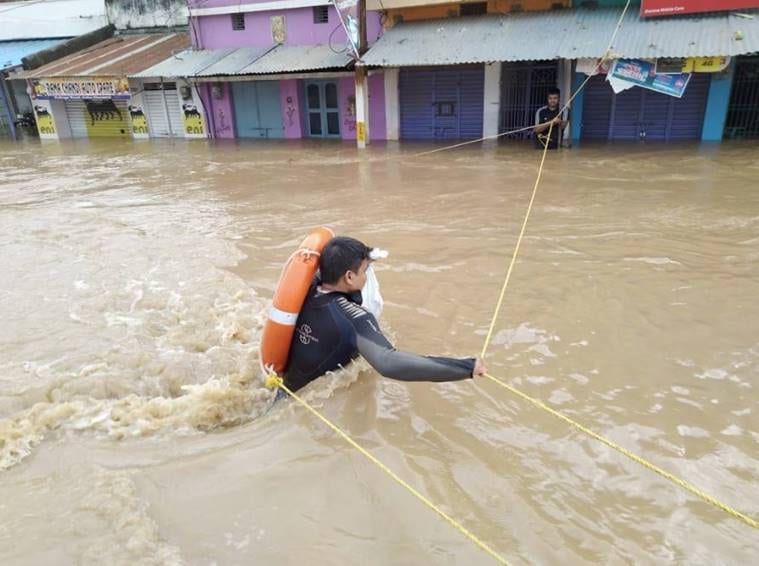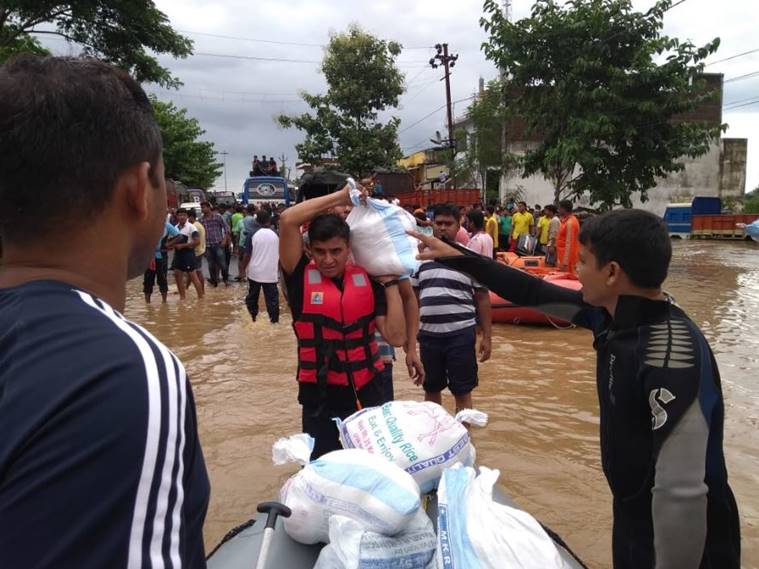 (Source: Indian Navy and CMO Odisha Twitter)
Mothers name their newborn daughters after cyclone 'Titli'
New mothers who delivered babies on or before the storm are rushing to name their newborns after the cyclone 'Titli', PTI reported.
Several families in Ganjam, Jagatsinghpur and Nayagarh have named their newborn daughters as "Titli" because they were born either before the very severe cyclone's arrival in the coast or after it made landfall.
A 20-year-old A Allemma of Paradip said, gave birth to twins at a hospital in Chhatrapur on Thursday morning wants to name both her daughters Titli.
Similarly, Bimla Das (29) of Plurugada also desires to name her third child after the cyclone. In the community health centre (CHC) Aska, nine babies, all girls, were delivered between Wednesday night and Thursday morning. The gynecology specialist of the hospital decided to name the babies aborn after Wednesday midniight as Titli.
Andhra Pradesh CM Naidu seeks Rs 1,200 crores from Centre for interim relief of two most-affected districts
Chief Minister N Chandrababu Naidu has sought Rs 1,200 crores interim relief for two most affected districts, Srikakulam and Vizianagaram.
In a letter to Prime Minister Narendra Modi, Naidu wrote, "The cyclone has devastated these districts and left huge damage to properties, infrastructure, agriculture and horticulture crops, and houses resulting in distress and misery to the people. The cost of the damaged properties, infrastructure and other related sectors has been tentatively worked out to be around Rs 2,800 crores. The State Government has already started rescue and relief operations on a war footing. In view of the severe damage, I request the Government of India to liberally and expeditiously sanction the relief.'' Read more here
Andhra Pradesh Disaster Management Auhtority issues preliminary report on state's current status
At least 202 villages in Andhra Pradesh have been affected by the cyclone and rise in water level of major rivers in the state have caused floods in three mandals of Srikakulam, according to a preliminary report issued by state's Disaster Management Authority. The report lists out names of deceased and states two missing fishermen. Giving out details of damage to the infrastructure, the report states a total of 8962 houses have been damaged.
Following is the detailed report of the flood and disaster management scenario in @srikakulamgoap. The State government is taking all the measures to carry out restoration works.https://t.co/dMrb2Tpbjy

— Andhra Pradesh CM (@AndhraPradeshCM) October 13, 2018
Volunteers join hands with ODRAF, provide cooked food to affected
Volunteers collaborate with ODRAF teams in the relief and rescue operation in Odisha, prooviding food to affected people.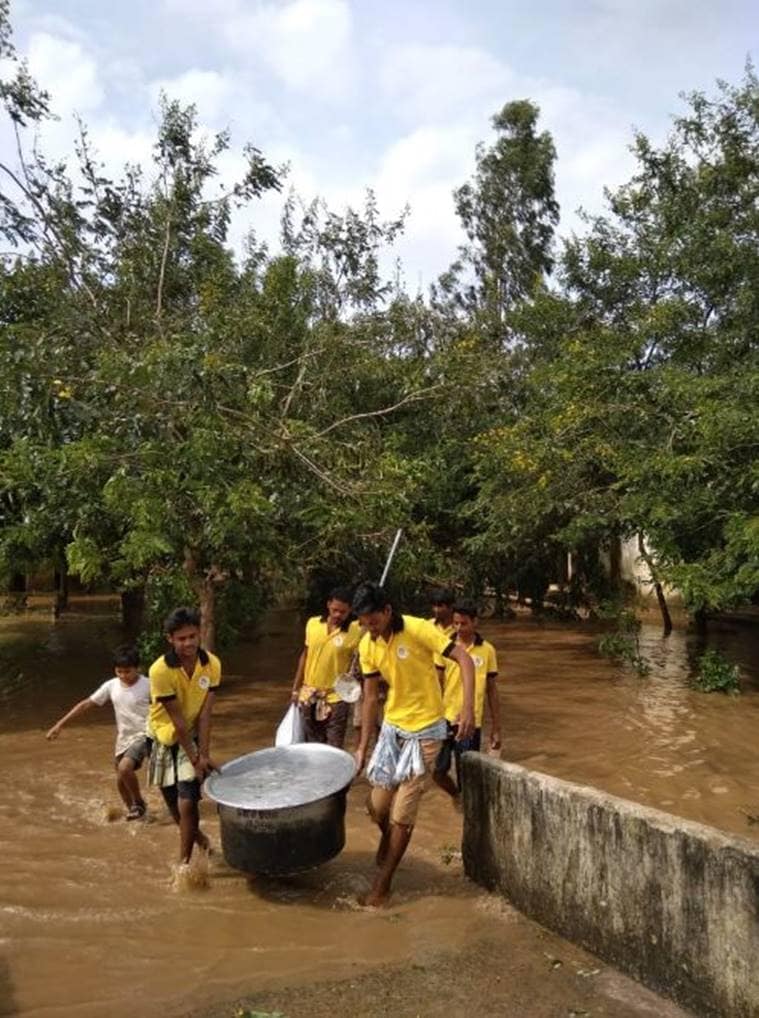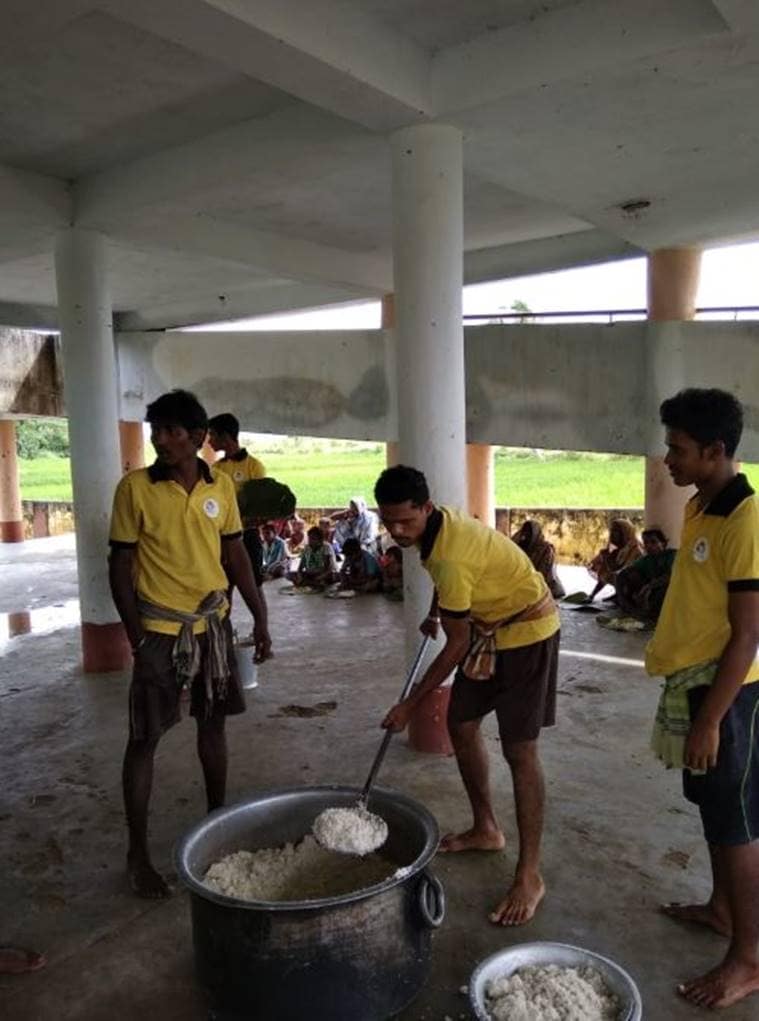 (Source: CMO Odisha Twitter)
CM patnaik constitues two-member team to oversee relief operation post-storm
CM Naveen Patnaik has constituted a two-member team comprising of Finance Minister Sashi Bhushan and ST/SC Development Minister Ramesh Chandra Majhi to oversee the relief and restoration operation post-cyclone in Kandhamal, Odisha.
CM Naveen Patnaik sanctions CMRF funds to applicants for treatment
Status in West Bengal: Cyclone enters state, claims one life
The meteorological department (MeT) issued a warning on Friday of heavy to very heavy rainfall in the Gangetic West Bengal till today. Further, it predicted East and West Midnapore, Jhargram, East Burdwan, Howrah and Hooghly districts to be affected the most
Heavy rain is likely in Kolkata, Bankura, Purulia, Birbhum, Murshidabad, Malda, North and South Dinajpur districts till today. Strong winds with speed of 45 to 55 kmph, gusting to 65 kmph will prevail along and off the coasts of West Bengal and Odisha, the MeT department said. Paschim Medinipur and Jhargram have been witnessing incessant rain since Thursday night, PTI reported.
Mud houses and Durga Puja pandals have collapsed in Rohinibazar, Sankrail and Jhargram block areas. Tourists in Digha and adjacent sea-side resorts have also been advised not to indulge in sea-based activities.
Status in Andhra Pradesh: Maximum damage in state, eight deaths reported so far
Andhra Pradesh has suffered most loss of life in the storm as the death toll went up to eight yesterday in the state, according to PTI. Six villages of Srikakulam district, Andhra Pradesh are most affected due to heavy rainfall, of which two villages, Miliapattu and Srinivaspuram are most affected and remaining Gopalapuram, Punch Padu, Mukundapuram & M Gangaipadu are moderately affected, Andhra Pradesh Emergency Control Room stated yesterday.
Chief Minister Chandrababu Naidu's government has mobilised a special team comprising 1000 officials carrying out restoration of facilities like power supply, roadways, water supply, sanitation and medicines in cyclone-hit areas. Naidu conducted an aerial survey of the regions affected by the cyclone yesterday and paid a visit to the most affected areas.
More than 3,000 people have been evacuated in Andhra Pradesh as per yesterday's reports, leaving 1,000 houses damaged. Officials have reported a heavy loss of cattle and crops mostly from Srikakulam district, Andhra Pradesh. According to a preliminary report by the SDMA, coconut plantations, banana and mango trees were affected the most in the storm. More than 2,000 electric poles in Andhra Pradesh were uprooted by squally winds.
Status in Odisha: Three deaths have been reported so far, all in Ganjam district
Cyclone Titli weakened into a deep depression and entered West Bengal yesterday, triggering incessant rainfall, it claimed four lives- three in Odisha and one in Bengal. The NDRF and ODRAF are deployed and so far 1,27,262 people have been rescued and sheltered in 963 relief camps. In Odisha, Ganjam district has been categorised as the worst-affected by the storm claiming three lives in the district.
'Two helicopters requisitioned from the Indian Navy have already reached Gopalpur. Air dropping operation in Ganjam district will start from Saturday morning,' said Special Relief Commissioner (SRC) B P Sethi. Revenue and Disaster Management Minister Maheswar Mohanty, Water Resources Minister Niranjan Pujari and Energy Minister Sushant Singh have been appointed to oversee the rescue, relief and restoration activities in Odisha.
Around 60 lakh people have been affected in calamity, especially in Ganjam, Gajapati and Rayagada districts where a flood situation remained grim as the water levels in major rivers crossed the danger marks.
Chief Minister Naveen Patnaik instructed collecters of Ganjam, Gajapati and Rayagada district via video conference to raise the intensity of rescue and relief operations.
The low-lying areas n Cuttack, Bhubaneswar and the pilgrim town of Puri remained waterlogged due to continuous rain and the swelling of Mahendratanaya river led to submergence of vast stretches of land in Gajapati district, cutting off road communication between Andhra Pradesh and Paralakhemundi in the district, PTI quoted sources.
Good Morning! Welcome to our Live blog on Cyclone Titli. Follow here for the latest updates.