The Coast Guard on Thursday rescued all 22 crew members of a domestic container ship that caught fire near Sandheads in the Bay of Bengal at around midnight, reported PTI.
The container vessel named 'MV SSL Kolkata' caught fire and went adrift about 55 nautical miles from Sandheads anchorage near the confluence of the Bay of Bengal and the Hooghly river. Coast Guard Commander (NE) Inspector General K S Sheoran told PTI that all the crew members were rescued by the Coast Guard this morning amid rough sea and inclement weather.
Sheoran said that a Coast Guard ship and one of its Dornier Aircraft were despatched from its base at Haldia Port which reached the ship early this morning. "All the 22 survivors including the captain of the ship were picked up by the Coast Guard vessel," he was quoted as saying by PTI.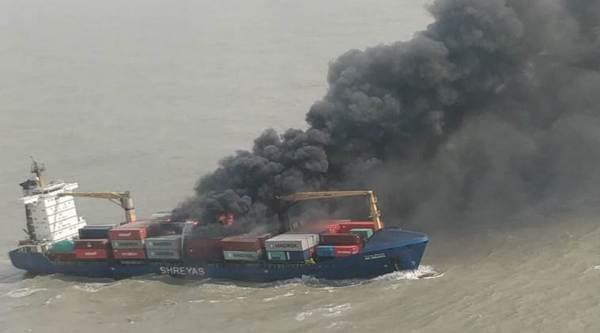 Major fire onboard Indian flag vessel MV SSL Kolkata off sandheads doused. Coast Guard dornier aircraft was launched from Kolkata and ICGS Rajkiran from Haldia reached area at about 0830 hrs for rescue of 22 Indian crew.@IndianExpress pic.twitter.com/8wDlvY0j3U

— Rashmi Rajput (@RashmiRajput123) June 14, 2018
Sanjoy Mukherjee, a Kolkata Port Trust spokesperson said the container vessel was carrying 10683.51 metric tonne of containerized cargo to Kolkata from Krishnapatnam in Andhra Pradesh.
"The ship reported fire on deck cargo containing chemicals at about 11 pm last night," the spokesperson added. Indian Coast Guard ship 'Rajkiran' was mobilised from Haldia for rendering necessary assistance immediately after receiving report of the fire on the merchant vessel.