Stating that "indecisiveness affects development", Chief Minister Vijay Rupani on Thursday asked all the state departments to prepare a 10-point roadmap to solve the problems of people as soon as possible.
Inaugurating the three-day brainstorming session, Chintan Shivir, his first as Chief Minister, here on Thursday, Rupani told his ministers and 200-odd government officials taking part in the event to not stick to just government resolutions while taking decisions of public interest in a transparent manner.
"There are problems which could be resolved through dialogue. Indecisiveness affects the road of development. So it is necessary to take prompt decisions. The government which takes prompt decisions creates a good image among the masses," a government release quoted Rupani as saying.
The shivir is being organised after a gap of three years. The last such session was held in 2015 under former chief minister Anandiben Patel. The chintan shivir was initiated in 2004 by the then chief minister Narendra Modi. The idea behind the shivir is to ensure that ministers, district collectors and district development officers discuss policies, agendas and schemes in an open environment.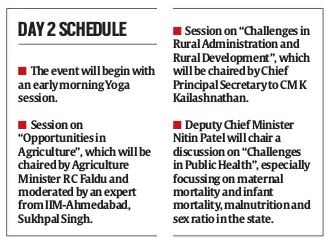 "In the interest of the people, to make decisions honestly by following government regulations, to bring about sensitivity and transparency in governance, shivirs like this play an important role. Narendra Modiji, during his tenure as the CM, had initiated this exercise for good governance, and we are continuing with it. Such events bring together our officers, and help promote a spirit of Team Gujarat. It will enable them to work for the people in a more spirited manner," Rupani said.
When asked about the various issues raised by the Opposition Congress regarding development in Gujarat, Rupani accused the Congress of "creating controversies with an eye on elections". "Whenever there is an election approaching, the Congress creates issues to mislead people. The people of Gujarat have seen their true nature, which is why they have been unable to come to power in Gujarat and win people's confidence for over 22 years," he said and blamed the previous UPA government at the Centre for farmer suicides.