Mark Zuckerberg on Wednesday apologised for Facebook's "major breach of trust" and said he was committed to stopping interference in the elections across the world, including the 2019 General Elections in India. His apology comes in the wake of allegations that British firm Cambridge Analytica illegally gained access to data of 50 million Facebook users to manipulate the outcome of the US Presidential Elections in 2016. Facebook, under immense pressure, is being probed by authorities in Europe and the US.
The CEO of Cambridge Analytica was suspended earlier this week, after allegations surfaced. In a sting operation by Britain's Channel 4 News, Alexander Nix is heard boasting to an undercover reporter that his company helped Donald Trump win the elections.
Read | Q&A: What is the Cambridge Analytica-Facebook controversy all about?
What exactly did Zuckerberg say?
In a Facebook post, Zuckerberg wrote: "We have a responsibility to protect your data, and if we can't then we don't deserve to serve you. I've been working to understand exactly what happened and how to make sure this doesn't happen again. The good news is that the most important actions to prevent this from happening again today we have already taken years ago. But we also made mistakes, there's more to do, and we need to step up and do it."
Opinion | When data, fake news and algorithms combine
Has India reacted to FB data breach?
Union Information and Technology Minister Ravi Shankar Prasad has warned Facebook of "stringent action", including "summoning" Zuckerberg to India, if data of Indian users is stolen. In a press conference Wednesday, he added that any attempt "to covertly or overtly influence free and fair elections through means that are undesirable" will "neither be appreciated nor permitted", and would attract charges under the IT Act.
"Mr Mark Zuckerberg, you better note the observation of the IT Minister of India. We welcome Facebook in India, but if any data theft of Indians is done through the collusion of Facebook's system, it shall not be tolerated. We have got stringent powers in the IT Act, we shall use it, including summoning you to India," Prasad said. He added that the government has approached the US Federal Trade Commission and Department of Justice to assess privacy violations of Indian users.
Political war of words
Prasad accused the Congress of having ties with Cambridge Analytica. He said, "Why is the Congress in love with such firms? My question to the party is whether to win elections, Congress will depend on data manipulation and theft of data? What is the role of Cambridge Analytica in the social media profile of Rahul Gandhi?" he asked.
"Would the Congress now depend on data manipulation and theft to woo the voters? Will they adopt sex, sleaze and fake news to win elections?" he added.
In India, Cambridge Analytica's parent company Strategic Communications Laboratories (SCL) partners with a company called Ovleno Business Intelligence (OBI). OBI lists BJP, Congress and Janata Dal (United) as its political clients on its website. The company is owned by Amrish Tyagi, the son of the senior JD(U) leader K C Tyagi.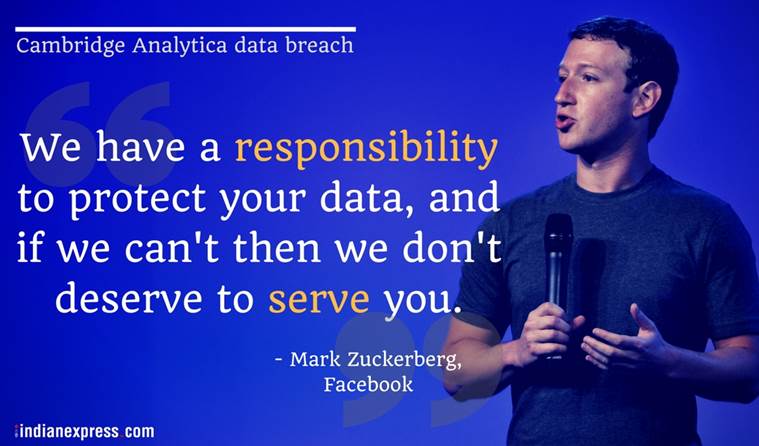 Read more here | UK firm that 'breached' Facebook data worked in India as well: report
The Congress, denying Prasad's allegations, claimed the BJP and the JD(U), its ally in Bihar, had colluded with the data firm in elections, including the General Elections in 2014. The party accused the BJP of using the firm's services to furnish a constituency-wise database for assembly and Lok Sabha elections.
"Cambridge Analytica's linked website shows that in 2010 its services were used by BJP-JD(U). The firm's Indian partner Ovleno Business Intelligence is being run by BJP ally's MP's son. OBI company's services were used by (Home Minister) Rajnath Singh in 2009," Congress spokesperson Randeep Surjewala charged.
Read | BJP, Congress, JD(U) on client list of parent firm's India partner
These charges were later denied by the BJP. Spokesperson Sambit Patra said, "The BJP has nothing to hide… we have seen that the company has pulled down its website after an allegation that it was carrying the name of BJP. As far as Cambridge Analytica is concerned, it was formed in 2013, so it could not campaign for any elections in 2013-14. Congress has outsourced its campaign for 2019 in a big way. The government is going to investigate."