Written by
Santosh Singh
| Patna |
Updated: May 29, 2018 9:03:31 am
On April 6, marking two years since he introduced prohibition in Bihar, Chief Minister Nitish Kumar said that "it's the poor people from the SC, ST and OBC class who have been benefitted the most". But figures compiled by jail officials show that these same groups — among the state's weakest and the most marginalised — also faced the brunt of the government's crackdown.
Their share of inmate population in the eight central, 32 district and 17 sub jails across Bihar, after they were arrested for violating prohibition laws since April 2016, far outstrips their share in the state's population, according to the figures that were accessed by The Indian Express.
Scheduled Castes, for example, account for 27.1 per cent of arrests while their share in population is just 16 per cent. Scheduled Tribes make up 6.8 per cent of those arrested but form only 1.3 per cent of the population. And the OBC share is 34.4 per cent of the arrests, and 25 per cent of Bihar's population.
Read | Bihar prohibition law: Police not applying mind, causing difficulty to citizens, says Patna High Court
A senior jail official told The Indian Express that "80 per cent" of those who have been held in his jail over the last two years under the new law were "regular users or alcoholics". Former inmates and social activists alleged that the government crackdown has not targetted the big fish "who run liquor mafias across the state".
The Indian Express accessed detailed records of the social profile of inmates arrested under the prohibition law in the Patna, Gaya and Motihari jail circles, covering three central jails, 10 district jails and nine sub-jails.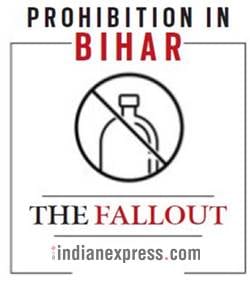 Together, inmates in these three circles account for 67.1 per cent of the 1,22,392 arrests under the prohibition law over the last two years in the state's eight jail circles.
In the Gaya circle, over 30 per cent of those arrested were from Scheduled Castes, over double their state representation. In Motihari, nearly 15 per cent of those arrested were from Scheduled Tribes, over 10 times their share in the population.
Related Report | Liquor chowkidars in Bihar: A day in the life of Rajballabh Ram
The figures were compiled by senior jail officials under the Inspectorate of Prisons of Bihar's Home department. Speaking to The Indian Express, a senior official in charge of a central jail said he received a text message from "headquarters" on March 12, asking for a category-wise social break-up — General, OBC, EBC, SC, ST — of all inmates detained under the prohibition law. The data was compiled and sent to the department by the eight jail circles as formal communication under their respective letterheads, officials said.
"It was an unofficial survey to understand drinking habits on the lines of caste and socio-economic status. Almost all jail superintendents had submitted the data by March-end. As jail admission registers have caste/ religion columns, it was not difficult to collect the figures," said a senior police officer, speaking on condition of anonymity.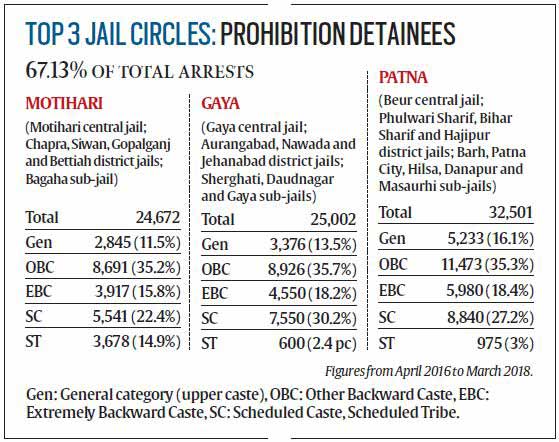 Prison department officials were evasive when asked why such a survey was commissioned while the office of the Chief Minister, who holds the Home portfolio, denied knowledge of such an exercise.
When contacted, Assistant Inspector General of Police, Prisons, Rajiv Kumar Jha, said, "I have not seen the reports yet." Asked why the social profiles of those arrested under the prohibition law were being compiled, Jha said he "did not have much of an idea" since he was "on leave for some days".
Asked for his views on the findings of the survey, Bihar Director General of Police K S Dwivedi, said: "I have no knowledge of these figures, the Prisons department may have them. But I can say that there would always be a less number of affluent and upper castes in the group as police often find it convenient to conduct raids in open colonies and slums."
Bihar Home Secretary Amir Subhani said he had "no idea about such an order". "Even I want to know who sent such an SMS to jail superintendents," he said.
Chanchal Kumar, principal secretary to the Chief Minister, told The Indian Express: "We have no knowledge about this survey. You will have to ask the department concerned about this."
Analysing the findings from the three jail circles accessed by The Indian Express, senior officials said Patna has the maximum inmates because of the population density in the capital area.
"Motihari and Gaya circles are important test cases because they are located on what we know are the main smuggling routes of liquor into Bihar… that is why they show a high registration of prisoners under the prohibition law. Motihari in northwest Bihar borders Nepal and can be accessed from UP through Gopalganj. Gaya in the south borders Jharkhand," said a senior police officer.
Under sections 29 to 41 of the Bihar Excise and Prohibition Act, which came into force on April 6, 2016, consuming, storing, selling and manufacturing liquor are non-bailable offences. The law also says that if an adult is caught drinking inside the house, other adults in that residence could face charges of complicity. Arrests can be executed without a court warrant but the accused can later seek regular bail.
Also read | Prohibition in Bihar part II: Widows and elderly jailed, children picked up for ferrying liquor
The Indian Express website has been rated GREEN for its credibility and trustworthiness by Newsguard, a global service that rates news sources for their journalistic standards.