Launching an attack on the NDA government, Congress chief Rahul Gandhi on Monday questioned Prime Minister Modi's silence over the rising fuel prices. "PM Modi has failed to deliver on the promises made to the country. The Rupee value has never been this weak in the past 70 years," he said, addressing the media during the Bharat Bandh protest in New Delhi. He also thanked the Opposition for extending their support to the shutdown against the rising fuel prices as well as the fall in the value of the Rupee.
The BJP, hit back at the Congress calling the bandh a "flop show," saying the government had no control over the fuel price hike. BJP's Ravi Shankar Prasad slammed the party for the "violent" protests taking across the country. " It's the essence of democracy that hospitals, ambulances, and medicine shops are allowed to function without any hindrance. But, with the death of 2-year-old in Bihar today, an environment of fear is being created," he said.
Multiple parties including SP, BSP, TMC, DMK and RJD, as well as several chambers of commerce and traders' bodies, have backed the Bharat bandh call. Five Left Front parties have given a separate call for bandh over the hike in fuel prices, the problem of farmers and unemployment issues.
Amid protests, petrol is retailing at Rs 80.73 a litre and diesel at Rs 72.83 a litre in New Delhi.
In Pictures | Bharat bandh: Violence reported in Bihar, Gujarat
Live Blog
Bharat Bandh today over rising petrol, diesel prices by Opposition parties. Read in Hindi, Marathi, Bangla, Tamil, Malayalam
Congress hails Bharat bandh as success
Today's Bharat Bandh has been successful across the country. Congress party has never held Bharat Bandh before, we don't even believe in Bharat Bandh, but since the time Modi govt has come, there has been a situation that led to this. People willingly participated in Bharat Bandh against the govt & taught them a lesson. At least now, govt should reduce prices and mend its way. But they are not worried at all. So, we all need to save democracy. It is in danger: Ashok Gehlot, former Rajasthan CM
In Pics | Bharat bandh in Uttar pradesh, Congress left parties conduct protest march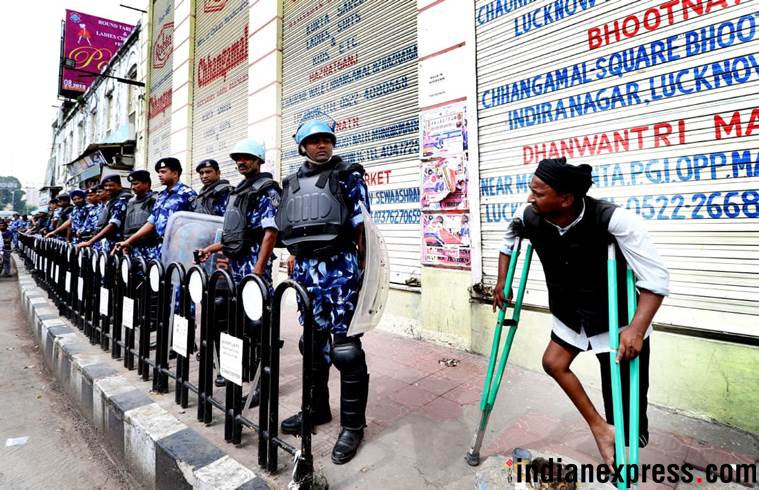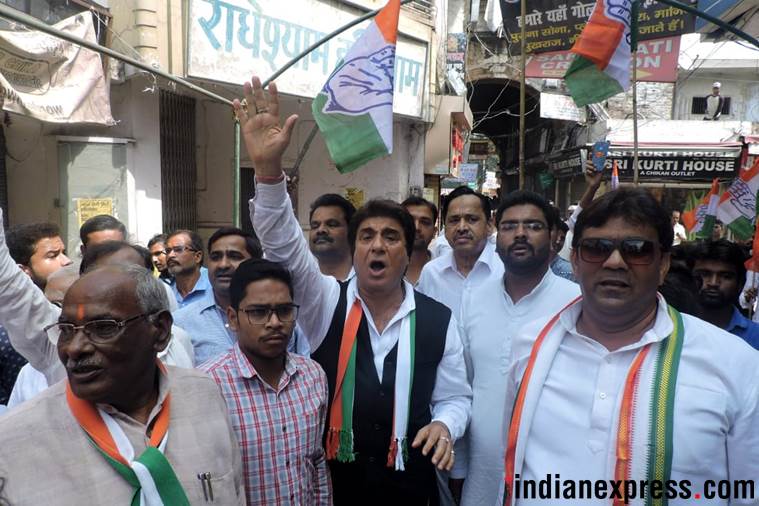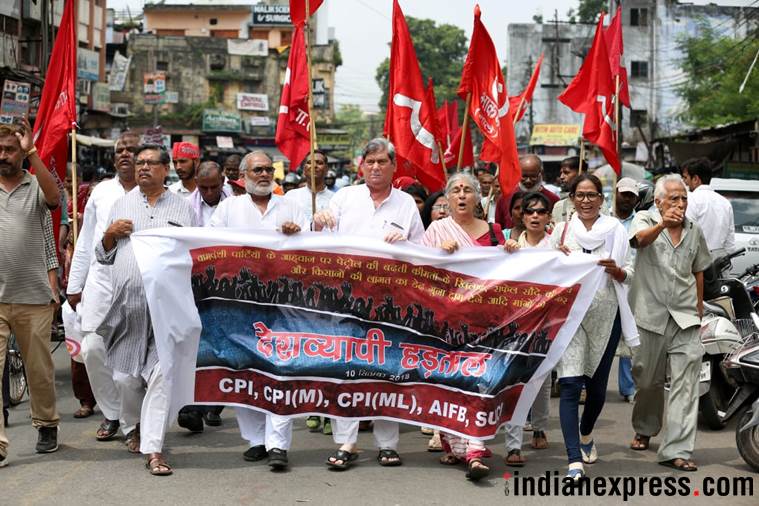 Congress state president Raj Babbar during the protest against the central government as part of Bharat band called against fuel price hikes in Lucknow on Monday. (Express photo by Vishal Srivastav)
Farooq Abdullah targets BJP over price rise of fuel
Why was there a Bharat Bandh in the first place? If you listen to the 2012 speeches of those in power today, they were shouting about petrol&diesel prices. Today the prices are surpassing prices of that time, Rupee has weakened against Dollar. We are in trouble, Farooq Abdulla tells ANI. The protests on Jammu had been violent in some parts with protestors burning tyres.
Andhra Govt announces petrol, diesel prices to come down by Rs 2 a litre
Amid protests, Andhra Pradesh government on Monday announced a reduction of Rs 2 a litre in petrol and diesel prices. The new rates of petrol and diesel will come into effect from tomorrow morning, orders for the same will be issued later today. Earlier on Sunday, Rajasthan government had also announced a 4 per cent reduction in fuel prices, slashing petrol, diesel prices by Rs 2.5 a litre.
Express cartoon on Bharat Bandh and unchecked rise in fuel prices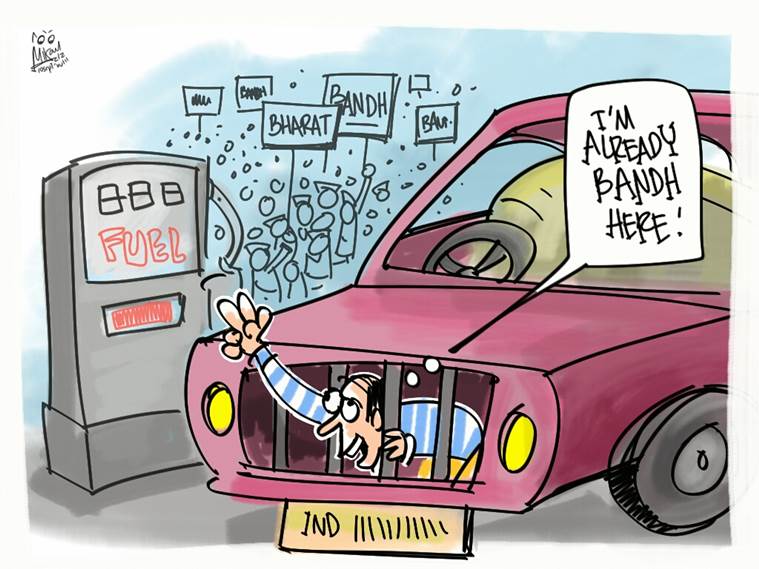 (Express Cartoon by Mika Aziz)
Violent implementation of Bharat Bandh in Pune
Bihar: 2-year-old girl dies on way to hospital, BJP asks Rahul Gandhi who is responsible?
A new controversy is raking up over the death of a 2-year-old girl in Jehanabad of Bihar. The critically ill girl died on her way to a hospital as allegedly Bharat Bandh supporters blocked roads. According to IANS, Pramod Manjhi, the victim's father, said his daughter was suffering from diarrhoea and was advised to take her to a hospital in Jehanabad. However, Jehanabad Sub-Divisional Officer Paritosh Kumar refuted Manjhi's claims, saying: "The child was seriously ill and her father delayed her hospitalisation."
Attacking the Congress, senior BJP leader Ravishankar Prasad asked Congress president Rahul Gandhi who was responsible for the death of the child.
बिहार में एम्बुलेंस समय रहते हॉस्पिटल नहीं पहुंच पाई जिसके कारण 2 साल की बच्ची की दुखद मौत हो गयी, राहुल गांधी जवाब दें कि इसका जिम्मेदार कौन है ? श्री @rsprasad pic.twitter.com/9vCpzCPW01

— BJP (@BJP4India) September 10, 2018
Madhya Pradesh Cong calls Bharat bandh successful
Madhya Pradesh Congress workers carried out rallies and protests outside petrol pumps which were open in the state as part of the Bandh. The party called it a success in the state while the ruling BJP accused the former of adopting "anarchic" ways to intimidate people to enforce the bandh. In Bhopal, a flower shop owned by Madhya Pradesh Chief Minister Shivraj Singh Chouhan's son Kartikey was at the centre of a protest by Congress workers.
Chimanganj Police Station in-charge Arvind Tomar said that protesters set aside barricades put up at petrol pumps but were driven away by police. The Congress claimed that the bandh got full support of the people of Jhabua. "We have got full support from the people. Shopkeepers kept their establishments closed so did petrol pump owners. Local MP Kantilal Bhuria led a rally with a bullock cart in the front," Jhabua district Congress president Nirmal Mehta was quoted as saying by PTI.
Bharat bandh: Reduce expenses to control fuel prices, says Rajasthan minister
Rajasthan Minister Rajkumar Rinwa suggested reducing expenses in order to curb the rise in fuel price. He also added that the government had multiple expenses, including the Kerala floods. "World market mein jo crude ka price hota hai us hisaab se chalta hai, Sarkar koshish kar rahi hai. Itna kharche hain, flood hain chaaro taraf,itna consumption hai. Janta samajhti nahi hai,ki crude ka daam badh gaya to kuch kharche kam kar de, " Rinwa said.
Odisha: Train services affected, Konark Sun Temple shut due to Bharat Bandh
In Odisha, train services were disrupted in many places across the state as protestrers blocked railway tracks in many places including Bhubaneswar, Khurda Road, Puri, Berhampur, Sambalpur and Balasore to enforce the bandh from 6 am to 3 pm. At least 10 trains were cancelled in the jurisdiction of the East Coast Railway (ECoR) in view of the 'Bharat Bandh', an ECoR official said.
The protesters also locked the ticket counter of the famous Sun Temple in Konark. As a result, the temple was closed for tourists.
Several senior Congress leaders staged a sit-in at the Master Canteen Square near Congress Bhawan during the strike. Shops, markets, business establishments and educational institutions remained closed across the state during the 9-hour shut-down, while attendance was thin in offices. Commuters were stranded in many places as buses, taxis and autorickshaws stayed off the roads due to the bandh.
Describing the bandh as a "complete success", Odisha Pradesh Congress Committee (OPCC) president Niranjan Patnaik said people extended their spontaneous support to the strike as they are hit hard by the hike in the prices of petroleum products.
Bharat Bandh: Over 100 Congress activists arrested in Arunachal Pradesh
In Arunachal Pradesh, at least 100 Congress activists including Mahila Congress workers, Youth Congress president Geli Ete and Arunachal Pradesh Congress Committee (APCC) secretary John Taksing were arrested by police, PTI repored. The protesters burnt tyres in many places in the state capital and in various other places to block roads, Superintendent of Police, Itanagar, M Harsh Vardhan said.
AICC general secretary Jarjum Ete alleged that the SP used abusive language against several Mahila Congress activists and a complaint would be lodged against him with the DGP. However, the SP denied the allegation saying that after repeated pleas from him the party resorted to pelting stones and created law and problem situation much before the bandh timing. 'Being a responsible party, such activities are not expected from the Congress,' the SP added.
Arunachal Pradesh Congress Committee president Takam Sanjoy claimed that the bandh is total and peaceful. All shops and business establishments including banks and educational institutions were closed in the state and private vehicles were off the road.
Two-year-old's death not linked to Bharat bandh: Officials
Reports suggested that a two-year-old allegedly died after the ambulance was stuck in the traffic caused by bandh. Union Minister Ravi Shankar Prasad also raised the issue in his press briefing, asking "Who is responsible for this death."
Meanwhile, ANI quoted Jehanabad SDO Paritosh Kumar saying that the death was not linked to the protests. "The death of the child is not related to bandh or traffic jam, the relatives had left late from their home," he said.
#Bihar: The death of the child is not related to bandh or traffic jam, the relatives had left late from their home: SDO Jehanabad Paritosh Kumar on reports that a 2-year-old patient died after the vehicle was stuck in #BharathBandh protests pic.twitter.com/mE8yQRuj2H

— ANI (@ANI) September 10, 2018
Bharat bandh: 1984 riots accused Sajjan Kumar during protests in Delhi
Who is resposible for the violence: Ravi Shankar Prasad on Bharat Bandh
Únion Minister Ravi Shankar Prasad is addressing a press conference in response to the Bharat bandh call by Congress. Slamming the Congress for violent attacks that took place earlier in the day, Rabi Shankar Prasad said, 'In democracy, everybody is welcomed to protest, but is violence acceptable? The Congress party should answer who is responsible for burning of buses, vandalising petrol pump. It's the essence of democracy that hospitals, ambulances, and medicine shops are allowed to function without any hindrance. But, with the death of 2-year-old in Bihar today, an environment of fear is being created.""The people of India are not supporting the strike as they understand that the fuel price is operated by global market and is not in our control. We are trying our best to control the situation," he added
He also challenged former prime minister Manmohan Singh to a debate on economic affairs in Parliament.
Bharat bandh: Over 400 picketers arrested in Tripura
Over 400 picketers were arrested in Tripura during the Bharat Bandh on Monday. Speaking to indianexpress.com, Pradesh Congress president Birajit Sinha said people have "spontaneously" supported 'Bharat Bandh' today in the state"People have expressed support to our bandh. Our reports from different districts suggest that they have spontaneously supported the agitation. Our supporters courted arrest at Dharmanagar in North Tripura, Camperbazaar and other parts of West Tripura and other districts. Ruling BJP and administration threatened them to abandon the agitation but we received tremendous support", Sinha said.
Meanwhile, CPI (M) state secretary Bijan Dhar said his party and three other Left Front allies – CPI, All India Forward Bloc and Revolutionary Socialist Party (RSP) observed strike on the same day against alleged misrule of BJP-led NDA government. "Common people are going through a very hard time due to the devolution of Indian currency, rising fuel prices, inflation, attacks on Dalits and minorities among other issues. Our strike call protested against these. The bandh was total in Tripura", Dhar said.
Most schools, colleges in the state had low attendance today as per reports. But the state secretariat and other government office had normal functioning. The Department of General Administration earlier issued a memo and instructed employees to maintain normal functioning on the day of the strike. The memo also summoned the attendance report of all employees by the noon. (Express photos by Debraj Deb)
In picture, Tripura Pradesh Congress president Birajit Sinha arrested in front of the Secretariat.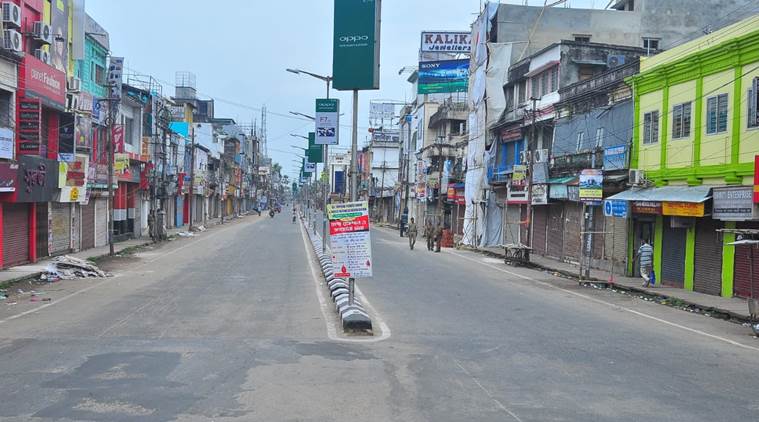 RJD leader Tejashwi Yadav slams Modi govt
Rahul Gandhi thanks Opposition for supporting Bharat Bandh
Bharat Bandh: CPI (M), AAP join Congress
Bharat bandh: 58 Congress activists taken into custody in Jharkhand
Fifty-eight Congress activists including Palamau district Congress president Jaias Ranjan Pathak were arrested in Jharkhand for forcibly trying to enforce the 'Bharat Bandh,' reported PTI. The Jharkhand Mukti Morcha, the Rashtriya Janata Dal and the Left parties in Jharkhand are supporting the Congress-sponsored 'Bharat bandh called against fuel price hike.
Bharat Bandh: 14 buses vandalised in Mumbai
As of now, at least 14 BEST buses have been vandalized in Mumbai's Vashi, Lalbaug and Parel till now. With protesters hitting the roads and pelting stones at the buses, Mumbai police has arrested few activists. Meanwhile, MNS workers also raised slogans as CM Fadnavis left Siddhivinayak Mandir.
Want to see Opposition's strength to raise people's issues: Shiv Sena in Saamana
The Shiv Sena took a jibe against Opposition, saying it wanted to see the strength of the parties on the key issues that affect people. Adding that the protest should not look like a sudden act undertaken after waking up from a "long sleep," Sena in an editorial published in its mouthpiece 'Saamana' said, "We have been carrying the burden of opposition leaders so far and we now want to see the strength of the opposition. People's interests are protected when opposition parties perform (their duty) with efficiency." "Let some in the opposition parties realise where exactly they stand when it comes to peoples issues," it said.
Necessary to make Modi govt realise that they have failed to serve the nation: Sharad Pawar
Bharat Bandh today: Yogi Adityanath calls Opposition 'frustrated'
"Frustrated opposition doesn't have any strategy and leadership,what else can be expected from them? I hope God gives them sense so they can differentiate between positive & negative otherwise in future they will even lose their position as Opposition," Uttar Pradesh CM Yogi Adityanath said, reported ANI
Bharat bandh today: Rahul Gandhi slams PM Modi over his silence
Congress president Rahul Gandhi is addressing Opposition leaders at Rajghat."In the entire country, the prices of fuel, gas are on a constant rise, but Prime Minister Modi remains in silence. Farmers commit suicide in our country, women are raped and yet PM Modi doesn't break his silence. PM Modi has made a lot of promises to the people of the country, but has failed to deliver on them. The Rupee value has never been this weak in the past 70 years. Your money is being looted."
Gandhi also targeted the BJP over Rafale deal and note ban. "PM Modi refuses to answer questions raised in Parliament over Rafale deal. Nobody knows why demonetisation was implemented. This government is not for the farmers, but only for a selected few." Gandhi also thanked the Opposition leaders for coming out in large number and supporting the cause
'Bharat Bandh' an attempt to spread rumour: BJP
The BJP on Monday said the Bharat bandh call given by the Congress was an attempt to spread rumour and confusion among the masses and said people will "puncture the grand alliance balloon" floated by the main opposition party, reported PTI. BJP leader Mukhtar Abbas Naqvi said the Rahul Gandhi-led Congress party has been a "history-sheeter" on the issue of price rise whenever it was in power and is now shedding crocodile tears. "The Congress is a cruise of corruption and whichever party joins it will sink with it," he said, accusing the Opposition of tying to create a "negative atmosphere" in the country
Bharat bandh evokes mixed response in Telangana, Andhra Pradesh
Bus services, educational institutes were affected by the nationwide strike. Activists of the Congress and the Left parties launched a sit-in at the depots of state road transport corporations to prevent buses from plying on the roads.
Leaders of Congress, Left parties, Jana Sena and trade unions affiliated to them were arrested in Hyderabad and other towns in Telangana and Andhra Pradesh. TRS is not supporting the shutdown call. BJP's former ally TDP has not openly voiced its support to the shutdown, its supporters in both the states joined the protests against rise in prices of petrol and diesel. Raising slogans against Prime Minister Narendra Modi and the Bharatiya Janata Party, the protestors took to streets, staging road blockades and organising rallies.
(With inputs from IANS)
Bharat bandh: Empty bus stand in Kerala
KSRTC Bus stand in Kerala's Trivandrum wears a deserted look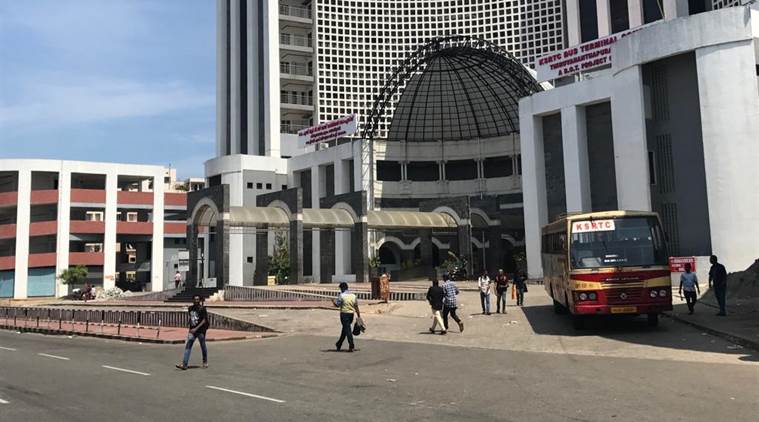 Palakkad Railway Junction
Protests turn violent in Mumbai, protesters detained by police
The Bharat bandh took a violent turn in Mumbai as MNS workers pelted stones at buses in Mumbai. Few of the protesters were later detained by the police. (Express photos by Nirmal Harindran)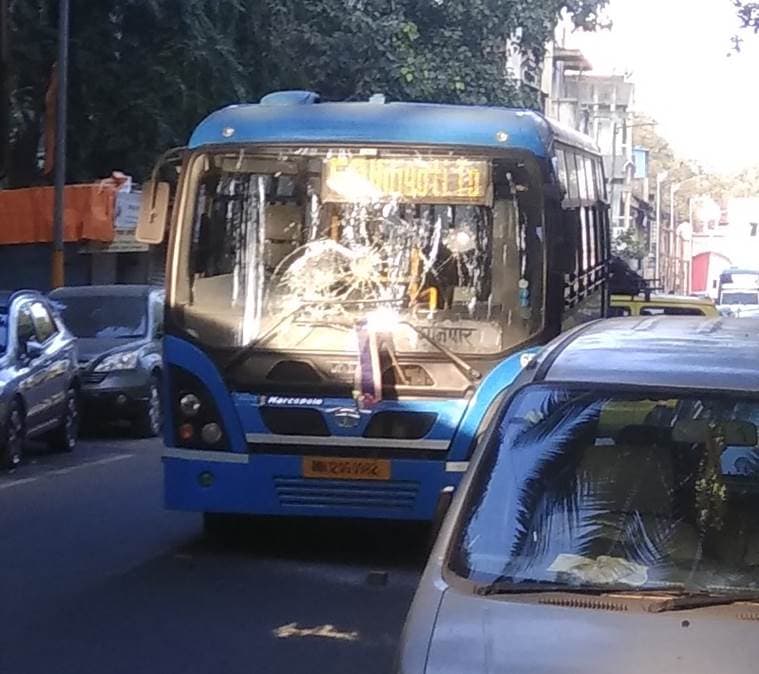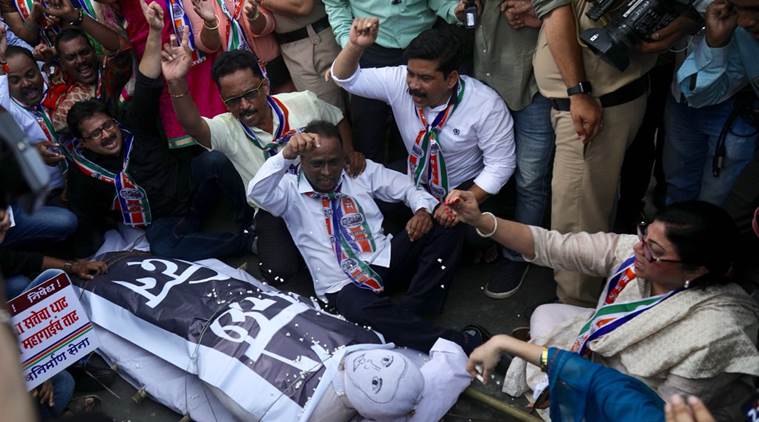 Bharat bandh: MInor traffic disruption around Ramlila due to Opposition march
In Delhi, offices, schools and colleges opened at the regular time despite the 'Bharat Bandh' called by the Congress to protest against the hike in petrol and diesel prices. Heavy police deployment was made in the city. Traffic was affected in Daryaganj and around Ramlila Maidan due to the protest and commuters faced problems in reaching their destinations as the cab companies had hiked their fares.
Mumbai Metro resumes services
In Mumbai, the metro services were resumed after a brief disruption. "Dear Passengers, Metro services were disrupted for a short period on account of protests by political parties. However, the issue has been resolved and services have been restored. We hope you #HaveANiceDay. #BharatBandh," Mumbai Metro tweeted.
Bharat Bandh: East Coast Railway Zone cancels 12 trains
East Coast Railway Zone has cancelled 12 trains including Bhubaneswar-Howrah Jan Shatabdi Express and Bhubaneswar-Visakhapatnam Inter City Express
Fuel prices allowed to soar by 'callous govt': Sitaram Yechury
CPM leader Sitaram Yechury on Twitter wrote, "Fuel prices allowed to soar, by a callous govt, making lives of ordinary Indians impossible. Most appropriate that Modi photos are at all petrol stations. But People paying for the Rs 4343 cr spent on these farzi ads. Shameful."
Manmohan Singh asks Opposition to remain united
Former prime minister Manmohan Singh in his address at Rajghat asked the Opposition to stay united in issues such as fuel price hike and inflation. "Modi government has done a number of things that were not in the interest of the nation. The time to change this government will come soon. Political parties should let go of their old issue and unite in the interest of the country," he said.
Bharat bandh: Ashok Chavan, Sanjay Nirupam detained by Mumbai police
Maharashtra Congress president Ashok Chavan, Mumbai Congress president Sanja Nirupam, senior leader Manikrao Thakare detained by Mumbai police and have been taken to DN Nagar police station. Chavan, earlier in the day, staged a rail roko at Andheri railway station in wake of the shutdown
Maharahstra: Protesters removed fromAndheri station, MNS workers block metro rail at DN Nagar station in Mumbai
Maharashtra Navnirman Sena (MNS) workers have blocked the metro rail line between Ghatkopar-Andheri at D N Nagar station in Mumbai. Earlier, Congress workers had blocked railway lines at Andheri station. A senior Government Railway Police (GRP) official said, "Protesters from Andheri and Dadar railway stations have been removed. Protesters at Govandi station were not allowed to enter the station . The situation is under control and trains on all routes of the Central and Western Railway are running normally."
Bharat Bandh: Congress workers stage rail roko in Mumbai; stones pelted at BEST buses
Ahead of Bharat Bandh in Mumbai on Monday, senior Congress workers led by party president Ashok Chavan staged a rail roko at Andheri station. Trains were also stopped at Chembur station on the harbour line of the Central Railway.
In another incident, stones were also pelted at BEST buses near Pratikshanagar depot and Vashi Naka. While no passenger was injured, glass panes were broken.
In Kerala, police asks people to pool in; buses used to ferry stranded passengers
Bharat bandh: Police near railway station in Kerala's Kozhikode have been asking commuters in private cars to pool in and drop others who are heading the same way. Police buses are also being used to ferry those stranded. (Express photo by Vishnu Varma)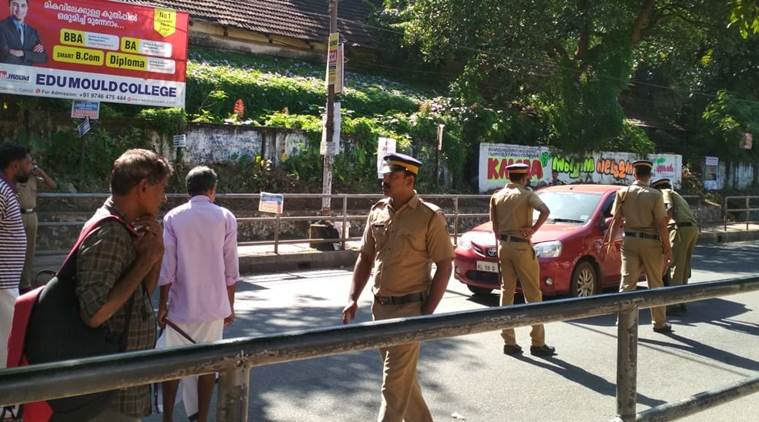 Rahul Gandhi marches from Rajghat to Ramlila Maidan
Rahul Gandhi and other Opposition leaders, meanwhile, staged a march from Rajghat to Ramlila Maidan. Sources suggest UPA chairperson Sonia Gandhi will also join the protest.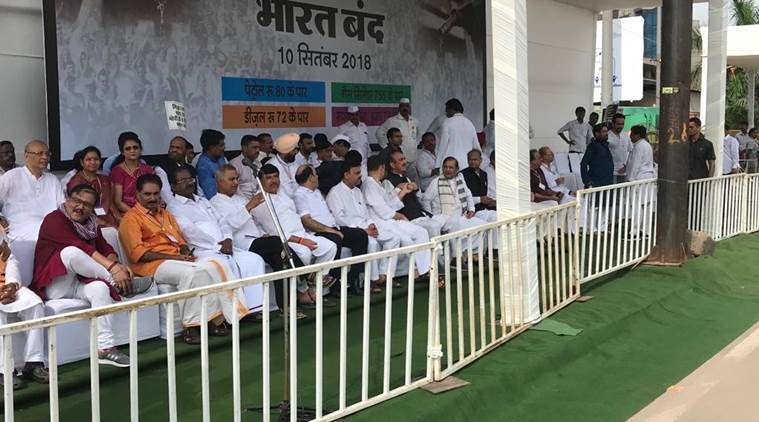 Bharat bandh today: Security heightened in Rajasthan
Security has also been tightened in Jaipur over the bandh call. "Precautionary measures have been taken. Police have been directed to take stringent actions against the protesters who will restore to violence during protests," police said. The Vasundhara Raje-led BJP government yesterday announced a 4 per cent reduction in VAT on petrol and diesel in Rajasthan. This will reduce their prices by Rs 2.5 per litre in the poll-bound state.
Rail, road traffic hit in Bihar; slogans raised against PM Modi, CM Nitish Kumar
In Bihar, Opposition parties took to streets early Monday morning to stage protests in wake of the Bharat Bandh. Over a dozen long route trains were halted at Patna, Gaya, Bhojpur, Jehanabad, Bhagalpur and Muzaffarpur railway stations, reported news agency IANS.
The shutdown is being supported by the opposition Rashtriya Janata Dal (RJD), Left Parties and Hindustani Awam Morcha (HAM). The protesters also raised slogans against the Central government and Prime Minister Narendra Modi and Bihar Chief Minister Nitish Kumar.