Bharat Bandh Today HIGHLIGHTS: Trade unions continue their strike across the country Wednesday. Sporadic incidents of violence were reported in West Bengal, including stone-pelting in some areas. In Kerala, protesters attacked an SBI Treasury Branch in Thiruvananthapuram. In Mumbai, commuters were left stranded as the strike coincided with an agitation by BEST employees. As several employees have chosen to remain at home, banking and postal services were affected in several parts of the country as well.
Traders are protesting against the government's "anti-labour policies". Leaders said the active participation of workers on Tuesday indicated the extent of anger and resentment against the policies of the government, news agency PTI reported. The strike is supported by nearly all major independent federations of central employees, state employees and the employees of banks, insurance, telecom, and other service sectors.
Live Blog
Day 2 of the Bharat bandh or nation-wide strike 2019. Follow the latest news and HIGHLIGHTS below. Read news in Bengali
Bharat bandh in Odisha: Rail roko stalls trains
In Odisha, train services were delayed due to protesters' 'rail roko' in Bhubaneswar, Balasore and Berhampur. Several shops and markets remained closed for the second day. Schools and colleges were closed as well. Protesters held agitations in many cities like Bhubaneswar and Cuttack.
'Say No to Hartal', read boards in Kerala
The Bharat bandh in Kerala has evoked mixed reactions; transportation has been hit with protesters stalling trains and buses going off the roads. However, some commercial establishments remain open, and have hoisted boards which read: 'Say No to Hartal'.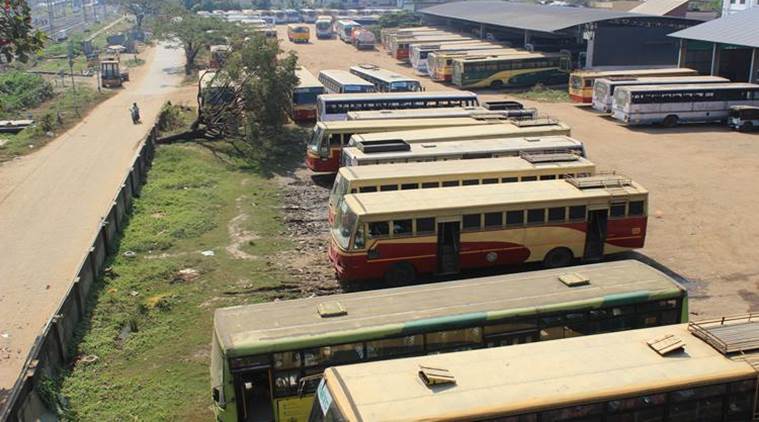 KSRTC depot in Ernakulam (Express Photo: Harikrishnan KR)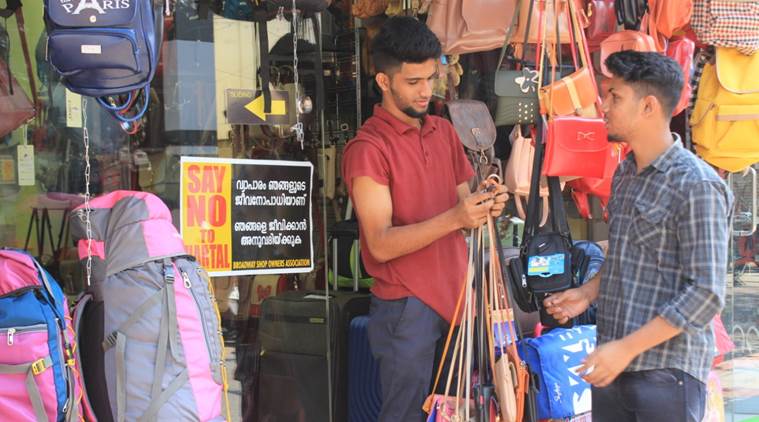 Traders display boards on shops which read 'Say No to Hartal' in Kochi city (Express Photo: Harikrishnan KR)
In Mumbai, Bharat bandh and BEST strike affect transport services
More than 32,000 employees of the Brihanmumbai Electricity Supply and Transport (BEST) continued their indefinite strike Wednesday. The protests coincide with the Bharat bandh. The strike has proved to be problematic for commuters as BEST is the second most used mode of transport in the city after the Mumbai locals.
BEST buses lined up at Worli depot in Mumbai on Tuesday (Express Photo: Nirmal Harindran)
In West Bengal, more incidents of violence reported
Sporadic incidents of violence are being reported from West Bengal. According to a report in PTI, stones were pelted at school buses in Howrah and Coochbehar districts. Senior CPI(M) leader Sujan Chakraborty has been arrested again today for rallying at a bus stop in Jadavpur.
In capital, march from Mandi House to Parliament at 12 pm
In the national capital, workers plan to march from Mandi House to Parliament at noon. Today is the last day of the winter session of Parliament in the Rajya Sabha. Similar marches are simultaneously expected in other cities in the country. Trade unions are demanding minimum wages of Rs 18,000 and social security for all workers, reports PTI.
In Kerala, trains halted, delayed due to Bharat bandh 2019
In Kerala, transportation services took a hit during the first day of the Bharat bandh. Trains were stopped from departing from Thiruvananthapuram, Tripunithura, Shoranur stations, while some trains were delayed as protesters blocked tracks. Venad Express, Jan Shatabdi and Raptisagar Express were delayed, reported PTI.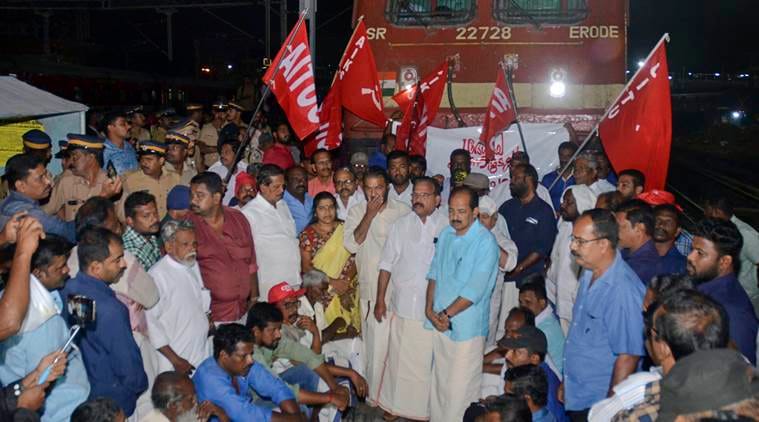 (PTI Photo)
Bharat bandh in West Bengal
On Day 1 of the strike in West Bengal, normal life was largely unaffected apart from small clashes in some parts of the state. A school bus was pelted with stones in Champadali area of North 24 Parganas. According to the police, hundreds of bandh supporters were arrested yesterday for blocking roads, railway and Metro lines, pelting stones and vandalising government vehicles. Read The Indian Express' report.
Express Explains: Attempt to rejuvenate workers, gain momentum
In West Bengal, the CPM's call for strike can be seen as an attempt to find its voice at a time when the Trinamool Congress and BJP have emerged as the two main forces for the 2019 Lok Sabha elections. While the bandh has failed to elicit a response from the general public, a political observer said the party's display of manpower on the streets may boost its image and rejuvenate its workers at the grassroots level ahead of its planned brigade rally in February.
Bharat bandh enters Day 2
On the second day of the 48-hour Bharat bandh, education institutions and commercial establishments are likely to remain closed in several cities across the country. Trade union leaders, who are leading the strike, believe the extent of participation reflects the anger among workers against the government's labour policies. Follow our live blog through the day for the latest news and upates.