Written by
Sweety Kumari
| Kolkata |
Updated: October 24, 2017 7:34:20 am
A DAY after he was released on bail, following his arrest for allegedly criticising the police and battery-operated rickshaw drivers (totos), trader Debajit Roy on Monday said "treating disapproval or criticism in such a way" reminds him of the time when the British ruled the country. On September 27, when Roy was returning home after pandal hopping at Balurghat in West Bengal's South Dinajpore district during the Durga Puja, no toto or cycle rickshaw was available. Accompanied by his pregnant wife and an 18-month-old child, he had to walk 5 km, he wrote on Facebook while indirectly criticising the police.
On October 19, he was arrested along with Anupam Tarafdar, a bank employee who had shared his posts. This was after two cases were lodged against them — by the battery-operated rickshaw drivers' association and the police — at Balurghat police station. The offences carry jail terms ranging from three months to 10 years.  They were booked under sections 505-2 (statements creating or promoting enmity, hatred or ill will between classes), 353 (assault or criminal force to deter public servant from discharge of his duty), 186 (obstructing public servant in discharge of public functions) and 109 (abetment of any offence) of the IPC and the IT Act. On Sunday, a special court granted them bail against a personal bond of Rs 2,000 each.
The movement of vehicles, except battery-operated and cycle rickshaws, were restricted between 4 pm and 4 am during the festive season in the area.  Roy had posted: "Bikedharira… ar jai koro bhai bikel 4 ter modhye bike garage e rekhe dao noile bari firte parbena. Jodi babsha kore khan, tobe apnar peter bhat jogabe forman jari kari… (Bikers…whatever you do, please ensure that you park your bikes in the garage by 4 pm or else you can't return home. If you are into business… then those who have issued the diktats will arrange your meal…)"
In another post, he wrote: "Ashtamir din, 18 masher shihsu ke kole niye 55 minute dariye thekeo jokhn TOTO pacchilam na, tokhn apnar kotha khub mone porchilo… jodi apnar kon help desks e phone kore heap (l) pawa jeto… kintu… (On Ashtami, was remembering you (read police)… while waiting for a toto for 55 minutes with a 18-month-old… if we could get help by calling your helpdesks… but…)." He also wrote that his pregnant wife was accompanying him.
The posts were shared by many people.
Speaking to The Indian Express, Roy said: "Such things become viral when people relate to it. My post was liked by so many people, who probably went through the same ordeal. Being arrested for criticising a system has come as a shock to me. However, I am stronger now, and will continue to write what I feel… What is the use of social media if we can't give feedback or share our experiences… is it only for show off? Treating disapproval or criticism in this way reminds me of the British era."
Roy said that notices were sent to the 15-odd people who had shared his post. "Some went to the police station and pleaded before the officers… some managed anticipatory bails," he added. Only he and Tarafdar were arrested, said Roy.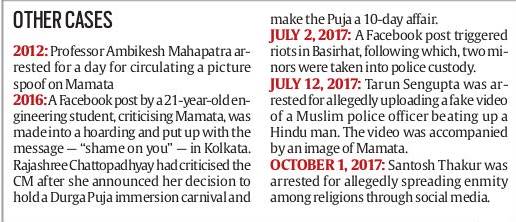 His wife Priyadarshini said, "On September 27, we were returning home after pandal hopping. The road was clear but two-wheelers were not allowed and rickshaw-pullers had hiked their fare. We had to walk 5 km. My husband felt he should share this on Facebook so that it comes to everyone's notice, including the police."
"We received the police notice on November 8. He had to go to Kolkata for the medical check-up of his mother. So, we consulted a lawyer, who went to the police station and sought a week's time. They allowed only a day… the very next day, my husband went to the police station. They kept him waiting for several hours. As he was getting late, he left. On the 19th, he was arrested," she added.
"We were not aware that criticising a system these days is a criminal offence. Thanks to the media and others who stood by us, he is now out of jail," said Priyadarshini.
When contacted, a senior police officer said: "The matter is sub judice and a writ petition has been filed in the high court. The matter is sensitive… I wouldn't like to comment," said a police officer. He was referring to Roy moving the Calcutta HC on October 10 to quash the FIR against him.
Another officer added: "Everything was done by the book. They were arrested under IPC and the IT Act. It was an obscene post, where abusive words were used for a section of the people… it had triggered a massive protest, creating law and order problems in the area. Notices were sent to them more than once, but they failed to turn up for questioning, and hence they were arrested."
Ambikesh Mahapatra, the Jadavpur University professor who was arrested in 2012 for circulating emails mocking Chief Minister Mamata Banerjee, has written to the National Human Rights Commission on the Roy episode.
Under the banner of Aakranto Aamraa — a platform for alleged victims of state atrocities — he has urged the commission to intervene as "Debajit Roy and Anupam Tarafdar were arrested for very innocent and non-derogatory Facebook posts".
"It clearly reveals that these arrests were against the rights of freedom of speech…," it added.
"Five years ago, I was a victim. Though charges against were dropped, the case is still on. I know it will continue till Mamata Banerjee is in power. This government does not pay any respect to the Constitution. Freedom of expression is our fundamental right," said Mahapatra.
📣 The Indian Express is now on Telegram. Click here to join our channel (@indianexpress) and stay updated with the latest headlines
For all the latest India News, download Indian Express App.