HEM CHAND seemed quite anxious while ploughing his land with his two recently purchased bullocks at Silli village deep inside Morni hills. The 27-year-old wanted to finish off his work as soon as possible so that he could lock up his livestock to prevent them from falling prey to wild animals, especially leopards.
"I have lost two cows, three goats and one bullock in the last three years. My latest loss was of a cow, killed by a leopard four months back in broad daylight. My bullock was found dead with deep injury marks made by canine on its neck seven months back. Now, I do not want to lose my two bullocks that I have bought for Rs 18,000 on instalment," says Chand.
Despite suffering a huge loss in the last three years and even before, he refuses to describe wild animals villain, maintaining that the attack on livestock has shot up alarmingly in recent years.
Dayalo Devi (63) of Bhund Khair Bagra village said, "I lost three goats in the last one-and-a-half years. And, it has become a part of our life. In some cases, our cattle managed to survive due to several reasons, including timely intervention from us."
A reply to an RTI query, provided by the Haryana forest and wildlife department, corroborates the claims of Hem Chand and Dayalo Devi that attacks on livestock have increased sharply in the forest areas, especially at Morni Hills, Panchkula, and Kalesar forest, Yamunangar, Haryana. The RTI reply revealed that merely three incidents of loss of livestock were reported in 2012, four in 2013, eight in 2014, 15 in 2015 and a total of 32 incidents of cattle lifting in 2016.
The reply, given by the Haryana forest and wildlife department, is based on the number of accepted applications of rural folk, who sought compensation for the loss of their livestock, killed by wild animals.
The figures provided by the department for five years from 2012 to 2016 also show that the amount of compensation for different livestock has increased in the last five years. In 2012, compensation for a cow was Rs 800 and it increased to Rs 12,000 in 2014. Similarly, compensation for a goat rose from Rs 300 in 2012 to Rs 3,500 in 2014.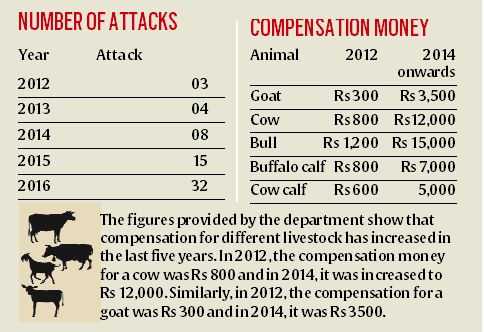 A majority of the livestock, including cows, goats, bullocks and sheep, have all been killed by wild animals. Meanwhile, replies of RTI are replete with several concerns raised by officials of the wildlife department and wildlife conservationists as well.
The Conservator Forest, Wildlife, M L Rajvanshi, said, "No doubt the population of leopards is growing in Indian forests, including in the forest areas of Haryana. Incidents of attack on livestock have also increased as wild creatures, including leopards, are entering human habitats located in the surrounding areas of forests, wildlife sanctuaries and national parks. The compensation for the loss of livestock is only given when it is established that cattle was lifted and killed in human habitats and not in the forest area."
Sources in the wildlife department said, "There are cases where people deliberately lose their aged livestock – cows, goats, which became useless and unproductive for them – in the forest to be eaten by wild animals. We reject such applications. The application for compensation was rejected if livestock is killed within the areas of protected wildlife sanctuaries and national parks."
Morni hills, Panchkula, houses two wildlife sanctuaries, Khol Hi-Raitan and Bir Shikargah, and some of the protected areas of Morni forest. In Yamunangar, there is Kalesar National Park, spread over 53 km.
In Morni, Silli, Bhund Khair Bagra, Bhoj Nangal, Gumthala, Madana, Sunyana, Thandog and Uprali Chowki panchayats have been listed as prone to attack on livestock. In Kalesar area, Nagali, Amwali, Fejpur Kalesar and Darpur villages are prone to such attacks.
Shaminder Boparai, a Chandigarh-based wildlife conservationist and disciple of late tiger conservationist Billy Arjan Singh, offers several reasons for such attacks. "Leopards hunt more than any other wild animals because they need clean food and fresh meal. Humans are also at fault. A man residing in the core forest area should understand that they are at fault, too. Wild creatures are moving in their habitats. There is a term, co-existence, under which, human and wild animals can reside safely in the forest. But the implementation depends on humans," he said.
Boparai added, "The feeding of monkeys and baboons, the natural prey of leopards, by humans forcing them to shift their base from core forest area to roads result in the hunter also shifting towards human habitats."