Written by
Santosh Singh
| Patna |
Updated: June 1, 2018 5:10:43 am
RJD candidate Shahnawaz Alam trounced JD(U)'s Murshid Alam by 41,225 votes in the bypoll to Jokihat Assembly segment in Bihar. While Shahnawaz said his victory "reinforced Mohammed Taslimuddin's legacy and affirmation of leadership of young Tejashwi Prasad Yadav", for the JD (U), it was a loss of the seat the party won in the past four Assembly elections. The RJD was being considered a favourite for the by-election as the constituency has over 70 per cent Muslims and 15,000 Yadavs.
Though RJD candidate Shahnawaz is a greenhorn in politics, he successfully played up his late father and former Araria MP Mohammed Taslimuddin's legacy. Taslimuddin dominated Seemanchal politics for nearly 45 years. He and his son Sarfaraz won Jokihat nine times and now his youngest son Shahnawaz's victory has made it the 10th victory for the family.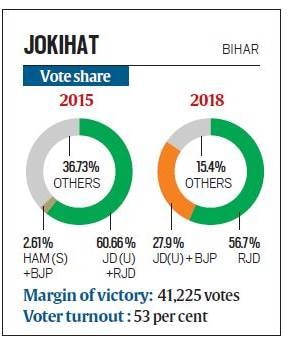 Shahnawaz Alam said: "It is a victory over Nitish Kumar's arrogance. It is victory to announce the leadership of Tejashwi Prasad Yadav. Seemanchal people have been with my father, they have been with Lalu Prasad".
RJD national vice-president Shivanand Tewary said, "Jokihat bypoll puts the stamp on the leadership and acceptability of young Tejashwi. JD (U) never stood any chance. We are upbeat with Jokihat victory as we have wrested the seat from JD(U)".
JD (U) spokesperson Neeraj Kumar, however, said: "We accept the people's mandate. But this victory for RJD reflects how RJD plays its so-called secular politics by playing up Muslim sentiments. This victory will have little bearing on our governance and we will continue to do good work and remain different from the retrogressive RJD".
📣 The Indian Express is now on Telegram. Click here to join our channel (@indianexpress) and stay updated with the latest headlines
For all the latest India News, download Indian Express App.