Written by
Praveen Swami
| New Delhi |
Updated: November 17, 2017 7:58:43 am
In the first organised campaign by a terrorist group to use the Internet to recruit support across India, Al-Qaeda in the Indian Subcontinent has begun online distribution of Tamil, Bengali and Hindi translations of key jihadists. The translations, obtained by The Indian Express, range from excerpts from magazines like al-Risalah and Inspire, to ideological tracts by the jihadist leadership.
The organisation's vernacular push reflects the increasing reliance of the jihadist movement on recruits from states in the southern, western and eastern regions — a phenomenon which first became evident with the Indian Mujahideen which, from 2005, carried out the most lethal urban terrorism campaign India has ever suffered.
For the most part, the translations appear to be targeting educated volunteers. The Tamil articles include one from issue 3 of al-Risalah, aimed at doctors and engineers. "I ask you, Doctor: are your services not better spent in patching the leg of that child who lost his limb in a barrel bomb in Aleppo rather than prescribing medication for an Islamophobe with you in your country," the article asks.
"We use the excuse of being watched by the enemy of Allah and our passports being flagged," the article goes on. "Do we not have trust in Allah? Did Prophet Muhammad not leave Mecca and migrate to Medina under the very eyes of the disbelievers?"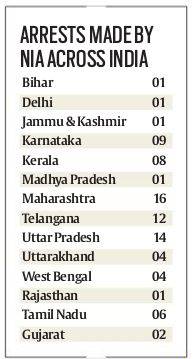 Another Tamil translation from al-Risalah tells the story of an elderly man who volunteered to fight despite having only one eye. "If I am incapable of fighting, at least I will increase the number of the army and would guard your luggage," he is claimed to have said.
In addition to speeches and messages from al-Qaeda chief Ayman al-Zawahiri, and his UP-born Karachi-trained subcontinent deputy Sami-ul-Haq, the Bengali-language material produced by al-Qaeda includes subtitled videos, telling the stories of jihadists fighting in Syria and Somalia.
Large numbers of Sami-ul-Haq's speeches have been translated into Hindi, notably his call to target IAS and IPS officers. "This is an organisation which is aware that many young Muslims cannot read Urdu," a police officer noted. "In earlier decades, material like this circulated clandestinely, through pamphlets and so on, but almost always in Urdu."
Fifty-five of 82 prosecutions involving the Islamic State — targeting much the same pool of educated middle and lower-middle class men al-Qaeda is now reaching out to — originated with individuals arrested in Karnataka, Kerala, Maharashtra, Tamil Nadu, Telangana and West Bengal, National Investigation Agency data shows. Maharashtra, with 16 prosecutions, has the highest number of Islamic State-related cases.
Less than a handful of al-Qaeda in the Indian Subcontinent members have been arrested. The organisation appears to want to use the online world to raise its image, as the Islamic State did.
In a statement issued in encrypted chat rooms in the summer of 2016, the Global Islamic Media Front, al-Qaeda's publicity division, said it would "publish and translate media releases (books, articles, videos, audios, and so forth) from other jihadi groups, and scholars, in addition to original media productions in Arabic, Bengali, English, Hindi, Urdu, Tamil, and more."
The statement noted that "the jihadi media from the Indian Subcontinent is becoming more prevalent, and (thus) the need for da'wah (call) to our brothers and sisters in that region is increasing in importance."
Earlier, in 2011, al-Qaeda had announced that a new organisation called al-Qadisiyyah Media, run by the organisation's Afghan affiliate, Markaz Sada al-Jihad, would "focus on releasing and translating materials into the languages of the Indian Sub-continent, among them Urdu, Hindi, Bangla, Pashto and Farsi".
"It would not be an exaggeration to say that in every war which has taken place in our present times, the military campaign has been preceded by a media campaign to gain the favour of the masses," the al-Qadisiyyah media release said.
No clear picture has emerged so far of the individuals translating material, even though several members of al-Qaeda's south Asian wing have been held. Though three ethnic-Tamil members of an al-Qaeda inspired group were arrested in November 2016, no individual speaking the language has so far been identified as serving with al-Qaeda's central leadership, intelligence officials in New Delhi said.
However, al-Qaeda is known to have numbers of Bangladesh nationals fighting with it in Pakistan and Afghanistan. In April, the organisation issued an obituary for a commander it identified by the single names "Tariq" and "Sohel".
Sami-ul-Haq-who uses the alias Maulana Asim Umar-wrote that "our beloved brother, who made hijrah to Waziristan after bidding farewell to the sparkling lights of Dhaka, Tariq Bhai (Sohel), head of Bangladesh affairs, passed away, his blood irrigating the desert of Kandahar."
Long dominated by Arabic-speaking cadre, al-Qaeda published its first English-language magazine, Inspire, in 2010, aimed at potential volunteers in the United States and United Kingdom. It contained advice on how to execute independent terrorist operations in the West, ranging from instructions to build a pressure-cooker bomb to techniques for mowing down pedestrians using a car — a tactic since used frequently in Europe.
Fighters with al-Qaeda in Syria later released al-Risalah, also in English, which includes reports from volunteers, including a British fighter in al-Qaeda's branch in Somalia, the Shabaab al-Mujahideen Movement, and a suicide bomber from the Turkistan Islamic Party.
The Indian Express website has been rated GREEN for its credibility and trustworthiness by Newsguard, a global service that rates news sources for their journalistic standards.