Marking 30 days since his father's death, M K Alagiri Thursday led hundreds of his supporters to Marina beach to pay their respects to M Karunanidhi. Alagiri, who had been ousted from DMK in 2014, asked whether the party would expel all the people who came out in support of him today. Speaking to reporters from Karunanidhi Samadhi (memorial), Alagiri did not mention his brother and recently-elected party president M K Stalin or his readmission in the party. The fued between the two brothers over thier father's legacy has been public for many years, despite Karunanidhi's decision to elevate Stalin as his successor.
Alagiri (Azhagiri in Tamil) has been politically inactive since 2014. However, after Karunanidhi's death on August 7, the leader claimed to have the support of his father's "true loyalists". Alongside Alagiri today were his children Daya Alagiri and Kayalvilhi. There were more than 1,000 police personnel deployed along the route as a precautionary measure.
Live Blog
Highlights: M K Alagiri holds rally in Chennai to pay homage to Karunanidhi. Read in Tamil
Alagiri thanks cadre for their support
On the 30th day since Karunanidhi died, Alagiri took out a peaceful march to Karunanidhi samadhi to pay his respects to his late father. Speaking to the media briefly from the memorial, Alagiri thanked his supporters for joining him in the march today. He did not mention his brother and DMK chief M K Stalin, or his admission into the party.
In pictures | Alagiri at Karunanidhi Samadhi
Alagiri has reached Karunanidhi Samadhi, where he is paying respect to his late father. Here are some pictures from our photojournalist Janardhan Koushik.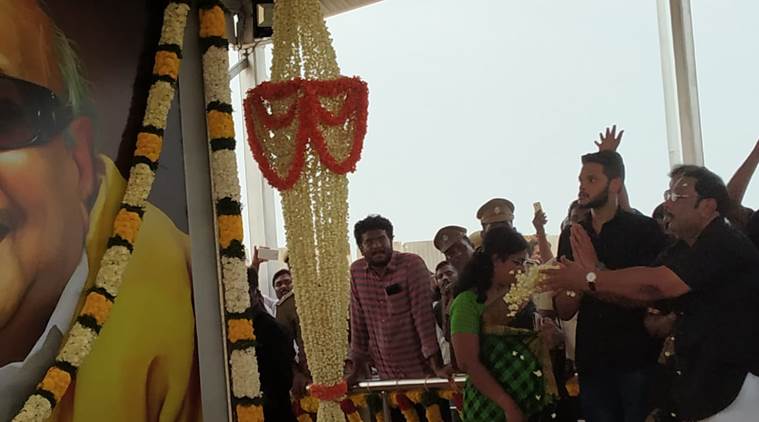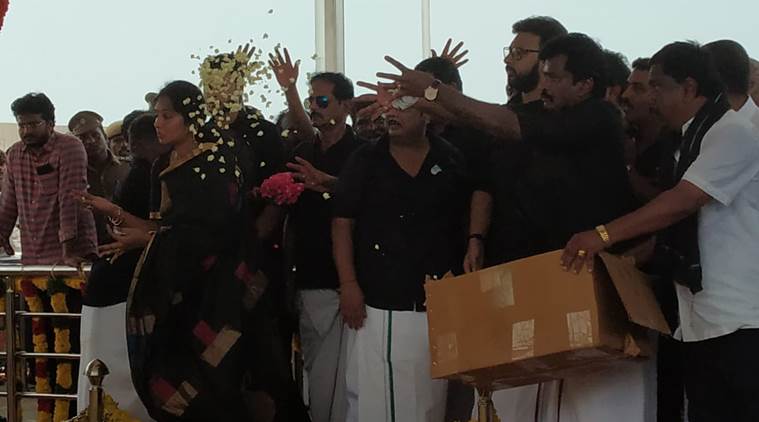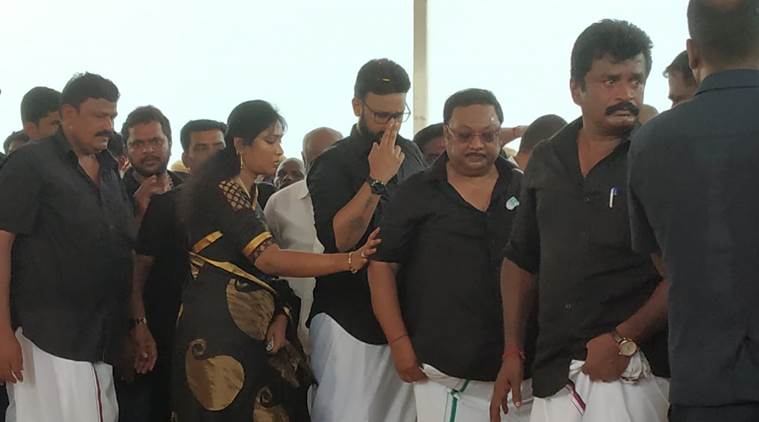 (Express Photo/Janardhan Koushik)
Watch | Azhagiri pays homage to late Karunanidhi
Will DMK take back Alagiri?
Leaders close to Stalin told The Indian Express that it was unlikely that Alagiri would be reinstated in the party. "Stalin is unlikely to reinstate Alagiri in the party as it would worsen the situation at a time the party is preparing for two bypolls and Lok Sabha elections. If he is reinstated, the top leadership fears that Alagiri will also demand a key post for his son," said a leader. Alagiri was expelled in 2014 by Karunanidhi for 'anti-party activities'.
Also read | Ready to accept MK Stalin as leader if party takes me back, says Alagiri
Watch | Alagiri's rally underway in Chennai
Alagiri is accompanied by his children at rally
Azhagiri leads rally to Karunanidhi Samadhi
Expelled DMK leader and son of late Karunanidhi is leading a march to Marina beach. Several protesters are wearing black. Posters being raised do not show DMK party leader and Alagiri's brother M K Stalin.
LIVE | At Azhagiri's rally in Chennai
Mannan: 'We will always remain DMK cadres'
PM Mannan, a former deputy mayor of Madurai city, is quoted as saying by ANI, "DMK cadres who received Alagiri at the airport were suspended from party. Today, lakhs are here to attend the peace march, how many will be sacked? Although we've been sacked we'll be DMK cadres only."
Tamil Nadu CM postpones appearance due to rally
Chief Minister Edappadi K Palaniswami was to attend a Teachers' Day function this morning at an auditorium in the city. However, this event has been postponed to the evening due to Alagiri's rally today. Over a 1,000 personnel is deployed in the city to maintain peace during the rally.
Click here to read this story in Tamil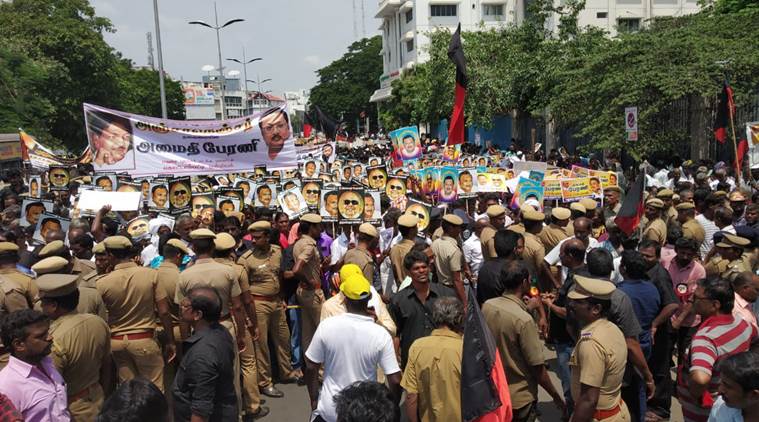 Who is participating in Alagiri's march today?
A source tells The Indian Express that most of the people today have come from southern Tamil Nadu, including Madurai city, Madurai district, Virudhunagar, Ramanathapuram, Sivaganga and Dindigul areas. "They are all DMK men having no powers or who lost powers over the years," the source told The Indian Express, adding that no counsellors and MLAs of DMK are expected.
Also read | To assert his power in DMK, M K Alagiri marches to Karunanidhi Samadhi
At Alagiri rally, no speeches planned
The rally is being held from Triplicane police station to Karunanidhi Samadhi on Marina beach, where Alagiri will pay his respects to his late father. No public meeting or speeches have been planned today. However, Alagiri is expected to speak to reporters later in the day. A source told The Indian Express, "He is unlikely to make an announcement or declaration. He will meet the press later to say that he will take his next decision after consulting his cadres across the state."
M K Alagiri pays homage to late Karunanidhi
M K Alagiri is the elder son of late M Karunanidhi and brother of M K Stalin. He is marching from Walajah Road to his father's memorial site on Marina beach — a distance of about one kilometre — this morning. Alagiri, who has been politically inactive since 2014 when he was expelled from DMK for 'anti-party activities', claims to have the support of Karunanidhi's "true loyalists". There are at least 2,000 personnel deployed along the route.