UNDER fire in the controversy raging around data analytics firm Cambridge Analytica and its harvesting of Facebook user data, the social media giant's founder Mark Zuckerberg broke his silence early Thursday to say that his company is enhancing its security features ahead of the upcoming elections in countries like India and Brazil.
His remarks come as he and Facebook face flak over a major data breach scandal by the British firm linked to Donald Trump's presidential campaign.
Zuckerberg, in an interview with The New York Times, referred to Artificial Intelligence (AI) tools deployed by Facebook to detect fake accounts trying to manipulate news and influence the elections. Such a tool was deployed for the first time in the French elections in 2017. "The new AI tools we built after the 2016 elections found, I think, more than 30,000 fake accounts that we believe were linked to Russian sources who were trying to do the same kind of tactics they did in the US in the 2016 election. We were able to disable them and prevent that from happening on a large scale in France," he said.
Read | Ravi Shankar Prasad warns Facebook on data breach: Can even summon Mark Zuckerberg
"Last year in 2017 with the special election in Alabama, we deployed some new AI tools to identify fake accounts and false news, and we found a significant number of Macedonian accounts that were trying to spread false news, and were able to eliminate those," Zuckerberg said.
This is for the first time that Zuckerberg has publicly talked about Facebook being allegedly used for influencing polls. "I feel a lot better about the systems now. At the same time, I think Russia and other governments are going to get more sophisticated in what they do, too. So we need to make sure that we up our game," he said.
"This is a massive focus for us to make sure we're dialed in for not only the 2018 elections in the US, but the Indian elections, the Brazilian elections, and a number of other elections that are going on this year that are really important," Zuckerberg said.
EXPLAINED | Facebook Chief Mark Zuckerberg's promises fix: What he said, what he did not
With more than 250 million users, India is the largest market for Facebook. more Indians use the social media platform than Americans, which is its second largest market.
Zuckerberg's comments come a day after the Union Minister for Law and Justice, and Electronics & Information Technology Ravi Shankar Prasad issued a warning to the social media company that India will take "stringent action" which could include summoning Zuckerberg, in case data of Indians is stolen.
Besides interviews, Zuckerberg also put up a 900-word Facebook post in which he apologised for his "mistakes."
Read | Data breach: BJP, Congress, JD(U) on client list of parent firm's India partner
"I started Facebook, and at the end of the day," he said," I'm responsible for what happens on our platform. I'm serious about doing what it takes to protect our community". He added that Facebook has a "responsibility to protect your data, and if we can't then we don't deserve to serve you". He also promised to make it harder for apps to "harvest" information of users.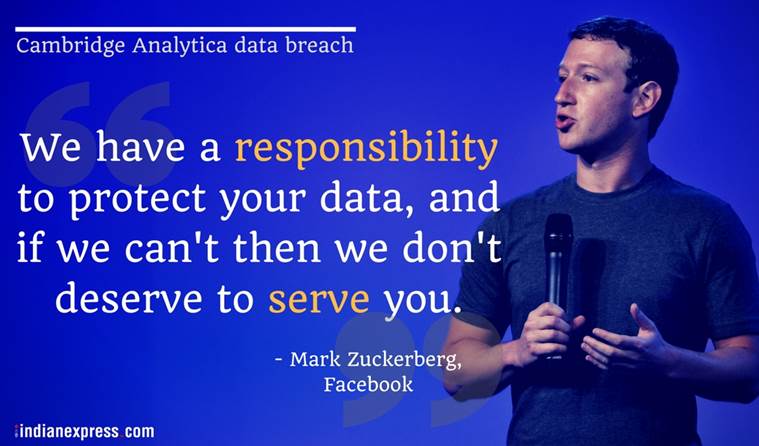 Zuckerberg admitted that governments including Russia's will get "more sophisticated" in their ways to interfere with elections of other countries, "so we need to make sure that we up our game". He also admitted that Facebook was unable to tackle undue influence of external factors during the 2016 American elections.
"There's no doubt that in 2016, there were a number of issues including foreign interference and false news that we did not have as much of a handle on as we feel a responsibility to for our community."
One of Facebook's biggest responsibilities, he said, "is to protect data". To prevent the kind of unauthorised gathering and sharing of data that Cambridge Analytica was involved with, Zuckerberg laid out three steps Facebook will take: "Dramatically reducing" the amount of data that developers have access to; doing a full forensic audit of any app that Facebook uncovers that has any suspicious activity; blocking access to apps that a user hasn't used for three months.
He said, it is "really important that people know what apps they've authorised".
Opinion | When data, fake news and algorithms combine
Zuckerberg said in his post that the company will alert every user whose data may have been affected in the scandal involving Cambridge Analytica. The company will go through an "intensive process" reviewing thousands of apps on the platform.
To tackle the issue of false news, another major concern plaguing a number of countries around the world today, Zuckerberg said, Facebook has made some basic policy decisions. "If you're anywhere close to being a fake news site, you can't put Facebook ads on your site, right? So then suddenly, it becomes harder for them to make money. If you make it hard enough for them to make money, they just kind of go and do something else."
The Facebook founder told The New York Times that, he could not have anticipated a situation like this when he started the social media platform during his college days. "If you had asked me, when I got started with Facebook, if one of the central things I'd need to work on now is preventing governments from interfering in each others elections, there's no way I thought that's what I'd be doing, if we talked in 2004 in my dorm room."
Cambridge Analtyica's parent company, Strategic Communication Laboratories has partnered with a firm named Ovleno Business Intelligence (OBI) in India.
Before its website was suspended on Wednesday, OBI had mentioned BJP, Congress and Janata Dal (United) among its political clients. Interestingly, OBI's owner Amrish Tyagi is JD(U)'s senior leader KC Tyagi's son.
Amrish Tyagi and Cambridge Analytica's suspended chief executive, Alexander Nix are directors in a Ghaziabad-based company named Strategic Communication Laboratories Private Limited. Nix was recorded by undercover journalists of Channel 4 News boasting how his organisation's tactics to influence elections include honey-trapping and bribing their clients' opponents.