When in mid-December, Anand Pawar decided to register the standing tur (pigeon-pea) on 10 out of his 50-acre holding with the Maharashtra State Cooperative Marketing Federation's purchase centre at Latur, he was quite hopeful of realising the government's minimum support price (MSP) of Rs 5,450 per quintal for the soon-to-be-harvested crop. At the time of registration, this farmer from Harangul Khurd village of Latur taluka was even promised he would "soon" receive an SMS, specifying the date and time for him to proceed to make the sale at the centre.
The SMS never came and, more than five months later, Pawar is still stuck with the 65 quintals of tur he harvested in mid-January. And he deeply regrets not having sold his crop then at the prevailing market rate of Rs 4,200-4,250 per quintal. Tur is currently trading in the Latur market yard at Rs 3,550-3,600 per quintal. "Why promise something you did not intend to deliver? What option do I have other than sell at today's going price? I need the money for my next crop, with the monsoon rains just 2-3 weeks away," says Pawar, whose sole consolation is from the soyabean on his balance 40 acres. While it also sold initially below the MSP of Rs 3,050 per quintal — at Rs 2,550-2,600 in November and Rs 2,800-2,900 in December — prices rose significantly thereafter. Pawar could fetch Rs 3,800-3,900 per quintal for his last lot of soyabean sold in early-April.
Pawar is a relatively better-off farmer, who was able to make some money by not selling his entire soyabean crop during the peak marketing season of November-December. But 2017-18 has been an unmitigated disaster even for him, when it comes to pulses. For growers of tur, urad (black gram), moong (green gram), chana (chickpea) and masur (lentil), this is a year they would simply not want to remember.
ALSO READ | Does growth in pulses output mean India has reached self-sufficiency?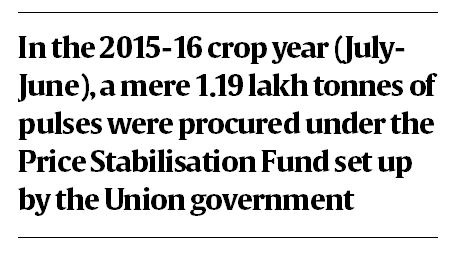 The curse of low realisations for farmers — ironically, in a crop where India has been perpetually import-dependent — comes despite government agencies undertaking record procurement during the last two years. In the 2015-16 crop year (July-June), a mere 1.19 lakh tonnes (lt) of pulses were procured under the Price Stabilisation Fund set up by the Narendra Modi government: 50,422.53 tonnes during kharif and 69,049.08 tonnes in the rabi marketing season. In 2016-17, procurement by the National Agricultural Cooperative Marketing Federation (NAFED), Food Corporation of India and Small Farmers' Agribusiness Consortium rose over 13 times to 15.62 lt. That included 14.74 lt of kharif pulses (11.66 lt tur, 2.20 lt moong and 0.89 lt urad) and 0.87 lt of rabi pulses (0.60 lt chana and 0.27 lt masur).
In the current year, procurement, which is ongoing, is set to further double. NAFED, the only government agency now procuring under the so-called Price Support Scheme (PSS), has till now bought 14.59 lt of chana, 8.58 lt of tur, 2.95 lt of moong, 2.03 lt of urad and 1.36 lt of masoor. That adds up to around 29.50 lt. The final figure could well cross 30 lt — unprecedented as far as pulses go.
But unlike for wheat and paddy — for which there are established systems that have stood the test of time — the actual process of procurement has been far from smooth in the case of pulses. Under PSS, the MSP-based procurement is done by state marketing federations that are sub-agents of NAFED. In states such as Madhya Pradesh and Maharashtra, farmers wanting to sell are required to register themselves first at the procurement centres of their areas. As part of this process, they have to mention the area planted under a particular crop, while providing proof of land ownership (copy of 7/12 revenue extract) and also their Aadhaar identification and bank account numbers. Once registration happens, the farmers are supposed to get an SMS intimation of the date for bringing their produce, the idea being to avoid overcrowding at the procurement centres. Payments, too, are to be credited directly into their bank accounts within 48 hours of the sale taking place.
However, things haven't quite worked that way on the ground.
ALSO READ | Breeding challenges: Hybrid rice clicks better in poor than agriculturally prosperous states
In MP, farmers have had to wait in long queues at the mandis for selling their chana and masur at the government's MSPs. There have even been reports of a couple of farmers dying after standing for hours in the searing summer heat. The situation has been rendered worse by the shortage of weighing machines and porters, especially in the smaller mandis. Notwithstanding all this, government agencies, as on May 22, had managed to procure 9.10 lt of chana from MP (worth Rs 4,003.96 crore at the MSP of Rs 4,400 per quintal) and another 2.67 lt (Rs 1,174.99 crore) from Rajasthan. The agencies also bought 1.34 lt of masur from MP, whose MSP value was Rs 571.23 crore. Both MP and Rajasthan are, incidentally, headed for state assembly polls in November-December this year.
In Maharashtra, many farmers registered their crop at government purchase centres, but could not sell a single quintal at the MSP. Pawar sought to sell, apart from his 65 quintals of tur, also 25 quintals of chana grown on five acres this rabi season. "I went to the centre on Monday to make a final enquiry on whether at least my chana would be procured. But the officials could not give any definite date. How does this government really expect our incomes to double?," he asks sarcastically.
Government agencies procured 4.01 lt of tur from Maharashtra is the 2016-17 kharif marketing season. This time, they purchased another 3.25 lt, worth Rs 1,770.84 crore at the MSP, but farmers haven't received even half of this amount so far (when they were supposed to get paid within 48 hours). "The reason for it is that the procured produce has not been moved from the centres to the designated godowns. NAFED will not realise the payments without that. But the produce cannot be moved, as there is no space in the godowns, which are full with the unsold tur and chana of last year," admits a Maharashtra government official.
With the new planting season about to start, NAFED is desperately issuing tenders for offloading its inventories. Total unsold stocks of pulses in government godowns, from two years of record procurement, are estimated at more than 40 lt. These stocks — on top of continuing imports — will exert further pressure on prices when the next crop arrives from September. The only thing that can prevent such an eventuality is drought. That, again, isn't going to help farmers.
For all the latest India News, download Indian Express App