Updated: November 1, 2018 6:33:52 am
Written by Samarendu Mohanty & Sampriti Baruah
India's policy focus recently changed from increasing farmers' output to their incomes. This is much needed, as farm profitability in India is among the lowest in emerging Asian economies. The strategies proposed for doubling farmers' income include planting better seed varieties/hybrids, improved production practices, diversification towards high-value crops, development of infrastructure and market linkages, and providing access to institutional credit. However, a major impediment to the success of these strategies is small farm sizes. NITI Aayog member Ramesh Chand, in a 2017 policy paper, advocated collective action for minimising the scale disadvantages faced by small and marginal farmers. The Farmer Producer Organisation/ Company approach is one way to enable them to improve their bargaining power, by pooling resources and linking them to the market.
The Small Farmers, Large Field (SFLF) model is founded on the same principles of aggregation and achieving economics of scale, through strengthening backward and forward integration along the supply chain and lowering costs by synchronising key agricultural operations from field preparation to harvest. The SFLF was conceptualised in Vietnam in 2011. One indicator of success is the total area under it rising from 8 hectares to 196,000 hectares between2011 and 2015. SFLF model has taken different forms in Vietnam. Some are formal, with farmers physically pooling their land and setting up companies that operate like private businesses. The shareholders here are farmers themselves. But there are also many informal SFLF entities, wherein farmers have retained their individual holdings and come together only for synchronisation and harmonisation of select agricultural operations to improve efficiency and lower costs.
In the 2016/17 rabi season, we piloted an informal version of the SFLF model in Taraboisasan village near Bhubaneswar. Our first exercise was to explain to farmers there the SFLF concept and its benefits. Many of them were not convinced; they felt that it would mean giving up the freedom to do farming on their own. However, some of the progressive farmers helped us in convincing their colleagues of the potential benefits from working together. Finally, 54 of the 90 farmers in the village agreed to participate in the pilot project. These farmers, with a combined landholding of 90 acres, selected an eight-member committee to coordinate with the project team.
The first significant decision the farmers made was to grow a single paddy variety and procure its seeds from a certified producer. In the previous season, they cultivated as many as five varieties and sourced the seeds from diverse entities. That included saved seeds of their own or taken from other farmers, and also fresh material procured from a government-owned agency or research institute.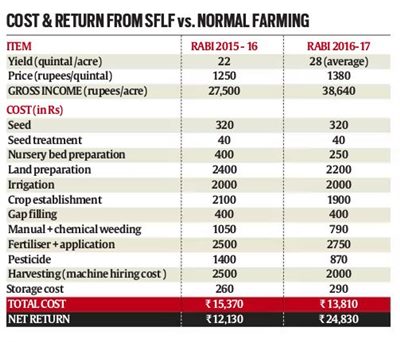 The second step that the farmers took was setting up mat nurseries to prepare paddy seedlings in nine patches, with the largest one serving 30 acres. It took some effort to assemble the farmers into nine groups, based on their individual field locations, irrigation tube-wells, and relationship with one another. Earlier, the 54 farmers were individually raising nurseries on small pieces of land. That, as the secretary of the SFLF Committee Bimbadhar Biswal noted, made it extremely difficult for tractors to operate. Moving around within small pieces of land also consumed extra fuel, which wasn't the case now.
We worked with the committee to also line up input suppliers and service providers, to negotiate lower rates. The SFLF group assessed the fertiliser requirement of every farmer and placed a single order with the Indian Farmers' Fertiliser Cooperative (IFFCO). IFFCO was then induced to supply fertilisers at below its normal retail price and deliver it at the farmers' doorstep.
Before the season started, we invited local rice millers and explained our pilot project to them. They were willing to pay a premium for the paddy produced, due to the ease of milling a single variety. We further facilitated a meeting between a combine harvester service provider and the SFLF committee. He agreed to charge Rs 2,000 per acre, as against the Rs 2,500 rate that the same farmers had paid the previous season. The farmers also spent less on nursery bed and land preparation, crop establishment, and purchase of herbicide and pesticide. They incurred more cost only on fertiliser and storage of the harvested paddy. The expense on fertilisers was higher, despite lower prices negotiated with IFFCO, only because farmers believed that the high-yielding 'Bina 11' variety being grown by them required additional nutrients. They, therefore, applied more quantity of fertiliser than before. Storage costs, too, went up simply because the average paddy yield was 27 per cent higher, hence requiring more number of bags than earlier!
Before harvest, we contacted the same millers. The SFLF committee chose the one based on both the paddy price he was offering and his reputation. The price they got was Rs 1,300 per tonne higher than the prevailing market price. Based on data from each participating farmer at the end of the season, we estimated their average per acre profit at Rs 24,830, as compared to Rs. 12,130 in the 2015/16 rabi season.
But monetary benefits apart, there was also time and energy savings. The participating farmers were vocal about the time they saved by having group seedbed nurseries and synchronised transplanting. They also mentioned the time and money saved from fertiliser being delivered at their doorstep. In the 2017/18 kharif season, the number of farmers went up from 54 to 77, with many from the nearby hamlet joining the group. The total acreage, too, rose to 171 acres.
The above SFLF model seems an attractive option for small farmers to increase incomes. They are able to achieve scale through harmonising and synchronising select farming operations and enhancing their bargaining power in input purchases as well as output sales. But our experience suggests that the scalability of this model is not automatic. Any new group formed will require hand-holding, facilitation and technical support for one or two seasons. But once that is in place, it can sustain for a longer time.
Mohanty is Asia Regional Director at International Potato Centre, Vietnam and Baruah is Graduate Scholar at the International Rice Research Institute, Philippines.
The Indian Express website has been rated GREEN for its credibility and trustworthiness by Newsguard, a global service that rates news sources for their journalistic standards.