Written by
Shalini Nair
| New Delhi |
Updated: June 20, 2018 1:32:14 pm
An inter-ministerial task force has counted up to 53,236 people involved in manual scavenging in India, a four-fold rise from the 13,000-odd such workers accounted for in official records until 2017.
While the numbers are an improvement from before, when a majority of states denied the existence of the practice, it is still a gross underestimate as it includes data from only 121 of the more than 600 districts in the country.
More importantly, it does not include those involved in cleaning sewers and septic tanks, and data from the Railways, which is the largest employer of manual scavengers. Of the 53,000 identified so far through the national survey, only a total of 6,650 have been confirmed officially by states in keeping with the tendency to under-report the prevalence of this practice.
READ | 2.6 million dry toilets and 13,384 manual scavengers. Do the math
The task force is expected to submit its final tally on the National Survey of Manual Scavengers by the end of this month.The survey was to be undertaken in 170 districts of 18 states where the maximum number of "insanitary latrines" were demolished and converted into "sanitary latrines". However, according to official records, only 121 districts in 12 states have been covered — Bihar, J&K, Jharkhand, Karnataka, Telangana and West Bengal are yet to participate in the survey.
"Of the 12 states that cooperated with us for the survey, there was reluctance when it came to verifying the numbers identified by us," a task force member said.
READ | Manual scavenging law to be amended to hike compensation for deaths
The maximum number of manual scavengers — 28,796 — have been registered in UP. States such as Maharashtra, Madhya Pradesh, Rajasthan and Uttarakhand, which had earlier reported zero or about 100, have now upped their count.
Moreover, much of urban India has not been included. This is because while data on insanitary to sanitary toilet conversion has been made available for rural areas, the Ministry of Housing and Urban Affairs, which is in charge of Swachh Bharat (Urban), has informed the Social Justice Ministry that such "data for is not maintained separately."
An official from the Social Justice Ministry said, "Since we have managed to convert many insanitary toilets into sanitary ones through Swachh Bharat, the survey includes all those workers involved in cleaning dry latrines, open drains where excreta is disposed, and single pit toilets. Sewer and septic tank cleaning has not been included as it can't be completely done away with but can only be regulated with the use of protective gear, which is allowed under the law."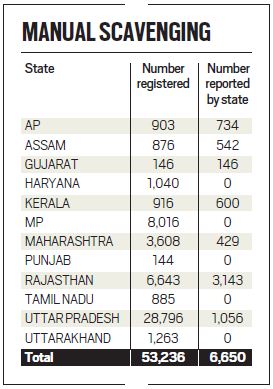 Manual handling of excreta was outlawed in 1993. However, it was only after an amendment in 2013 that its more perilous form, cleaning of sewers and septic tanks, was recognised as manual scavenging. The amended legislation mandated a survey of all kinds of manual scavengers to be completed within two months.
The Indian Express had reported in October 2017 that only 13,000-odd workers were accounted for by the Social Justice Ministry with the other ministries executing Swachh Bharat Mission not involved in efforts to eliminate the practice.
In November 2017, the NITI Aayog convened a meeting following which a task force was set up to carry out a survey of manual scavengers on mission mode. The task force included members from the ministries of Social Justice, Rural Development, Drinking Water and Sanitation, and Housing and Urban Affairs, and the National Safai Karamchari Finance and Development Corporation. It also involved Bezwada Wilson's Safai Karmachari Andolan and the Rashtriya Garima Abhiyan for field-level counting work.
Regarding the exclusion of septic and sewer cleaners, based on the argument that they use protective gear, Ashif Shaikh from the Rashtriya Garima Abhiyan said the rules list 43 kinds of protective gear and 11 machines that should be made available for cleaning. However, he said, none of it is ever provided.
According to Shaikh, in surveys that followed the 1993 Act, the central government counted 7 lakh manual scavengers by 2004, not including those involved in hazardous cleaning. "Of those, 4 lakh are yet to be rehabilitated," said Shaikh.
The Indian Express website has been rated GREEN for its credibility and trustworthiness by Newsguard, a global service that rates news sources for their journalistic standards.