Written by
Shalini Nair
|
Updated: June 26, 2018 11:21:08 am
With the Supreme Court ordering safeguards against alleged misuse of 'dowry law', Shalini Nair looks at how the only criminal remedy that recognises all kinds of extreme harassment faced by women may now be further out of reach of those who need it most.
Sneha Sharma had no idea the recent Supreme Court order on IPC Section 498A had arisen out of her case. On July 27, the apex court, while hearing her husband Rajesh Sharma's petition against a trial court order in a dowry and harassment case she had filed against him, ordered several safeguards to check the "misuse" of what is commonly called the 'anti-dowry law'.
The Allahabad High Court had earlier dismissed Rajesh's petition against summons issued for his parents and siblings by a trial court in Jaunpur, Uttar Pradesh. The east Delhi-based Rajesh went on to file a special leave petition in the apex court. Sneha, whose father runs a small flour mill in Jaunpur, had no one to represent her in the Supreme Court. It was only after this paper contacted her that she learned that the decision in her case.
Section 498 A is perhaps the most reviled of all laws dealing with marital disputes, especially among men's rights groups who have been campaigning to have it scrapped. They often cite its frequent "misuse" and hold up court judgments such as the recent one to validate their position.
The Section states that if a woman is subjected to cruelty by her husband or his relatives, they could face imprisonment for up to three years, in addition to a fine. 'Cruelty' is defined in two parts: the first recognises "any wilful conduct which is of such a nature as is likely to drive the woman to commit suicide or to cause grave injury or danger to life, limb or health (whether mental or physical) of the woman." It's the second part that refers to dowry-related harassment.
Thus, what's commonly called the 'anti-dowry law' is, in fact, much more than just that. It is the first and the only criminal remedy that recognises all kinds of extreme harassment faced by women.
An offence under Section 498A is non-bailable, where bail is not a matter of right but dependent on the discretion of the court. It is non-compoundable so that the victim is not pressured into compromise. And it is cognisable in that a police officer can make an arrest without a warrant from the court.
Far removed from the perception that the Section is frequently misused to settle scores with in-laws — also the line the Supreme Court took on July 27 — statistics point to how a vast majority of victims do not take the 498A route against domestic violence.
The National Family Health Survey-3 data of 2005-6 shows that 40 per cent of 'ever-married women' aged 15-49 experienced emotional, physical, or sexual violence at the hands of their husbands. (For men who have been subject to similar violence at the hands of their wives, the corresponding figure is 1 per cent.) Going by Census 2011 figures, that amounts to 9.7 crore women of the total 24 crore ever-married women.
Despite this pervasive nature of domestic violence, as the National Crime Records Bureau data shows, only 1,13,403 cases were registered in the country during 2015 under Section 498A. That's a mere 0.1 per cent of the women who have faced marital violence. Of the 1.13 lakh cases filed under the Section in 2015, 90 per cent were chargesheeted while only 3,314 cases fell through for being 'mistake of fact or of law'.
Kirti Singh, legal convener of the All India Democratic Women's Association (AIDWA), says considering the stigma that comes with a failed marriage, women anyway resort to the Section only when they have run out of all options. "For many of these women, domestic violence is a daily occurrence and has been so normalised in their lives that they take this step (of filing a complaint under 498A) only in extreme forms of violence."
Experts say the Supreme Court's July 27 order has effectively watered down the Section on many counts.
Without commenting on the petitioner's case, it said, "This Court had earlier noticed the fact that most of such complaints are filed in the heat of the moment over trivial issues. Many of such complaints are not bona fide. At the time of the filing of the complaint, implications and consequences are not visualised." It noted that this results in harassment of family members and may "hamper any possible reconciliation and reunion of a couple".
It then went on to issue a few directions to prevent 'misuse'. Police or a magistrate will have to refer every complaint to district-level Family Welfare Committees which will have as members "paralegal volunteers, social workers, retired persons, wives of working officers". No arrest can be made until this civil society committee submits its take on the complaint. The order lists a few other safeguards for the accused, including grant of bail within a day irrespective of whether the dowry items are recovered. It also states that in case of husbands who stay outside India, there should be no red corner notices issued or passports impounded. The only exemption to these directives are cases where there are "tangible physical injuries or death".
Flavia Agnes, lawyer and co-founder of the Mumbai-based Majlis Legal Centre, a forum for women's rights, says the judgment in the Rajesh Sharma versus State of UP case amounts to a "near repeal" of Section 498A. She says that despite the Section being applicable to cases of domestic violence, police refuse to file a case unless the violence is accompanied by a dowry demand.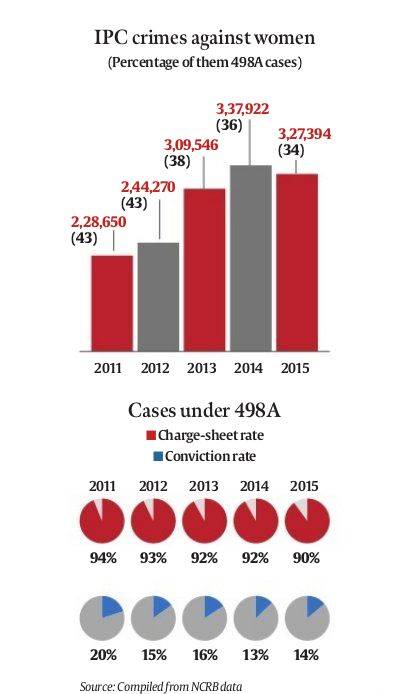 Agnes also points out that the judgment, by insisting on "death or physical injury", ignores emotional violence. "It could be a case of the man not allowing his wife to go to work, forcing her to go through multiple abortions, sending her to her parents' house repeatedly asking for money, or taunting her character and family. What I find ironic is that instead of ensuring shelter for such abused women, the concern is more about protecting the rights of the accused," she says.
According to lawyer Vrinda Grover, at the heart of this judgement is the reluctance to recognise violence being perpetrated in matrimonial homes as a crime. ''Even if edifice of family has to stand on battered bodies and bruised minds of women it is alright, but the preservation of the family is way more important. This is totally unconstitutional," she says.
While, as in case of any other legislation, this too has been prone to misuse, such cases have been largely anecdotal. A study by Kolkata-based organisation Swayam, based on National Crime Records Bureau (2005-09) data, shows that 90 per cent of all complaints under 498A were found to be true on investigation. Ten per cent were declared false on account of 'mistake of fact or of law'.
In comparison, complaints declared false on similar grounds are far higher in other IPC cases such as for cheating, kidnapping and abduction, criminal breach of trust.
******
Talking over the phone from her father's house in Jaunpur, Sneha Sharma, 33, breaks down while talking of her three-year-old daughter Yogashree. Sneha, who holds a diploma in fashion designing, says she hasn't taken up any job as she wants to make it up to her daughter for the lack of a father's love.
"When we got married, my father gave them electronic appliances, clothes, and a couple of lakh in cash. My mother-in-law's taunts for dowry started the minute I set foot in my in-laws' house," she says.
She alleges the jibes soon degenerated into daily expletives hurled at her for everything from the quality of her rotis to shaming her for not wearing the purdah modestly enough. "At least on four occasions, I was beaten severely by my husband in front of not only the rest of the family but also others from the neighbourhood," she says.
Sneha says she decided to move back to her father's house two months after she conceived her daughter. "I started fearing for my baby's life each time I heard them discuss that they should find out if it's a boy or a girl inside my womb," she says. Once back in her father's home, Sneha, with the help of her lawyer uncle, filed a case under Section 498A, first naming her husband and then also her parents-in-law and her husband's sister and brother, all of whom lived in the same house.
Sitting at his lawyer's office in central Delhi, Rajesh Sharma, 35, an engineering graduate and a sales executive, says he has no idea why Sneha walked out on him a year into the marriage. He denies the charges pressed by her in her petition. His father Vijay Sharma, 62, states emphatically that there was no discord in the family.
Rajesh says, "We got married in November 2013 after meeting through an online matrimonial site. A year later, she left for her father's home never to return. Who knows why she decided that she doesn't want to stay with me any longer." He insists they have no children.
The summons, issued to his family by the trial court and upheld by the Allahabad High Court, have been nullified by the Supreme Court ruling. The case will now have to be presented by both parties to the district-level family welfare committee once it is set up.
"Family is the nucleus of our society. The court has recognised this by setting up these family welfare committees. It is wrong to term the judgment anti-women. It is only meant to stop the misuse of the Section," says Vaibhav Shrivastav, advocate for Rajesh's father Vijay.
Several court rulings in 498A cases have derided women for transgressing this very sanctity of the familial structure. The Madras High Court had in 2008 said that the purpose of the Dowry Prohibition Act is also "to save the matrimonial homes from destruction" and how the arrests of in-laws in several cases "is made simply to satisfy the ego and anger of the complainant". In Arnesh Kumar versus State of Bihar (2014), the SC had noted, "The fact that Section 498A is a cognisable and non-bailable offence has lent it a dubious place of pride amongst the provisions that are used as weapons rather than shield by disgruntled wives". The Delhi High Court in Chandrabhan versus State (2008) said, "There is no iota of doubt that most of the complaints are filed in the heat of the moment over trifling fights and ego clashes". In Sushil Kumar Sharma versus Union of India (2005), the apex court went to the extent of stating how through "misuse of the provision, a new legal terrorism can be unleashed" and exhorted the legislature to come up with deterrents in the law to prevent such 'frivolous' complaints.
''Is it not prejudicial against women when only laws against domestic violence, dowry, sexual harassment, or rape are termed as being misused — except when the woman commits suicide or dies because only dead women don't lie," says senior advocate Indira Jaising.
A 2016 study by S Chattopadhyay, assistant professor at Azim Premji University, shows that of the 787 cases under Section 498A disposed of by the Bombay High Court between 1998 and 2004, 6 per cent obtained a conviction where the victim was alive while 35 per cent to 39 per cent were convicted where the women had committed suicide or were murdered.
There have also been judgments that have laid down procedural safeguards to prevent any possible misuse of 498A. For instance, in Arnesh Kumar versus State of Bihar (2014), the Supreme Court brought action under Section 498A subject to magisterial oversight. It also restrained police from making automatic arrests until they are satisfied that it is necessary to prevent such persons from committing any further offence, or for proper investigation of the case, or to prevent the accused from making any inducement or threat etc. In Lalita Kumari versus State of Uttar Pradesh (2014), it said police have to conduct a preliminary enquiry before registering an FIR under 498A.
******
Of all the legislation perceived as 'anti-men', the clamour has been the most vociferous against Section 498A. Rajesh Vakharia, who heads Save India Family Foundation (SIFF), a men's rights collective says, "This law was made for the needy but in 98 per cent of the cases, it is used by the greedy. It needs to be scrapped. Whenever there are genuine complaints, women can take recourse under the Domestic Violence Act."
Rajesh says that he formed the organisation in 2005 after he was detained for five days following a complaint filed by his ex-wife under Section 498 A. "It took five years for me to get acquitted. I set up SIFF to campaign against all laws that are biased against men."
Section 498A came into being in 1983 — almost two decades after the Dowry Prevention Act of 1961 and two decades before the Domestic Violence Act 2006. The Dowry Act pertains mainly to penalising the act of giving or taking dowry and ensuring its return. The Domestic Violence Act is merely a civil remedy available to victims of domestic violence and provides battered women protection, compensation, etc, with no provision for punitive active against the perpetrator. Then there is IPC Section 304B, but which is applicable only in cases of dowry deaths.
Kirti Singh of AIDWA recalls how Section 498A was the result of a long-drawn women's movement that peaked in the 80s. "The law recognised the historical disadvantages faced by women and the stark reality of the everyday lives of many women," she says.
In the wake of the recent SC judgment, the AIDWA has, in its letter to the Chief Justice, asked for a review, terming the extra-judicial family welfare committees to be akin to "kangaroo courts, khap panchayat, or other forms of vigilante justice".
Decrying the court's argument that the low conviction rates under 498A — 14.4 per cent in 2012 and 15.6 per cent in 2013 — are proof of its misuse, the AIDWA letter states, "In our experience, the low conviction rate is not at all indicative of whether cases are false. In many cases, investigation is not properly conducted, statements of material witnesses are omitted, and evidence is improperly collected. Furthermore, as domestic violence occurs in the confines of home and family, convictions under Section 498A IPC are notoriously difficult to achieve."
This view was endorsed by the Law Commission report of 2012 which held that "the abuse or misuse of law is not peculiar to this provision… the existing law should be allowed to take its own course rather than over-reacting to the misuse in some cases."
Kirti Singh says, "The SC judgment is based on the presumption that women file false cases, that they are mostly liars even though there is no finding in the specific case that the woman had filed a false complaint."
Sneha, on her part, has a rather composed response. "I don't care how long this case takes. My life ahead is all about my child and my fight for justice."
The Indian Express website has been rated GREEN for its credibility and trustworthiness by Newsguard, a global service that rates news sources for their journalistic standards.