Punjab Chief Minister Captain Amarinder Singh on Tuesday requested External Affairs Minister Sushma Swaraj to do the needful in bringing back the bodies of the 39 Indians from Iraq's Mosul and provide the necessary assistance to their families in performing the last rites. In a letter to the foreign minister, Singh also asked the government to announce an ex gratia relief to the families of the deceased. The development came after Swaraj told Parliament on Tuesday that the 39 Indian construction workers kidnapped by the Islamic State in 2015 were dead, with Congress chastising the government over the "delay" in announcing the deaths and giving "false hopes" to the families of the deceased.
"I would like to request you to provide all necessary assistance to the families of the deceased for their last rites. Further, the government of India should announce an ex gratia relief to the families of the deceased Indian nationals," Singh said in the letter. While mentioning that 24 of the 39 dead were from Punjab, the CM said Swaraj's statement had come as a shock to the families. "The news has come as a great shock for the families as well as for all of us who were hoping and praying for their well-being," the letter said.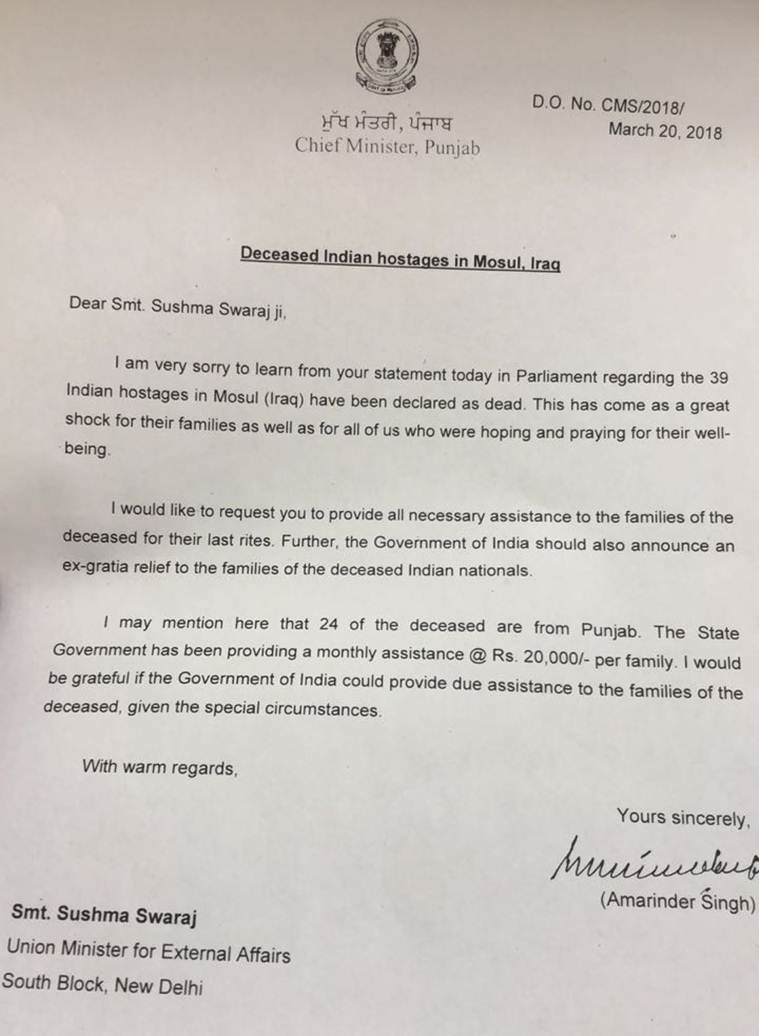 Singh said the Punjab government had been providing a monthly assistance of Rs 20,000 to each of the 24 families of the "missing" Indians in the state and asked the Centre to announce a financial package for them considering the special circumstances.
The Indian construction workers, who were from Punjab, Bihar, Himachal Pradesh and Bengal, were taken hostage when the IS captured Mosul, Iraq's second largest city, in 2014. The workers were trying to leave Mosul when they were caught. Himachal Pradesh Chief Minister Jai Ram Thakur too condoled the deaths of the workers. "We express our sympathies to families of all 39 Indians who were killed in Iraq's Mosul. There were four people from Himachal Pradesh among them. The state government stands with the affected families," Thakur said.
Meanwhile, the CPI(M) lashed out at the government and External Affairs Minister Sushma Swaraj for not informing the families of the Mosul victims before her statement in Parliament. CPI(M) MP Mohammad Salim said it showed how "insensitive and inhuman" the government was.
"It is a farce. The government should have contacted the families of the victims first before Parliament was informed. Earlier, the government had always claimed that it was in touch with the families. So many times we see that policies of the government are announced outside Parliament even though the House is in session," PTI quoted Salim as saying.