Written by
Shyamlal Yadav
| Hyderabad |
Updated: July 20, 2018 6:14:43 pm
From the first journal brought out by OMICS ten years ago to an estimated 1,500 active publications today, Hyderabad has emerged as the Indian hub of predatory journals that publish research articles on a range of subjects from medicine to management for a fee, an investigation by The Indian Express has revealed.
Most of these journals exist online and are operated by companies based across the city, including the posh Banjara Hills, but flaunt addresses from abroad on their websites, mostly in the US and UK.
"An academic in India can get credit for publishing in an 'international' journal in the UK or the US, when in fact it is typically a small operation run out of a house in the West," Jeffrey Beall, the Denver-based former librarian who coined the term "predatory publishing", told The Indian Express.
READ | Inside India's fake research paper shops: pay, publish, profit
Beall was among the first to raise the red flag against such publishers in a widely read blog eight years ago. And among the scores of Hyderabad-based publishers flagged by Beall is OMICS, which is among the biggest operators with over 700 journals.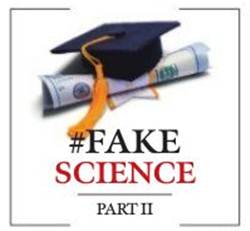 The Indian Express tracked down many others, including Avens Publishing Group and Open Science Publications run by 32-year-old P Ashvin Kumar, who said that he had completed an MTech in Biotechnology and worked with OMICS earlier.
Kumar, who operates from a small office in the Manikonda area, said that Avens has an office in US and that over 70 per cent of articles published on its journals "come from abroad". "Our journals have published more than 1,000 articles, and we do not pay editors and reviewers. We are publishing 46 journals now and all of them are regular. We have ISSN for 44 of them," he said, referring to the standardised international ID code.
Asked about the editorial strength of Avens journals, Kumar said, "In all, we have nearly 1,500 members on our editorial boards. I have put their names only after getting their approvals and receiving their biodata and photographs."
READ | Face behind biggest of all: '40 countries, million articles'
Kumar said he launched his second company, Open Science Publications, recently with 17 journals. Asked whether he had tried to get his journals listed by the University Grants Commission (UGC), he claimed: "Initially, I contacted them but they never responded."
Another publisher, Bio Accent, runs 47 journals, and lists a US address on its website. However, the website itself is registered in the name of Ravi Shankar Kuppalla of Pravathi Nagar in Hyderabad. Similarly, CRESCO Publications, which claims to run 116 journals, has provided a US address on its website, which is registered in the name of Ramchandra Reddy of Guntur.
There are hundreds more with dual identities — Clerisy's website is registered in the name of "Mr Ashok, Hightech City" and Hendun Research Access has its website registered in Mossapet.
And most of these websites have little or no details of their editorial staff.
READ | V-Cs, AIIMS, IIT professors on list: 'Students sent it, we don't know'
"Cenetri Publishing Group is highly conscious about the word it believes, the word it says, the word it publishes. We ensure to have highly professional, real-time researchers as our expert team and a perfect list of researchers as authors," claimed one website, with addresses in Sydney and Hyderabad. However, pages linked to the 'Editorial Board' icon on at least three of their websites were blank.
Openventio, with a US office, publishes 40 journals from Hyderabad, with an "article processing charge" ranging from $127 to $1,027 depending on the article's length and author's country. Scientific Open Access Journals runs 24 journals, with an "article processing charge" of $500 for 20 of them.
The addresses of such publishers criss-cross the city's map, The Indian Express found.
EXPLAINED | How the pay-and-publish business works
Among them are Annex Publishers with 83 journals from Begumpet, Excelytics with seven from Nehru Nagar, Meghana Publications with 10 from Banjara Hills and Scientific Future Group with four from Madhopur.
Then, there's Cafet Innova, a "non-profit organization", which claims to run four journals from Hyderabad. "We are into service to encourage young people," said one of its "founder members", Raju Adela.
The Indian Express investigation is part a global project involving 60 reporters led by German broadcasters NDR and WDR, and Suddeutsche Zeitung, with 18 partners, including Le Monde and The New Yorker. The International Consortium of Investigative Journalists (ICIJ) provided the online platform to share findings on 175,000 publications.
Tomorrow: what lies behind the locked homes in mandsaur?
The Indian Express website has been rated GREEN for its credibility and trustworthiness by Newsguard, a global service that rates news sources for their journalistic standards.