Updated: February 7, 2018 12:42:41 pm
Seven minutes into a video shot by 21-year old Siddhant Indrekar, an elderly, combative man utters the words, "Maal khara khara khara". The words which mean "goods are pure" come after a heated exchange. In the video, two men can be seen throwing Rs 5,000 on the ground. A couple dressed in wedding finery look on as someone from the crowd gets up and collects the cash.
Siddhant, who belongs to the Kanjarbhat community in Maharashtra, shot the video on November 21, 2017 at his aunt's daughter's wedding in Vishrantwadi, Pune. The elderly man calling the shots in the video is a member of the caste council, or jaat panchayat, which "approves" the marriage in the Kanjarbhat community.
"This was a settled marriage," explains Siddhant, an arts student. "In a settled marriage, the couple has already had intercourse. Families go to the panchayat and disclose it before the marriage. The panchayat then approves it after a penalty. If it is not a settled marriage, the girl has to pass a virginity test."
The Kanjarbhats are a denotified tribe that migrated from Rajasthan to parts of Western Maharashtra and Gujarat. The community are governed by their own set of codified rules and a caste panchayat. As part of the Kanjarbhat caste tradition, a bride is subjected to a "character test" on the wedding night. The husband and wife consumate their marriage on a white cloth in a lodge immediately after getting married. The caste councils oversee this test. Both families pay Rs 300 each to the panchayat members, though larger sums are paid as well. "Family members remain outside the lodge and continue to ask if it is going well," says Siddhant.
If the girl bleeds, she passes the test. They declare, "Maal Khara hai". If she does not, it is assumed she has had premarital sex, and they say "Maal khota hai", meaning she is "spoiled goods", and the marriage can be annulled. "The caste panchayat then ask her who she has had intercourse with," says Siddhant, who lives in Kanjarbhat Nagar in Yerwada, Pune. "She is often beaten up, her family is ostracised, and asked to pay a hefty fine to settle the matter. Whoever defies the Kanjarbhat law book is subject to a social boycott."
22 years after Siddhant's uncle, Krishna Indrekar (52) and his wife Aruna, dared to stand against the humiliating practise, they are still not welcome to any social function in the community. "My own brother did not let me in the house in 2004," says Krishna, who is a government officer living in Mumbai.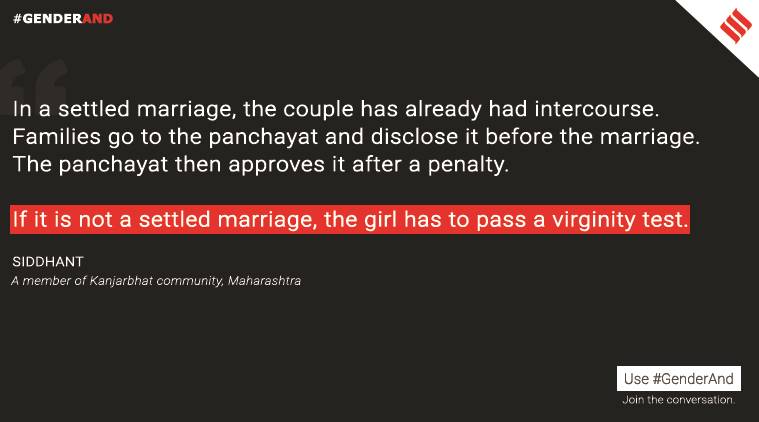 "My son was 6, and was ill. I had come to the village because my friend's father was hospitalised. I went to the police station when my brother kicked me out, and my sick son ended up sleeping on the bench over there." Even as a child growing up in Kolhapur, in 1996, Aruna knew something was amiss at weddings. "I remember as a kid my aunt going through one," she says. "The panchayat determined she is not a virgin. However, she disputed their conclusion. For months, the panchayat would listen to arguments from both sides. Eventually, when they couldn't reach a conclusion, she was asked to hold a scorching metal ball. They said if she was innocent she wouldn't burn. Obviously she burnt herself, and they pronounced her guilty."
Having seen the incident closely and knowing it for what it was, Aruna and Krishna went in for a registered court marriage. "We were condemned for it," Aruna says. "After we refused to do the virginity test, panchayat members extorted Rs 1 lakh each from our families for letting them remain a part of the community." Aruna adds.
Even though the Maharashtra state government passed a law criminalising caste panchayats in July 2017, the kangaroo courts have continued, wielding enormous power in the community. When Vivek Tamaichikar (28) told his mother he wouldn't allow his prospective wife to go through a virginity test, he faced stiff resistance. "She said just because you have read a few books does not mean you know everything in the world," says Vivek, who is a student at the Tata Institute of Social Sciences in Mumbai. "She sternly told me I have to follow traditions of the community and we can't challenge something that has been going on for hundreds of years."
Vivek, remained defiant. "I started expressing my thoughts on Facebook. I study about women empowerment. How can I not speak out? It got a lot of traction. The elders in the community were aghast. But a lot of youngsters wrote to me in solidarity," he adds.
The move led to a small WhatsApp group, Stop the V-ritual. Siddhant and Vivek are two among the 35 men and women speaking out publicly against the practice. "Even my fiancé was in the group but her grandfather is a senior panchayat member so he pressured her to exit," says Vivek. "We are due to get married in May."
Mukesh Minekar, a member of the Kanjarbhat panchayat with personal ties to the NCP, while denying the role of caste panchayat in the "virginity test", says he backs the practice as a father of a daughter. "Do we want India to follow the western countries where girls are getting pregnant at 13 and 14?" he asked. "Virginity test is a character certificate of the woman. Even the bride keeps the cloth with her bloodstains as a memento of pride."
Minekar further adds the youngsters are defaming the community in public. "The virginity test is a private matter between families," he says. "The caste panchayat does not oversee it. If anyone is forced by the panchayat, the families should file a police complaint." Shortly after Siddhant shot the video in November, 2017 he shared it with the police who refused to take any action, saying there was nothing amiss in the 8-minute video. Siddhant now faces a social boycott an indication of why many continue to go ahead with the humiliating practise. "A social boycott means women in the family can't find husbands. Also, who will file a complaint against their own parents for asking to do the test? The police are not as prompt either while acting against them," says Vivek.
Prashant Indrekar (25) and his three friends, all part of "Stop the V-ritual" group claim they were assaulted at a wedding function on the instructions of the panchayat members."We were beaten up because of our campaign," says Prashant. The three claim a panchayat had assembled at the wedding and a "virginity test" was underway. "We went to the police and they filed a complaint. But no charge was filed against the fact that a panchayat had assembled at the wedding, even though it is unlawful," Prashant adds. Minekar, however, claims the three were shooting a video at the wedding, which led to friction.
Krishna Chandgude, an activist with Andhashraddha Nirmulan Simini, an organisation founded by slain activist Narendra Dabholkar, says the idea behind caste panchayats was to solve minor community disputes without making a fuss out of it during the British rule. "But the panchayat started thinking of itself as the custodian of its caste, resulting in horrifying practices," he says. "After the state government criminalised it, majority of the castes dissolved its panchayats. But Kanjarbhats are particularly rigid."
Vivek, however, believes their time is up. "How long can you hold on to unconstitutional practices?" he asks. "This generation will ensure they are eradicated." Members of the WhatsApp group have found support, among others, from Krishna's 90-year old mother Janabai. Janabai had opposed Krishna and Aruna when they refused to do the virginity test back in 1996. "I did one myself," she recollects. "And I remember being scared at the time. But I was not aware of our rights. I let my daughters also do it. But today I realise what it means as I listen to these kids. My son and daughter-in-law had to go through a lot for that decision. But it has inspired a bunch of youngsters today to follow what they did. I was miffed at that time. Today, I am proud of them."
It's been a long journey for Aruna's mother-in-law to come to this realisation. "Why is a man's virginity never questioned?" Aruna adds to the sentiment "And do they even know girls need not bleed when they have sex for the first time. Does it matter in the first place?"
#GenderAnd is dedicated to the coverage of Gender across intersections. You can read our reportage here.
Parth MN is an independent journalist and a Fellow at the People's Archive of Rural India (PARI)