Spain are out of the World Cup. Just as Argentina, Portugal and Germany. They made over 1000 passes in this match but most of it was in and around the halfway point. When they did finally show urgency in extra-time, Russian goalkeeper Igor Akinfeev seemed to have channeled the spirit of Lev Yashin keep Spain out. It went into penalties and in the battle between the in-form Akinfeev and the embattled David De Gea, the former prevailed. It was the first time ever that Russia were part of a penalty shootout in the World Cup. It is back to the drawing board now for Spain.
VS

Spain
1
11' Sergey Ignashevich
1
Russia
41' Artem Dzyuba
Live Blog
Spain 1-1 Russia (3-4 on penalties), FIFA World Cup 2018 highlights: Spain vs Russia highlights in Malayalam, Hindi and Bengali
That's it from here but the action continues elsewhere
Spain are out and Croatia are no longer dark horses. The two teams are in the tunnel and preparing to get out. Follow it live here.
Another heavyweight bites the dust
Spain dug up their own hole here. They had a lion's share of the possession and still came up short. Most of their passes in the first half was centred around the midfield area and it was almost as if they were hoping that the Russian defence would split open by itself for them. The Round of 16 has claimed Spain, Argentina and Portugal thus far. Don't dare make predictions for World Cup 2018.
??????!! ??????? ????????#FifaWorldCup2018 pic.twitter.com/UQcY2VaILJ

— Maria Sharapova (@MariaSharapova) July 1, 2018
England ... We will never ever get a better chance to reach a World Cup final ... I officially declare it #VodkaOclock #WorldCup18

— Michael Vaughan (@MichaelVaughan) July 1, 2018
Russia, you defended like Lions.. what incredible scenes..Big result to deliver under pressure at home!! #icemen #Russia2018 #worldcup

— Mahesh Bhupathi (@Maheshbhupathi) July 1, 2018
Russia keep fighting
They were the lowest ranked team coming into this World Cup and were given no chance before this tournament started. But they knocked that notion of being a weak team out of the park thrashing Saudi Arabia 5-0 in the opening match. Now they have held of Spain and beaten them to qualify for the quarterfinals. They have been disciplined and worked their socks off today to claim this victory and deserve their place in the quarter-final. Today, the hero, no doubt, is their goalkeeper and captain Igor Akinfeev.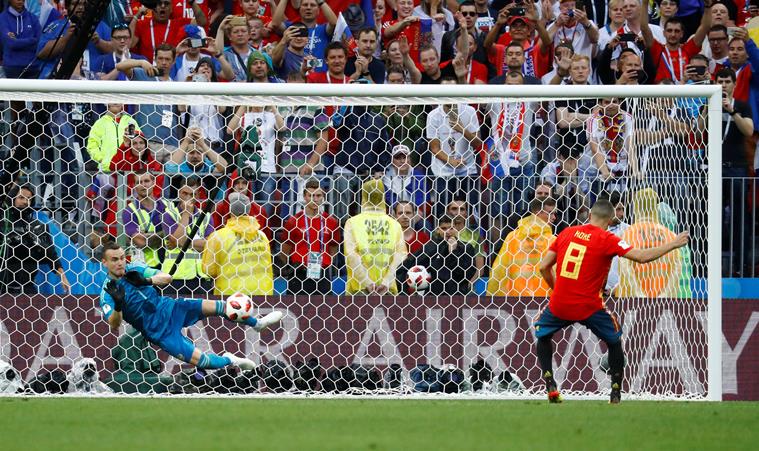 Aspas' penalty saved by Akinfeev, SPAIN KNOCKED OUT!
THAT IS THAT! A brilliant save by Akinfeev and the crowd that goes berzerk! Russia have knocked 2010 champions Spain out of the World Cup.
Spain 3-4 Russia
Cheryshev goes down the middle, De Gea goes to the left and Russia are on the brink now.
Spain 3-3 Russia
Ramos makes no mistake, Spain back on level terms!
Spain 2-3 Russia
Golovin puts Russia in the lead! Sergio Ramos up next for Spain.
Spain 2-2 Russia
Atletico Madrid stalwart Koke up next and AKINFEEV SAVES THIS ONE!
Spain 2-2 Russia
Sergei Inganshevich, who scored the own goal, nails the penalty and Russia back on level terms.
Spain 2-1 Russia
Pique is next up for Spain, hits the post and IN!
Spain 1-1 Russia
Smolov is the first to take for Russia and he SCORES.
Here we go!
Andres Iniesta takes the first shot and SCORES! Spain 1-0 Russia
PENALTIES IT IS!
120 minutes have been played at the Luzhniki and it remains 1-1. This means we will have penalties. Akinfeev and De Gea take centre-stage and it is pouring now in the stadium. There could not have been a more dramatic set-up for the first penalty shoot-out of this tournament, which is also the first that Russia have ever bee part of.
120 mins
1 minute added on. Spain pass around to the edge of the Russian box from where Rodrigo has a go, Akinfeev saves.
118 mins
Russia win a corner, the stadium is absolutely bouncing but the corner comes to nothing.
114 mins
Spain win a free kick towards the right, Koke takes it, it is quite a vicious delivery but goes out without a touch from anyone. Spanish players come running at the referee and VAR has a check on whether Ramos, who was the obvious target was wrestled to the ground. No penalty given.
Is Mr Putin operating VAR !?

— Michael Vaughan (@MichaelVaughan) 1 July 2018
108 mins
Rodrigo drops a shoulder gets away from Granat and runs in from the right, Aspas is inside but Rodrigo goes for goal, it is saved by Akinfeev, Carvajal takes a lash from the rebound and it is blocked yet again. Akinfeev has been a brick wall today.
106 mins
Alba passes inside to Iniesta from the left, the latter takes the shot from edge of the box but it is deflected and balloons up in the air. Akinfeev catches it easily.
First period of extra time ends
This match has all the makings of one that will be decided on penalties. Spain have shown more urgency, understandably, but the Russians have held fort well.
103 mins
Spain make their fourth change, Asensio goes off for Rodrigo. Iniesta tries to make way into the box running from the halfway line but runs into traffic at the edge of it.
102 mins
Aspas dribbles into the box from the right, Ignashevich stays with him, he takes a shot but Ignashevich does well to provide cover. A few moments later, Spain make their 1000th pass of the game.
101 mins
Asensio takes a shot from 30 yards out and it is straight at Akinfeev.
98 mins
Koke has a bang from around 30 yards out after Ramos goes for it even farther away. Aspas takes a tumble at the edge of the box and Isco trips over him. Spain tumbling over each other.
95 mins
Russia make their fourth change, Erokhin comes on for Kuziaev. Yes, you read that right, Russia make their FOURTH change of the match. FIFA rules state that teams can make an extra substitution in case the match goes into extra time.
91 mins
Aaspas runs towards the byline and pulls back for Carvajal but there are too many Russian bodies there for that to work. The danger is cleared.
EXTRA TIME!
Here we go then, 90 minutes are up at the Luzhniki and both teams are level at 1-1. Spain, with all their possession and passes have been as succesful as Russia have been in penetrating the opposition defence.
90 mins
Four minutes added on with extra time looming over the Luzhniki. Russia break with Cheryshev whose attempt at a pull-back from the right is weak one and Spain clear easily. Russia come again, this time from the left and it ends with Smolov attempting a curler at the far post, it is wide.
88 mins
Spain win consecutive corners, both of which come to nothing. It seems four minutes will be added to the 90.
84 mins
Spain's first shot on target in over 50 years comes when Iniesta takes a swing first time after an Isco cross is knocked out of the box. Akinfeev gets down in time and makes the save.
79 mins
Final Spanish change, Diego Costa off for Iago Aspas. In other news, the sun set in the evening, air remained invisible and Spain are passing the ball around in midfield. Russian fans, though are making it known that they think Spain will pack their bags today and they have brought something to help them out.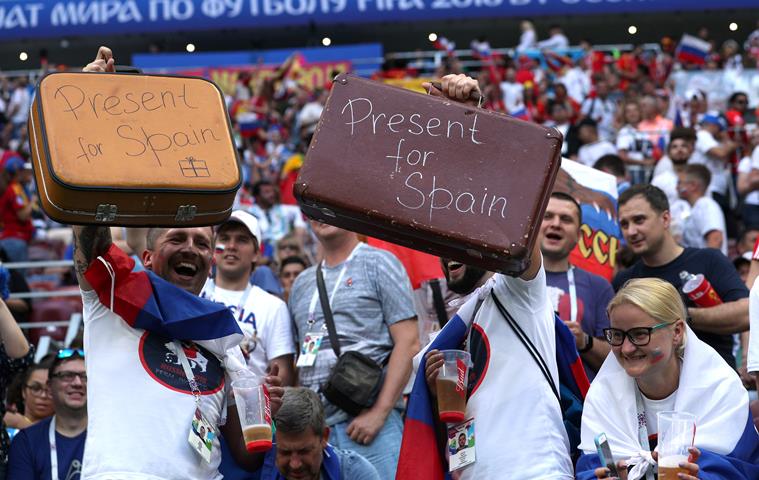 73 mins
Spain win a corner, Asensio swings into the boiling pot, it is headed down, Ramos tries to take control of it but a Russia defender clears it off. Spain regain possession and swiftly get back to knocking the ball around.
69 mins
Spain bring on Dani Carvajal and Andres Iniesta. They replace Nacho and David Silva respectively. It is still all Spain with Russia seemingly going for a leisurely walk around the park at one point.
60 mins
Russia bring on their main man, Denis Cheryshev, in place of Samedov. They have made a much more positive start to the second half but the game is slowly settling back into Spain's tiki-taka.
59 mins
Costa's pull back for Isco is deflected out. He takes it himself and Dzyuba heads it out. Spain then keep the ball for some time and that leads to the home fans letting out ear-piercing whistles.
KICK OFF second half
Russia get us going at the Luzhniki, their supporters absolutely buzzing. They lose the ball but make Spain sweat as the latter try to get out of their own third.
HALF TIME! Spain 1-1 Russia
The earlier stat of Spain having 150 per cent possession was a tad bit exaggerated. The exact percentage of possession they have enjoyed is a measly 72 per cent. Despite holding on to the ball for nearly three-quarters of this half, Spain have made just three attempts so far while Russia have made five. The 2010 champions have mostly concerned themselves with passing the ball around near the halfway line. Think the era of tiki-taka is over? It is true, with the two of its greatest artists - Xavi and Iniesta - absent from the pitch and these players are looking more scared to pass the ball into the Russian area than anything else.
GOAL! DZYUBA SCORES FROM THE PENALTY SPOT! Spain 1-1 Russia (Dzyuba p. 42 mins)
Gerard Pique raises his hand high up in the air while defending a corner and the ball hits him flush on the arm. Penalty given to Russia, Pique given a yellow card although he is arguing that he has absolutely no control over his hands. Dzyuba takes it as calmly as ever, taking the low route to one corner while De Gea goes the other way.
35 mins
Russia finally find the space to attack and reach the edge of the Spanish box. From there Golovin takes a shot. It is from left of the D and aimed at the far post and forces De Gea to make a rare attempt at making a save. But the shot is wide anyway. Spain take the ball back and restart their game of passing without a point to make.
32 mins
This is quite perplexing from Spain. They have at least 150 per cent possession in this match and they have not been able to get a shot on target.
28 mins
Spain have made 231 passes, Russia have made 58. As this sentence is being typed at least another 10 have been added to Spain's tally. It has been that kind of match.