Russia vs Croatia, FIFA World Cup 2018 highlights: Ivan Rakitic was the man who finally put this to bed. Russia and Croatia were locked in a battle in which both sides simply weren't giving up. Denis Cheryshev scored a belter to put Russia ahead and leave the Croatians shell-shocked. But the visitors responded soon and Andrej Kramaric headed in an equaliser. All this was in the first half and the second-half turned out to be a pulsating but ultimately goalless affair. Domagoj Vida then scored the goal that gave Croatia the lead in extra time but Mario Fernandes equalised for Russia in the second period and forced the match into penalties. Both Danijel Subasic and Igor Akinfeev made saves but Hernades missed his shot and Rakitic converted the final kick to send Croatia through.
VS

Russia
2
31' Denis Cheryshev
115' Mario Fernandes
2

Croatia
39' Andrej Kramaric
101' Domagoj Vida
Live Blog
Russia vs Croatia Live Score, FIFA World Cup 2018 Highlights Russia vs Croatia highlights in Malayalam, Bengali
On to the semi-finals then
So, France will face Belgium in the first semi-final on Tuesday. Croatia will face England after that on Wednesday. Both matches are scheduled to start at 11.30 PM. Join us on these days and for now, we leave you with this image.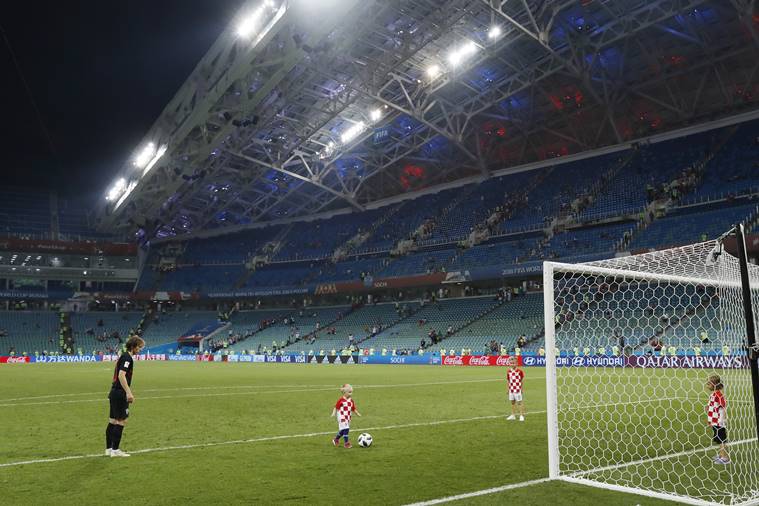 Croatia's Luka Modric, left, plays with his kids Ivano, center right, Ema, right, and Croatia's Domagoj Vida's son David, center left, after Croatia's win over Russia in the quarterfinals. (Source: AP)
Russia's run ends
They came into this tournament as the lowest ranked side, nobody gave them a chance. So they embarked on a hot run that ended with an epic quarter-final. On the way, they knocked out the mighty Spain. There are many reasons for Russia to be proud of this team.
THAT'S IT! Croatia beat Russia 4-3 on penalties
Ivan Rakitic with the decisive kick and he makes absolutely no mistake, CROATIA ARE THROUGH TO THE WORLD CUP SEMI-FINALS FOR THE FIRST TIME SINCE 1998!
Russia 3-3 Croatia
Kuziaev for Russia and he SCORES, Russia 3-3 Croatia
Russia 2-3 Croatia
Vida for Croatia and he thumps it in, Russia 2-3 Croatia
Russia 2-2 Croatia
Ignashevich scores for Russia, 2-2 again
Russia 1-2 Croatia
Luka Modric just about gets it in, advantage Croatia!
Russia 1-1 Croatia
Mario Fernandes MISSES IT! Russia 1-1 Croatia
Russia 1-1 Croatia
Kovacic up next and it is SAVED BY AKINFEEV, Russia 1-1 Croatia after 2 kicks each
Russia 1-1 Croatia
Dzagoev SCORES, Russia 1-1 Croatia
Russia 0-1 Croatia
Brozovic for Croatia and he smashes it into the top left corner, Russia 0-1 Croatia
Russia 0-0 Croatia
Smolov takes, and it saved by Subasic!
Ok, then...
Russia to take the first kick, Fyodor Smolov steps up.
PENALTIES IT IS
Russia force the game into penalties. Both these sides had prevailed in the Round of 16 on shootouts and they have to go through that ordeal once again, only difference being that this time, one of them have to lose.
118 mins
Zobnin with a shot along the ground from around 20 yards away. It is well placed and Subasic dives to make the save. Into the last minute now of this epic quarter-final fixture.
GOAL! UNBELIEVABLE! RUSSIA 2-2 CROATIA (Mario Fernandes 115 mins)
..... HE SWINGS IT IN AND FERNANDES MEETS IT WITH THE HEADER, RUSSIA ARE BACK IN IT WITH JUST FIVE MINUTES LEFT! They are crying the stands at the Fisht stadium and why not. Russia simply never give up.
113 mins
Pivaric booked for hand ball and Russia win a free kick, right side of goal and on the edge of the box. Dzagoev standing over it.....
111 mins
Russian corner, the crowd ramps up the noise levels, it is swung in and the valiant Subasic punches it away. It goes only as far as Kuziaev who catches it sweetly on the volley, Subasic manages to hold on to it. Gritty stuff this.
107 mins
Russian coach Stanislav Cherchesov seems to be orchestrating the crowd as much as his players on the pitch. Gazinski gets a yellow card for a foul on Mandzukic and the latter stays on the ground. Tired legs to crack easy.
End of first period of extra-time
Russia win a free kick from near the halfway line on the right flank, it is swung and Subasic rises to take it in his hands. He seems to have taken some damage as he holds his thigh again but this time, he gets back up almost immediately. Croatia within touching distance of reaching a second semi-final since becoming an independent country.
104 mins
Croatia corner Dzagoev puts it in and the it is cleared out of play by a Croatian defender, another corner and this one goes out for a goal kick. Lovren takes it, Subasic watching keenly.
GOAL! Russia 1-2 Croatia (Vida 101 mins)
Croatia corner, Vida heads it towards goal, the goalkeeper is blinded by a defender standing right in front of him, the ball simply rolls into goal and Croatians are away.
97 mins
There has been a lot of back and forth in the midfield and the action inside both boxes have been about goalkeepers booting the ball upfield. Vrsaljko is finally replaced and Lokomotiv Moscow's Vedran Corluka replaces him.
93 mins
So Subasic is playing and if that is the case, it was not a hamstring problem. Vrsaljko is moving rather gingerly and comes off the pitch. No player has replaced him yet.
EXTRA TIME IT IS!
End of 95 minutes and the two sides end with a goal each. Subasic is receiving treatment, as are many other players on both sides but the cameras are all on him.
90 + 3 mins
Smolov charges down the right, reaches the byline and takes a shot at the near post, Subasic saves valiantly.
90 mins
Five minutes of injury time added. Modric drives to the byline tries a cut-back, he wins a corner. It comes to nothing but Russia have not managed to clear it away completely. Croatia will be keen to keep the ball away from their keeper.
88 mins
A worrying moment for Croatia as Subasic clutches his hamstring in pain after collecting the ball. Croatia have made all three changes, the latest being that of Kramaric being exchanged for Kovacic and they can make one more change only after the game goes into extra-time. He is standing and he throws the ball to restart play but if he can't continue, it will be a huge blow for Croatia.
86 mins
Fernandes gifts Croatia a corner after heading a simple long ball out of play. But that corner is deemed useless when Lovren is penalised for fouling Kutepov.
84 mins
Russia win a free kick around 25 yards away left of centre, Golovin swings it in menacingly but Croatia manage to clear it.
82 mins
Fernandes skips down the right and reaches the byline, he puts the ball in along the ground and it is behind the Russian shirts there. Croatia clear.
76 mins
Modric charges towards the box and passes it to Kramaric to his right. Kramaric puts the ball in with a cross from the outside of his right foot, Mandzukic gets at the end of it and he heads it down for Modric but the Real Madrid man cannot get his shot right.
73 mins
Russia attack now, Mario Fernandes with a cross from the right towards Aleksandr Erokhin inside the box, the latter heads it just over the bar.
67 mins
A lull in the game and in that time, Russia make a change: Goal(azzo)-scorer Denis Cheryshev is taken off for Fyodor Smolov. Croatia have more possession of the ball and they are having a go at Russia, unlike Spain who chose to just pass the ball around until they got knocked out.
63 mins
Perisic, still looking stunned after that, is substituted for Brozovic. That is after Dzyuba heads it straight to Subasic after a Russian corner.
60 mins, Perisic hits the post!
Croatia all over Russia but the latter won't mind because they are not able to get that final pass right inside the area. But the best chance of the match for Croatia came when the ball came to Perisic after a mad scramble in the box. He takes the shot, the keeper can't get to it and hit hits the post, runs just inches parallel to the goal line before safely going out. Now that is some rotten luck.
51 mins
A cross from the right into the box by Vrsjalko and Kramaric tries to channel his inner Cristiano Ronaldo/Gareth Bale. He has his back to goal and goes for an overhead kick. It is on target but devoid of any power and so it is an easy save for Akinfeev.
Cheryshev's screamer
In the context of this match, this goal may have been cancelled out but Dennis Cheryshev's strike is a shoo-in for the list of great World Cup knockout goals. Danijel Subasic, who is no muck in goal, could do nothing but stand, watch and grudgingly admire.
WHAT A GOAL WOOOOOOOOW! AN ABSOLUTE STUNNER 😱😱😱 #RUSCRO #WorldCup⁠ ⁠ pic.twitter.com/88sxswWrSA

— FIFA World Cup (@WorIdCupUpdates) 7 July 2018
HALF TIME! Russia 1-1 Croatia
What a roller coaster of a first half. It was lively in the beginning, got unbearably drab in the middle and jolted back to life after Cheryshev's screamer. Russia would be the happier lot despite conceding that goal. They are truly giving this mighty Croatian side a run for their money.
44 mins
Rakitic with an attempted pass to Vrsaljko down the right but he ends up putting too much on it. Relief for Russia there, they were as open as a fenceless field there.