FIFA World Cup 2018 Highlights, Russia vs Saudi Arabia: Russia's substitute Denis Cheryshev scored two goals to lead hosts over Saudi Arabia 5-0 on Thursday in the opening match of the World Cup. With President Vladimir Putin watching, Cheryshev chipped the ball over two Saudi defenders in the 43rd minute and shot over goalkeeper Abdullah Al Muaiouf's right side. He later chipped the ball in for Russia's fourth goal in stoppage time. Yuri Gazinsky initially put Russia ahead with a header from Alexander Golovin's cross in the 12th minute. After Cheryshev's first goal, Artyom Dzyuba made an instant impact off the bench to make it 3-0 in the 71st with a header from Golovin's cross. Golovin added the fifth from a free kick in extra time.
FT

Russia
5
12' Iury Gazinsky
43' Denis Cheryshev
71' Artem Dzyuba
90' Denis Cheryshev
90' Aleksandr Golovin
0

Saudi Arabia
Live Blog
FIFA World Cup 2018 Highlights, Russia vs Saudi Arabia As It Happened in Moscow. RUS vs KSA in Malayalam, Hindi
FULL-TIME
Russia embarrass Saudi Arabia 5-0 in the opening match of World Cup in Moscow with goals by Yuri Gazinsky, Artem Dzyuba, Aleksandre Golovin and two by Denis Cheryshev.
. Here are the match stats: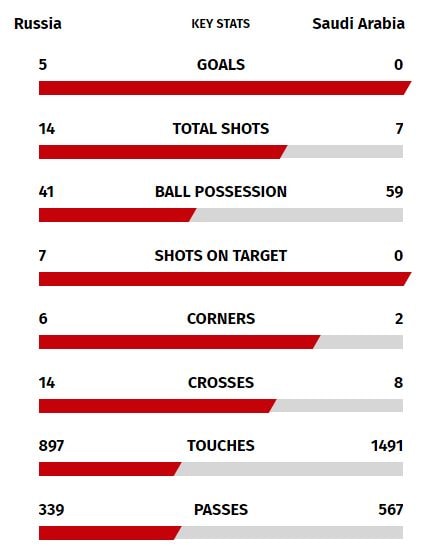 Another GOAL
That was not the end! Russia were not done yet. They score another beauty of a goal to make it 5-0. What a way to end the match. And yes, this is the end. Golovin curls the ball in with a sublime touch to the complete delight of the home crowd.
The 2018 FIFA #WorldCup is currently averaging five goals per game!

The perfect start for @TeamRussia!#RUSKSA #RUS #KSA pic.twitter.com/jPPUiycsJD

— FIFA World Cup 🏆 (@FIFAWorldCup) 14 June 2018
GOAL
What a goal and what a way to end the match. Denis Cheryshev scores his second goal of the night and what a fantastic goal it is! He scores the goal into the top corner with his left foot.
Russia corner
Russia win a corner but it is easily saved by Salman Al-Faraj at the near post. Meanwhile, substitution for KSA: Muhammad Al-Sahlawi off, Muhammad Asiri on
Final ten minutes
Ten minutes of the opening match remain and Russia look all charged up to make it 4-0 against Saudi Arabia. Otherwise, this looks over as a contest.
GOAL
Instant impact after substitution as Russia's Dzyuba makes it 3-0 against Saudi Arabia. Dzyuba sends a header flying into the bottom right corner after seconds of replacing Smolov.
It is safe to say @TeamRussia enjoyed their third goal at the Luzhniki! #RUS#RUSKSA#WorldCup pic.twitter.com/qfrHm0FxvQ

— FIFA World Cup 🏆 (@FIFAWorldCup) 14 June 2018
Smolov replaced
An error could have cost the Green Falcons another goal but they manage to push the ball away from danger. Al-Mayouf made a save but the ball finds the feet of Smolov, who is then replaced by Dzyuba.
No threat to Akinfeev
With one hour of the match already played, Russia captain and keeper Igor Akinfeev has not faced any threat so far. Russia continue to lead 2-0 after 60 minutes of the match.
Substitution
Change in attacking as Fawad comes in for Abdullah Otayf for Saudi Arabia
Chance missed
That could have been a breakthrough for Saudi Arabia. All it needed was a tip-in as the ball passes inches from Al Sahlawi. What a badly missed chance
KSA with good ball possession but bad finish
As was the case in the first-half, Saudi Arabia controlled possession of the ball but faced difficulty in finishing. The same can be seen right now as despite good build-ups, the men in green shirts are unable to find the net.
So close
Four minutes into the second-half and Russia were almost going to make it 3-0. Golovin tries to get the ball in but it hits the crossbar.
Second-half underway
The second half between Russia and Saudi Arabia is underway. Can the visitors change their fate in the second half or will Russia increase their scoreline? Let's see.
First-half stats
Despite a 40% ball-posession, Russia lead the match 2-0 at half-time. Here are the stats of the first-half:
Half-time
And with that comes the half-time. Russia have played the first-half well to take 2-0 lead with Yuri Gazinsky scoring the first goal in 12 minutes while Denis Cheryshev, who substituted the injured Alan Dzagoev, making it double right before half-time.
Russia 2-0 Saudi Arabia
GOAL! Substitute Denis Cheryshev doubles Russia's lead just before the half-time as he displays superb skills to get the ball past two Saudi Arabian defenders.
Five Minutes before half-time
Russia continue to lead and dominate with five minutes of the opening World Cup 2018 match remaining. The hosts create multiple chances but face finishing problems while Saudi Arabia simply lack drive.
Penalty appeal not given
The referee allows game to continue as Smolov drives into the area and tries to take on Hawsawi on the outside before sticking his leg out and taking the ppossessionaway. Russia appeal but it is not given
Cheryshev finds no one inside the box
Another attack by Russia as Cheryshev builds up nicely but finds no one is inside the box, losing the ball to a rather strong looking Saudi defence. Dzagoev has left the field limping. Meanwhile, Saudi Arabia send one wide shot after the other.
So close
Saudi Arabia were on the verge of equalising but the shot goes wide. Russia immediately go on a counter-attack mode. The first match of the tournament is super intense, even though both of them are the lowest-ranked teams participating.
Russia attack
Russia are on fire right now. Getting confidence from the first goal, Russia get into a complete attacking mode, almost making it 2-0 five minutes after taking lead.
GOAL
And Russia did it. The stadium erupts as Yuri Gazinsky scores the first goal of World Cup 2018, giving hosts Russia 1-0 lead in the opening match against Saudi Arabia. Gazinsky jumps high to meet a cross from the left as he gives Russia the lead.
Swiftly followed by the first goal of the FIFA #WorldCup!#RUS have the lead, through Iury Gavinsky! #RUSKSA pic.twitter.com/biMV4JQmLU

— FIFA World Cup 🏆 (@FIFAWorldCup) 14 June 2018
Ten minutes gone
No solid chances created so far as in the first ten minutes but it looks like Russia are getting in the flow. Saudi Arabia goalkeeper Abdullah Al-Mayouf is forced to rush outside the box but manages to keep the scoreline clean despite being under pressure
KICK OFF!
Nestor Pitana blows his whistle, Saudi Arabia kick off and the World Cup finals are under way.
NATIONAL ANTHEMS
Saudi Arabia national anthem is followed by the anthem of Russia. Proud moment for both teams.
Players warming up
Both teams come on to warm up prior to the start of the opening ceremony at Moscow's Luzhniki Stadium as kickoff nears in the first match of the 2018 World Cup. Players and coaches from Saudi Arabia and the Russian side have gone out to loosen up and wave to fans in the 81,000-seat stadium. The stadium is gradually filling up with an eclectic crowd including not only Russians and Saudis but many fans from various South American countries. Fans cheered as the sides were announced and came out of the tunnel.
Less than half an hour before kickoff
Less than half an hour to go before kickoff. The Opening ceremony is underway right now in front of a packed stadium. Flag bearers of the participating teams enter the stadium as well as Brazilian legend Ronaldo.
Opening ceremony
The football match between Russia and Saudi Arabia will take place after the opening ceremony which is set to kick off in Russia's Luzhniki Stadium. Follow live updates of the opening ceremony here.
Line-ups
Here are the line-ups of the opening match of FIFA World Cup 2018:
Russia: Akinfeev; Fernandes, Kutepov, Igansevich, Zhirkov; Gazinskiy, Zobnin, Samedov, Golovin; Dzagoev, Smolov
Saudi Arabia: Al-Maiouf; Alburayk, Os.Hawsawi, Om.Hawsawi, Al-Shahrani; Otayf, Al-Dawsari, Al-Faraj, Al-Jassam; Al-Shehri, Al-Sahlawi
The teams for #RUSKSA are in... 👀#WorldCup pic.twitter.com/rjPSQQWUQ5

— FIFA World Cup 🏆 (@FIFAWorldCup) June 14, 2018
Russia vs Saudi Arabia Live
Hello and welcome to our live coverage of the FIFA World Cup 2018 opener between hosts Russia and Saudi Arabia as they kickstart the tournament at Luzhniki Stadium in Moscow. While Russia, who have never reached the knockout stage before, will be all pumped up with the support of the home crowd, Saudi Arabia hold a slightly better ranking. Stay tuned for live updates and scores as the World Cup kickstarts in less than an hour.