FIFA World Cup 2018, Russia vs Saudi Arabia: FIFA World Cup 2018 began in glorious fashion from the opening ceremony, colourful fans to the action on the field of play. Robbie Williams and Aida Garifullina performed a duet of Angels to get things underway in the opening ceremony. Later, a fairly one-sided game saw plenty of goals including some neat ones. Denis Cheryshev took the cake with a peach of a finish from the left foot to score a brace and ensure Russia end their winless run and do so in some style – with a 5-0 win over Saudi Arabia. The defeat means Saudi Arabia's wait for a win at the extravaganza continues. 24 years and counting as things stand. They need to up their game and significantly so to avoid being thrashed further in the upcoming group games. (PREVIEWS: Group A | Group B | Group C | Group D | Group E | Group F | Group G | Group H)
Live Blog
FIFA World Cup 2018, Russia vs Saudi Arabia: Day 1 of 2018 Football World Cup
End of Day 1
What a smashing start to the FIFA World Cup. An entertaining opening ceremony featuring Robbie Williams turning back the clock with hits from decades back and then he flipped the bird. And then on the pitch, Russia finally ended their losing streak and in some style. Thrash Saudi Arabia 5-0 with President Putin watching. Way to get things underway!
Special call



As I was asking Denis Cheryshev a question in the post-match conference, Russia coach Stanislav Cherchesov received a call and went off to answer his phone.
Cherchesov now says it was Putin congratulating him and the team


— Rob Harris (@RobHarris) June 14, 2018
Russia coach Stanislav Cherchesov on just nipping out of press conference to answer phone: "It was the head of state who called me with congratulations and he asked me to share my thanks with the team and he asked me to keep the team playing like this"

— Rob Harris (@RobHarris) June 14, 2018
RUSSIA 5-0 SAUDI ARABIA
GOAL! GOAL! Make that 5-0 to Russia. And Vladimir Putin looks like he's still not happy with the outcome. Saudi Arabia royal won't be pleased one bit with how this has turned out. Beautiful free kick from Aleksandr Golovin that just about curls around the wall and creeps into the corner of the goal. The wall should have jumped better one may think. And with that, it is full time. What a smashing start for the hosts!
RUSSIA 4-0 SAUDI ARABIA
GOOOOOOOOOOOOOOOOOOOOOL!! Long ball forward for Russia to launch one final attack with three minutes added on. Played on to Denis Cheryshev's path near the edge of the box, takes one touch to compose himself and BANG!! Into the corner of the goal, no chance for the keeper. THERE IS YOUR HIGHLIGHT FROM THE GAME! RUSSIA 4-0 SAUDI ARABIA
First game results over the years
How have first games finished at World Cups in this century?
2014: Brazil 3-1 Croatia
2010: South Africa 1-1 Mexico
2006: Germany 4-2 Costa Rica
2002: France 0-1 Senegal
Russia 3-0 Saudi Arabia
RUSSIA GO 3-0 UP! Dzyuba heads the ball across the face of the goal after a near perfect cross into the area. 71st minute into the game and Dzyuba has put Russia into commanding lead. No chance for the Saudi Arabia goalkeeper to save that. First touch for Dzyuba and goal!
England players went bowling
England open their campaign against Tunisia on June 18 but before that, the players went bowling to unwind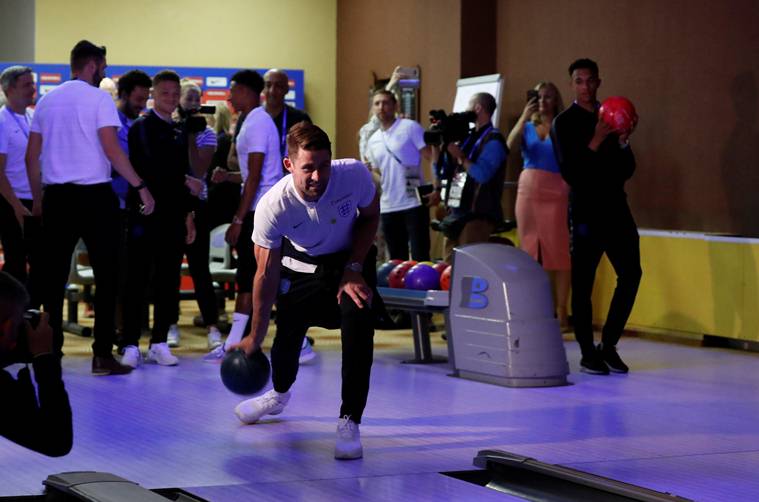 WOOPS!
"FIFA snubbing World Cup sponsor Hisense, the Chinese electronics company, by using Samsung televisions in Luzhniki media box and covering Samsung logos with black tape" - informs AP's Rob Harris who is in Moscow.
World Cup passion in India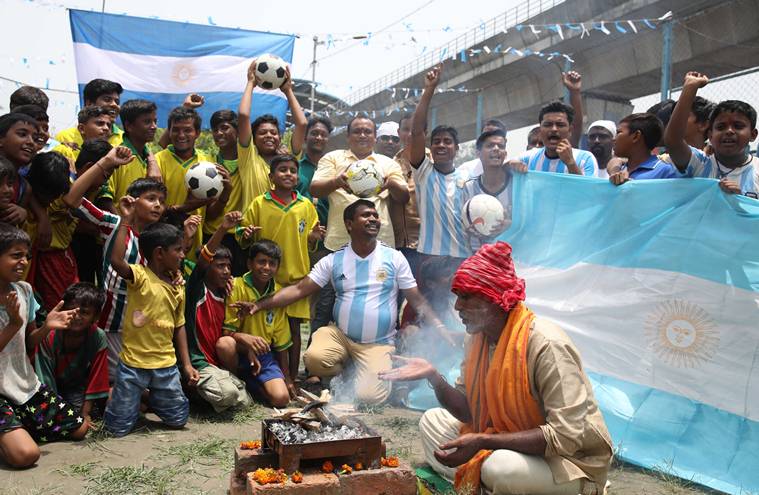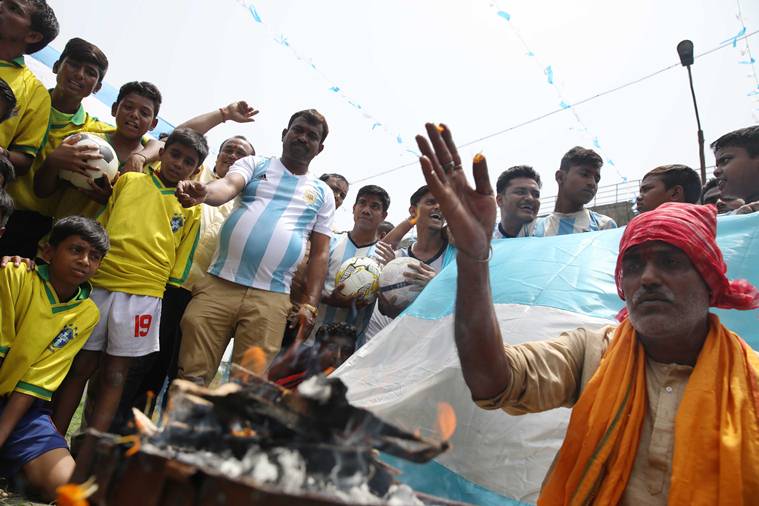 RUSSIA 2-0!
Denis Cheryshev puts Russia two goals ahead. Bit of luck to get the ball back after looked like it was lost in the counter move. Cheryshev does well to round up two Saudi Arabia defenders and rifles a left footed shot into the near post. RUSSIA 2-0 SAUDI ARABIA!
Alan Dzagoev subbed off
Hamstring injury for Alan Dzagoev who has to be substituted after just 23 minutes in the World Cup. Looks unlikely he will have further role to play in the World Cup now. He is replaced by Villarreal's Denis Cheryshev
RUSSIA LEAD!
Yuri Gazinsky puts Russia ahead and becomes the first scorer at the tournament. Leaps highest and probably shoves his marker in the back to create space to guide a cross from the left past Abdullah Al-Mayouf and inside the left upright
British LGBT activist detained
A British LGBT activist has been detained near the Red Square in Moscow for protesting against Russia's abuse of homosexual people. Peter Tatchell stood outside the Kremlin on Thursday holding a banner critical of Russian President Vladimir Putin, saying ``Putin fails to act against Chechnya torture of gay people.'' Several minutes later, Tatchell was approached by several policemen who told him his protest was not authorized. He was led away and taken to a police car. Dozens of gay men have spoken about being tortured in secret prison facilities overseen by the allies of Chechen leader Ramzan Kadyrov. Kadyrov denied the accusations and has claimed there are no gays in Chechnya. (AP)
World Cup in other languages
Starting XI
Russia: Akinfeev; Fernandes, Kutepov, Igansevich, Zhirkov; Gazinskiy, Zobnin, Samedov, Golovin; Dzagoev, Smolov
Saudi Arabia: Al-Maiouf; Alburayk, Os.Hawsawi, Om.Hawsawi, Al-Shahrani; Otayf, Al-Dawsari, Al-Faraj, Al-Jassam; Al-Shehri, Al-Sahlawi
Team news
Russia's Stanislav Cherchesov has chosen to go with a four-man defence as expected. Roman Zobnin will line up with Yuri Gazinsky in defensive midfield, with Fedor Smolov a lone striker, albeit heavily supported by the attacking midfield trio of Samedov, Dzagoev and Golovin. It should shape up as a 4-2-3-1, which can also shift to become a 4-3-3 with Golovin and Samedov as wide forwards.
Russia vs Saudi Arabia
There is plenty riding on Russia and Saudi Arabia in the first game. It is not quite the game one would hope to see on the opening day. But, it also gives both teams reason to prove everyone wrong. Follow all match updates here
World Cup in Russia
This World Cup is a big deal for Russia, the government and for Vladimir Putin. The country is spending more than $13 billion (11 billion euros) on hosting the showpiece event and it is the biggest event in the country since the 1980 Moscow Summer Olympics. "We would like to underscore the validity of the FIFA principle of sport being outside politics," Putin told a meeting of football's governing body FIFA on Wednesday. "Russia has always adhered to this principle," he said.


Opening Ceremony Live
The opening ceremony will be plenty of musical acts headlined by Robbie Williams. Brace yourself for all things Russia as 500 dancers, gymnasts and trampolinists will making an appearance in the opening extravaganza. Follow all the updates here
Russia vs Saudi Arabia
Win for either Russia or Saudi Arabia and it would end a long wait. Russia are looking for their first World Cup win since 2002, while a Saudi Arabia would end a 24-year wait should they win.
One hour to opening ceremony
The opening ceremony is one hour from start and kick off is three hours away. People starting to make their way into the stadium - mainly volunteers and security officials for now. Public trickling in.
Spanish telenovela!
Stepping away from Russia and moving to Spain, Real Madrid manager Julen Lopetegui will face the press - one hour before new Spain boss Fernando Hierro faces the media. Real Madrid really don't care about the World Cup, do they?
Russia vs Saudi Arabia predicted starting XI
Here are the predicted starting XI between Russia and Saudi Arabia:
Russia: Igor Akinfeev; Mario Fernandes, Fedor Kudryashov, Sergey Ignashevich, Yuri Zhirkov; Roman Zobnin, Daler Kuzyaev, Alan Dzagoev, Aleksandr Samedov, Aleksandr Golovin; Fedor Smolov
Saudi Arabia: Abdullah Al-Mayouf; Usamah Husawi, Omar Hosawi, Yasser Al-Shahrani, Mohammed Al-Barik; Abdullah Otif, Salman Al-Faraj, Yahya Al-Shihri, Taisir Al-Jassim, Salem Al Dosari; Fahad Al-Molad
Russia World Cup cannot shake off the Soviet past
As Russia braces to host its maiden World Cup, it can't quite shake off the Soviet past, which discernibly shaped their footballing ideology.As Russia braces to host its maiden World Cup, it can't quite shake off the Soviet past, which discernibly shaped their footballing ideology.
Group A teams
Russia and Saudi Arabia are placed in Group A in this year's World Cup along with Uruguay and Egypt. While Uruguay look to be the clear favourite to top the group, there seems to be a tussle between the remaining three teams to make it to the Round of 16. Winning the first match will be a good precedent for both the teams to stamp their authority in the group.
What to expect at Opening Ceremony?
Will Smith. Robbie Williams. Aida Garifullina. Nicky Jam. These are some of the stars who will be performing at the Opening Ceremony before the start of the World Cup. The Opening Ceremony will take place just before the start of the match.
Key players
Russia will bank on the star striker Fedor Smolov who plays for Russia's top division club Krasnodar, and has scored 52 goals in the last three seasons for the club.
Saudi Arabia, on the other end, will look to depend on the experience of the 35-year old defender Osama Hawsawi.
According to statistics, the last country to host and win the world Cup in the same year was France in 1998. Here are how the table looks like: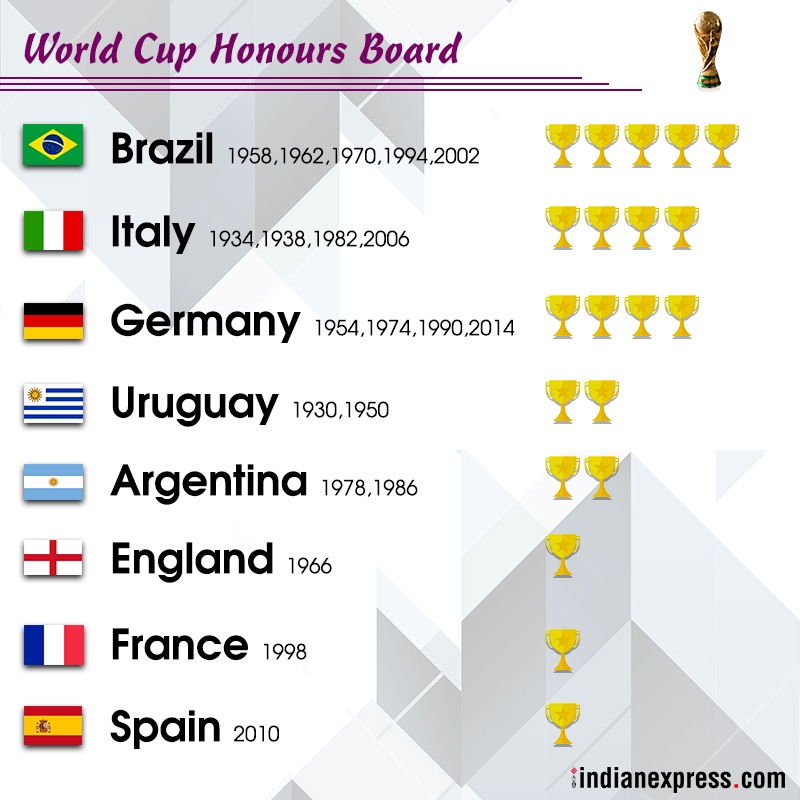 Russa vs Saudi Arabia squads
The squads for Russia and Saudi Arabia in the World Cup do not feature big names. But the two teams will be hoping that they can pull off a win in the tournament opener.
Russia World Cup Squad
Goalkeepers: Igor Akinfeev, Vladimir Gabulov, Andrey Lunev
Defenders: Vladimir Granat, Ilya Kutepov, Fedor Kudryashov, Sergei Ignashevich, Andrey Semenov, Igor Smolnikov, Mario Fernandes Alan Dzagoev, Denis Cheryshev, Yuri Gazinskiy, Alexsandr Golovin, Yuri Zhirkov, Aleksandr Erokhin, Daler Kuzyaev, Roman Zobnin, Anton Miranchuk, Alexsandr Samedov
Forwards: Fedor Smolov, Artem Dzyuba, Aleksey Miranchuk
Saudi Arabia World Cup Squad
Goalkeepers: Mohammed Al Owais, Yasser Al Mosailem, Abdullah Al Mayouf
Defenders: Mansoor Al Harbi, Mohammed Al Breik, Yasser Al Shahrani, Motaz Hawsawi, Osama Hawsawi, Omar Hawsawi, Ali Al Bulaihi
Midfielders: Abdullah Al Khaibari, Abdulmalek Al Khaibri, Salman Al Faraj, Mohamed Kanno, Abdullah Otayf, Taiseer Al Jassim, Houssain Al Mogahwi, Hattan Bahebri, Salem Al Dawsari, Yahya Al Shehri, Fahad Al Muwallad
Forwards: Mohammad Al Sahlawi, Muhannad Assiri
All the action in group stages
There will be plenty of action in the group stages of the FIFA World Cup 2018 with 32 teams vying for a spot in the Round of 16. But apart from the footballing action, there are other reasons to build up the excitement in the group stages.
FIFA World Cup 2018 Live Updates
FIFA World Cup 2018 is set to begin in Russia. After a wait of four years, the tournament has finally set to begin. 32 teams will be participating in the tournament. Teams are divided into eight groups of four, with two of them will make it to the round of 16. The tournament will begin with the hosts Russia taking on Saudi Arabia in the opening match.