FIFA World Cup 2018, Belgium vs Panama Highlights: Belgium beat Panama 3-0 in Sochi but were stretched in getting all three points in their first game at the World Cup. Dries Mertens scored a volley before Romelu Lukaku added a brace to make the win comfortable and beyond any doubt. Panama had held the Red Devils scoreless until two minutes in the second half. With the win, Belgium are off to a decent start in Group F with England taking on Tunisia later in the night. Debutants Panama had few chances to score but were not clinical enough to beat Thibaut Courtois.
FT

Belgium
3
47' Dries Mertens
69' Romelu Lukaku
75' Romelu Lukaku
0

Panama
Live Blog
FIFA World Cup 2018, Score and Updates
FULL TIME! BELGIUM 3-0 PANAMA
Panama's debut at the World Cup ends in defeat. Belgium start off with a 3-0 win, not so easy in the end. Three goals in the second half and two by Lukaku as Belgium start with all three points in Sochi.
Lukaku brace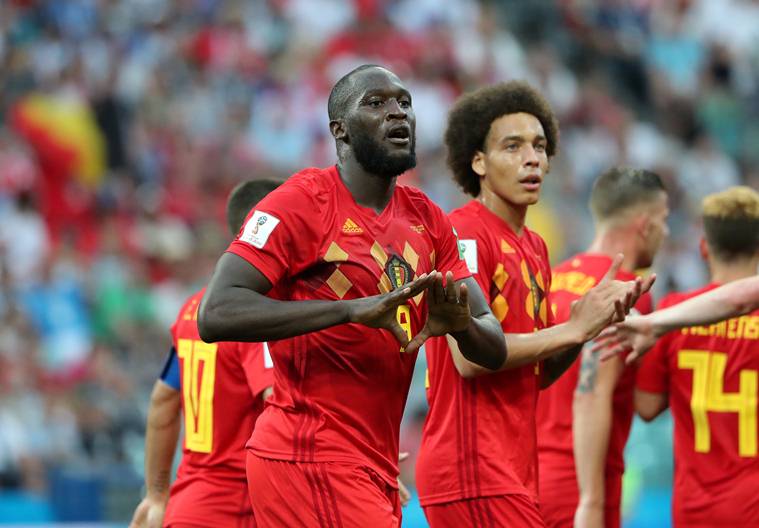 GOAL!!!
BELGIUM SCORE! ROMELU LUKAKU ONCE AGAIN AND BELGIUM GO 3-0 UP! Quick counter from Belgium, Witsel to Hazard and then Eden plays Lukaku on with a neat ball in his stride. With keeper to beat, Lukaku chips Penedo to make it 3-0!
GOAAAAL!!!
BELGIUM GO 2-0 UP!! LUKAKU SCORES!! Kevin de Bruyne with a tasty ball towards Lukaku and the ball is headed into the back of the net. Third goal at a World Cup for Romelu Lukaku. Hints of offside when the ball was played in but VAR confirms the goal stands.
Belgium chances
Belgium finally creating some decent chances in and around the Panma box. An attempted one-two involving Lukaku at the edge of the box doesn't quite come off. The ball is played behind the Manchester United man and the chances goes to waste. Eden Hazard getting more and more involved in things now
Panama chance!
Big, big chance for Panama to equalise! Michael Murillo darts in behind Carrasco off a long ball. Gets a decent first touch to keep the ball in his stride and then with Courtois to beat, sends the ball straight at the Belgium keeper. Poor defending from Carrasco
Belgium goalscorer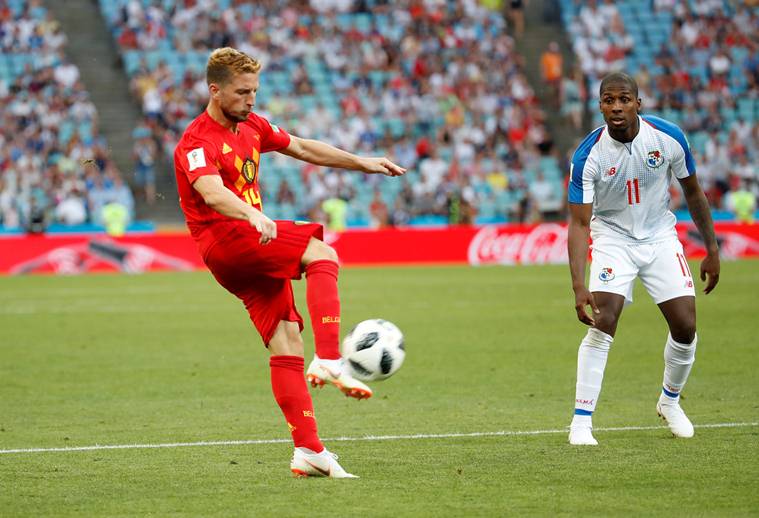 GOAL!!
OUT OF ABSOLUTE NOWHERE! Mertens puts Belgium in front! Gorgeous volley from Dries Mertens at the edge of the penalty box and it goes beyond the Panama goalkeeper. Six goals in last nine appearances for Mertens. Will that open the floodgates?
SECOND HALF
Belgium get the second half underway in Sochi. No changes by either teams during the break.
Indian ball boy in Sochi
Rishi Tej, 10, from Bangalore had the honour of picking the ball up and taking it forward when the teams descended from the tunnel.
HALF TIME
45 minutes played in Sochi and Belgium are 0-0 against Panama. Been rather disappointing from the Red Devils. No urgency ni their attack, no creativity going forward and Panama have kept them in check. Seeing plenty of ball but not enough to create chances. Lukaku, starved for the ball, had to drop closer to the midfield to get involved in the game. But after the first half, credit to Panama for holding Belgium
Panama chance!
Panama make run forward and looked to be on a two-on-one attack but a deflection, timely one at that, ends that opportunity. Alderweireld and Vertonghen exchanging words over how so much space was allowed for Panama to move foward. In the 34th minute, Panama win their first corner at their first World Cup
Panama move forward
Panama with a rare show of attacking intent. Edgar Barcanes with the cross from the right but it is headed away and then cleared from danger by Alex Witsel
CHANCE
Kevin de Bruyne with a gorgeous ball played into the box after 21 minutes and it is aimed at Lukaku at the far post. But Torres gets his foot to it and is deflected wide of the post for a corner. Could very easily have been an own goal
YELLOW CARD
Panama's Eric Davis joins Belgium's Thomas Meunier in getting booked inside the first 20 minutes
12' Belgium 0-0 Panama
After first 12 minutes, it looks like it will be a tough day in the office for Panama. Pegged back with Belgium riding attack after attack. Running towards the box but so far, so good
CHANCE!
Ball comes to Carrasco on the edge of the box and he tries to side foot the ball into the back of the net but it is comfortably saved by Penedo. Moments later, Hazard runs at the Panama defence and plays it towards Mertens and his right footed effort is saved
KICK OFF!
KICK OFF! Panama kick things off. What a moment for Panama - debut - and some players visibly emotional during the national anthem
Big moment for Panama fans
Panama fans in volume
Chants of "Olé Olé Olé Olé, Panama, Panama" and "¡Sí se puede!, ¡sí se puede!" (Yes we can, Yes we can) ring around the stadium as Panama team take the field for the first time in a World Cup
Belgium team
Boyata starts for Belgium in place of injured Vincent Kompany against debutants Panama. Kevin De Bruyne, Eden Hazard and Romelu Lukaku up front!
LINEUPS
Belgium XI: Courtois, Alderweireld, Boyata, Vertonghen, Meunier, Witsel, De Bruyne, Carrasco, Mertens, Hazard, Lukaku
Panama XI: Penedo, Román, Escobar, Davis, Murillo, Gómez, Godoy, Cooper, Bárcenas, Rodríguez, Blas Pérez
Sweden win
In the first game of the day, Sweden and South Korea faced each other. After a slow start, Sweden were on the attack and in the second half, they were awarded a penalty. Andreas Granqvist converted the penalty for Sweden and that was the only goal of the game. Relive the highlights of Sweden vs South Korea here
Belgium vs Panama in Sochi
We are just over an hour away from the second game of the day! Belgium are taking on Panama. This game will also kick-off the competition of Group G.
Meanwhile, in Sochi...#BELPAN is next up in our schedule of #WorldCup football today 🇧🇪🇵🇦 pic.twitter.com/TalcOwZQhU

— FIFA World Cup 🏆 (@FIFAWorldCup) June 18, 2018
Group G Belgium vs Panama
Belgium are once again at a World Cup and they are once again the underdogs. They open their campaign against Panama on Monday and will start as favourites in the match. A win here will boost their chances of finishing at the top of the group in which England and Tunisia are also part