Winters are when vegetables turn affordable, with plentiful supplies of everything from tomatoes, carrots, cauliflower and radish to beans, spinach, beetroot and capsicum. True, there are some specifically summer veggies: bhindi, kheera, lauki, tinda, tori and chichinda. But these are exceptions. The general rule is that you pay less in winter than in summer. That rule has, however, been practically turned upside down of late.
This summer saw prices of most vegetables crash. Data made available to The Indian Express by a leading online grocer show that average retail prices in Delhi during June were lower than or equal to their November 2016 levels for 12 out of 20 vegetables. This is also consistent with the official Consumer Price Index (CPI) numbers: the all-India CPI (base: 2012 = 100) for vegetables in May and June 2017 — at 125.6 and 133.3 respectively — ruled below the 141.9 of November, and not much above the 125.3 level for the peak winter month of December.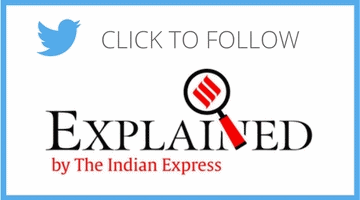 The anomaly doesn't end here. Data sourced from the same online marketplace for retail prices in the current month (until November 21) reveal these to be higher than the average for June in 15 out of 20 tracked vegetables (see chart). This again is seemingly in line with the latest CPI for vegetables, which, at 162.5 in October, was higher than the corresponding 133.3 figure in June.
What we are witnessing then, is a very unusual phenomenon. When prices ought to have gone up in May-June, as in the normal course of summer, they largely fell. And now, when they should be easing with the onset of winter, consumers are forking out upwards of Rs 50 per kg for most vegetables.
One reason for this ulta-pulta, unseasonal skyrocketing of prices could be the heavy rain in September and October across Maharashtra, Karnataka and the Rayalaseema region of Andhra Pradesh. The Niphad-Junnar-Ambegaon stretch of Maharashtra, Kolar and Chikkaballapur in Karnataka, and the neighbouring Madanapalle and Anantapur belt of Rayalaseema happen to be major horticultural hubs. The late rains caused some damage and also delayed the harvesting of the standing tomato, kharif onion, capsicum and spinach crops, thereby impacting market arrivals.
But that may not the sole factor behind the present price spiral. In the case of tomatoes, high prices since late June were preceded by a long period of low producer realisations right from November. And that clearly had to do with demonetisation, whose effects on prices led to farmers terminating their summer tomato crop after the initial few "pickings" during May-June. They, moreover, planted less area under tomatoes during the recent kharif season — the price of which is being paid now by consumers.
The same story has been playing out for a host of vegetables and is even seen vis-a-vis products such as eggs. There too, poultry farmers received low prices all through January-July, which made them resort to premature culling of their layer birds. The resultant demonetisation-induced disruption of the production cycle is showing up just when winter's here. Last year's winter was a nightmare for farmers; this time's doesn't look too great for consumers — at least so far.
But this story of price spikes is largely limited to perishables. In the case of non-perishables — crops such as cereals, pulses, oilseeds, cotton or even potatoes, which are amenable to cold storage — things appear to be playing out in quite the opposite way. Bajra (pearl millet) is currently selling at Jaipur's Chomu Mandi at Rs 1,140-1,150 per quintal, as against Rs 1,400-1,410 during this time last year. The same goes for maize at Davangere in Karnataka (Rs 1,150 versus Rs 1,450), urad (black gram) at Ashoknagar in Madhya Pradesh (Rs 2,300-2,350 versus Rs 5,100-5,200), arhar (pigeon pea) at Gulbarga in Karnataka (Rs 3,800 versus Rs 5,800), moong (green gram) at Jodhpur in Rajasthan (Rs 3,600 versus Rs 3,800), soyabean at Ujjain in Madhya Pradesh (Rs 2,650 versus Rs 2,950), kapas (raw un-ginned cotton) at Rajkot in Gujarat (Rs 4,550-4,600 versus Rs 5,350-5,400), and potatoes in Agra (Rs 400-410 versus Rs 970-980). In all these commodities, the ruling wholesale market rates are also well below their declared official minimum support prices.
How does one explain this divergence in price trends between perishables and non-perishables — soaring for the former, while plunging with respect to the latter? The answer probably lies in what demonetisation and GST (goods and services tax) may have done to produce trading, which, in India, has traditionally been cash-based and financed through a chain of mandi intermediaries, processors and retailers. While currency has returned to the system more than a year after demonetisation, this cash, however, is apparently no longer actively circulating in mandis. The old traders and arhatiyas (commission agents) aren't buying, selling and stocking up agri-commodities as freely as before — for which the reasons could be the various restrictions on cash transactions and a fear of "being watched" or even raided by I-T authorities.
The end result is that we have today a combination of inflation in perishables (purely supply shock-driven, in this case) and deflation in non-perishables (where the mandis are suddenly devoid of liquidity and buyers willing to take long speculative positions).
harish.damodaran@expressindia.com
For all the latest Explained News, download Indian Express App