Written by
Anil Sasi
| New Delhi |
Updated: October 30, 2018 11:22:47 am
The 13th India-Japan annual summit commenced with Prime Minister Narendra Modi and his Japanese counterpart Shinzo Abe visiting a factory of FANUC Corporation, one of the largest makers of industrial robots in the world, followed by a private dinner at Abe's holiday home in Yamanashi prefecture.
The visit to the FANUC facility was important in the context of India's move towards Industry 4.0 by leveraging developments in the fields such as AI, IoT, 3D printing and robotics. A series of business events were lined up Monday, with a group of Japanese venture capital companies calling on Modi, followed by lunch hosted by their top industry body, and a meeting of the India-Japan Business Leaders Forum. The big announcement was the decision to conclude a bilateral currency swap agreement, which is expected to help stabilise fluctuations in the value of the rupee vis-a-vis the dollar, and bring down the cost of capital for Indian companies while accessing foreign capital markets.
Also read | India, Japan decide to have 2+2 talks between defence, foreign ministers
India-Japan relations
The Japan-India Association was set up in 1903, and is one of the oldest international friendship bodies in Japan. As the 13th India-Japan annual summit got under way, Japan had pledged Rs 33,800 crore in government and private sector investments following the first Modi-Abe meeting in 2014.
While Japan has been one of the biggest sources of investment flows into India, accounting for $28.16 billion in FDI between April 2000 and June 2018, trade engagements have been below potential. On the list of countries that India exports to, Japan is a lowly 18th; on the list of countries importing into India, Japan ranks 12th.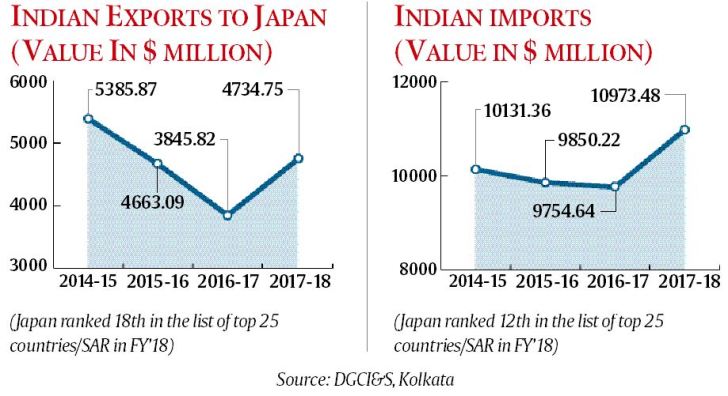 This is despite the two countries having signed a Comprehensive Economic Partnership Agreement (CEPA) in 2011 to facilitate growth in bilateral trade. This was described as the most comprehensive of all such agreements concluded by India — covering trade in goods and services, movement of persons, investments, intellectual property rights, Customs procedures and other trade related issues. The CEPA envisages abolition of tariffs on over 94% of items traded between India and Japan over a period of 10 years.
India's exports to Japan in FY18 were lower than in FY15 in value terms. Primary exports have been petroleum products, chemicals, elements, compounds, non-metallic mineral ware, fish & fish preparations, metalliferous ores and scrap, clothing and accessories, iron and steel products, textile yarn, fabrics and machinery.
India's primary imports from Japan — which too, are sluggish — are machinery, transport equipment, iron and steel, electronic goods, organic chemicals, machine tools, etc.
Much of the Japanese FDI inflows have been concentrated in the automobile, electrical equipment, telecommunications, chemical, and pharma sectors. As of October 2016, there were 1,305 Japanese companies registered in India, an increase of 76 companies (6% growth) as compared to 1,229 in October 2015, DIPP data show. In the words of Japan's ambassador to India, Kenji Hiramatsu, "A strong India is in Japan's best interest and for that, we must provide even more support."
Big-ticket investments
Japan has been extending bilateral loan and grant assistance to India since 1958, and is its largest bilateral donor. Japanese ODA supports India's development in sectors such as power, transportation, environmental projects and projects related to basic human needs. Of the funds invested by Japan in India in the last five years, $90 billion has gone into the Delhi-Mumbai Industrial Corridor, which will see new towns, industrial parks, ports and airports alongside the 1,483-km high-speed rail and road line being developed between two of India's top cities. Japan is also backing the Mumbai-Ahmedabad High Speed Rail (bullet train) service, and has released the first tranche of Rs 5,500 crore. A pact for the second tranche was inked Monday. Approximately 81% of the cost of the project is to be funded through a soft loan from Japan's government.
Discussions have also taken place on the Dedicated Freight Corridor, a project of close to Rs 50,000 crore of which Japanese assistance has been of about Rs 38,000 crore. The first section of 190 km, from New Ateli to New Phulera stations, has been opened on the Western Dedicated Freight Corridor while the next segment of 492 km between Rewari and Marwar is likely to open early next year. Final completion is targeted for March 2020.
Progress on some of the Metro projects being funded by the Japanese across Indian cities was taken stock of, including the Delhi Mass Rapid Transit System and Chennai Metro.
New areas of engagement between India, Japan
In March this year, a 'Cool EMS Service' was started, under which Japanese food items permissible under Indian regulations are transported in cool boxes from Japan to India through postal channels. While at present this service is available in only in Delhi and works one way (Japan to India), it is among the new areas of engagement driven by requests from industry representatives — in this case, the large Japanese diaspora in and around Delhi, Gurgaon and Neemrana.
Both sides are striving to push a digital partnership, with the NITI Aayog being the nodal point on the Indian side, and the Ministry of Economy, Trade and Industry on the Japanese side. Areas of potential collaboration include AI, IoT, and big data. Another new area where India is likely to make a pitch is for greater synergy or integration between the Ayushman Bharat project and the Japanese programme called Asia Health and Wellbeing Initiative, including how to leverage Japan's strengths in areas such as medical equipment and hospitals.
The Indian Express website has been rated GREEN for its credibility and trustworthiness by Newsguard, a global service that rates news sources for their journalistic standards.