On Wednesday, US President Donald Trump re-tweeted three videos put out by Jayda Fransen, deputy leader of Britain First, a British far-right group. The Indian Express explains why Trump's re-tweets caused an uproar.
What exactly is Britain First?
'Britain First' comprises a political movement in the UK, with just about 1,000 supporters. Its agenda is openly anti-Islam, the self-styled "patriotic resistance" group opposing Muslim immigration to the West and attacking symbols of Islamic faith. Britain First was created in 2011, reportedly by Jim Dowson, apparently a follower of Calvinist chauvinism — the group emphasises a Christian identity, displaying crucifixes at its rallies — and doomsday prophecies.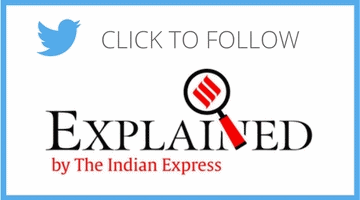 But even Dowson exited Britain First in 2014, finding the group's tactics, like invading mosques, to be "provocative". Dowson supported Donald Trump's Presidential campaign in 2016. Meanwhile, the party's message grew more virulent. In November 2016, Thomas Mair, an individual with extreme right-wing views, murdered Labour Party lawmaker Jo Cox, shouting "Britain first!" as he killed her.
Currently, Britain First is led by Paul Golding, 35, who earlier belonged to the far-right British National Party (now defunct), and Jayda Fransen, 31.
How much public presence does Britain First have?
Until Trump's re-tweets, Britain First hung on the fringes of Britain's polity. With a tiny membership, it was de-registered by Britain's Electoral Commission in November for failing to confirm its details and pay a routine charge of £25. Therefore, it cannot field 'Britain First' candidates on ballot papers.
Not that it saw much success when it did contest elections — in 2016, Golding ran to be Mayor of London but won 1.2% votes. The winner, Labour's Sadiq Khan, a British Muslim, won 44% votes. In 2014, Fransen stood to be an MP in Rochester and Strood —she won 56 votes, even losing her deposit.
Why is Fransen notorious?
Having described Islam as a "cancer" spreading across Europe, threatening white Christian culture, Fransen has attacked Muslims both politically and personally. Earlier this year, she was arrested for hate speech in Belfast; she's due in court over that charge on December 14. She's also organised "Christian patrols" with Britain First members bearing crosses, marching through Muslim neighbourhoods. In another notorious incident, as her group filmed the attack in November 2016, Fransen personally abused a Muslim woman wearing a headscarf or hijab. Fransen was convicted of "religiously aggravated harassment" and fined 2,000 pounds.
Recently, as part of the group's anti-Muslim tirade, Fransen posted three videos online. These were the videos Trump re-tweeted to his 43.6 million Twitter followers.
What were these three videos — and how real are they anyway?
The videos were titled "Muslim migrant beats up Dutch boy on crutches!", "Muslim Destroys a Statue of Virgin Mary!" and "Islamist mob pushes teenage boy off roof and beats him to death!"
The first video shows a teenager attacking another boy on crutches. It emerged on social media from Monnickendam, a small town in North Holland, this May. This video was presented by the far-right group as a "Muslim migrant" viciously beating up a local Dutch lad. But, in fact, both the boys are Dutch — the town's public prosecutor confirmed the teenager arrested after the video emerged was "born and raised in the Netherlands." Thus, the Embassy of the Netherlands in the USA reportedly chided Trump on Twitter, noting, "Facts do matter".
The two other videos were shot in 2013, one in Syria, the other in Egypt. Both show scenes of violence — in one, a bearded man assaults a statue while in the other, a crowd murders a man. But neither video makes any context clear. For instance, neither discusses the political turmoil in both countries at the time — in 2013, Syria was roiled by multiple forms of extremism, the man in the video allegedly a member of an extremist group himself. Egypt was facing a military take-over, the video apparently an excerpt from a clash between pro- and anti-military factions, battling over Egypt's internal politics.
How did British PM Theresa May react to Trump's re-tweets?
May's reaction was uncharacteristically sharp. Despite her warm equation with Trump, and the historical "special relationship" Britain and the USA share, May unequivocally denounced Trump. The British PM's office stated, "It is wrong for the president to have done this", continuing, "Britain First seeks to divide communities by their use of hateful narratives that peddle lies and stoke tensions".
For May, Trump's behaviour could not have come at a more embarrassing moment as the British PM is currently on a tour of the Middle East, visiting Saudi Arabia now. Incidentally, the King of Jordan, an old US ally, is currently visiting the USA himself. Yet Trump responded sharply to May's criticism. He tweeted — initially to the wrong Theresa May — saying, "Don't focus on me, focus on the destructive Radical Islamic Terrorism that is taking place within the United Kingdom. We are doing just fine!"
The only person to thank Trump has been Fransen herself, who, in another video posted online, told the US President she was "delighted the leader of the free world took the time out" to re-tweet her videos, adding that she needed his help as Britain was now apparently "Sharia-compliant".
The Indian Express website has been rated GREEN for its credibility and trustworthiness by Newsguard, a global service that rates news sources for their journalistic standards.