Written by
Sandeep Singh
| New Delhi |
Updated: May 12, 2016 12:52:37 pm
India on Tuesday signed the protocol amending the Double Taxation Avoidance Agreement (DTAA) with Mauritius. While the protocol gives India the right to tax capital gains arising from sale or transfer of shares of an Indian company acquired by a Mauritian tax resident, it proposes to exempt investments made until March 31, 2017, from such taxation. The government also said that shares acquired between April 1, 2017 and March 31, 2019 will attract capital gains tax at a 50% discount on the domestic tax rate — i.e., at 7.5% for listed equities and 20% for unlisted ones. The full tax impact of the protocol will fall on investments beginning April 1, 2019, when capital gains will attract tax at the full domestic rates of 15% and 40%.
The DTAA was a major reason for a large number of foreign portfolio investors (FPI) and foreign entities to route their investments in India through Mauritius. Between April 2000 and December 2015, Mauritius accounted for $ 93.66 billion — or 33.7% — of the total foreign direct investment of $ 278 billion. The imposition of capital gains tax on the acquisition of shares of Indian companies after March 31, 2017 could, however, result in a slowing of the flow of investments.
[related-post]
Why has the treaty been amended?
It is a move in line with the government's initiatives to curb black money in the system, money laundering and tax avoidance. The Finance Ministry statement said the protocol would tackle issues of treaty abuse and round-tripping of funds attributed to the India-Mauritius treaty, curb revenue loss, prevent double non-taxation, streamline the flow of investment, and stimulate the flow of exchange of information between India and Mauritius. It is also expected to discourage speculators and non-serious investors, and thereby reduce volatility in the market.
What will be the impact on investments routed through Singapore?
While Mauritius has traditionally accounted for almost a third of the total FDI inflow into India, Singapore has emerged as a preferred destination over the last few years. In fact, for the 9-month period from April 2015, FDI inflows through Singapore were $ 10.98 billion, significantly higher than the $ 6.1 billion that came through Mauritius. In this situation, the impact of the amendment in the Mauritius DTAA on the Singapore DTAA becomes critical — and it is expected that the amended tax regime for Mauritius will be applicable to capital gains for Singapore tax residents too. In a Twitter post on Tuesday, Revenue Secretary Hasmukh Adhia said, "Capital gains on shares for Singapore can also now become source based due to direct linkage of Singapore DTAA Clause with Mauritius DTAA."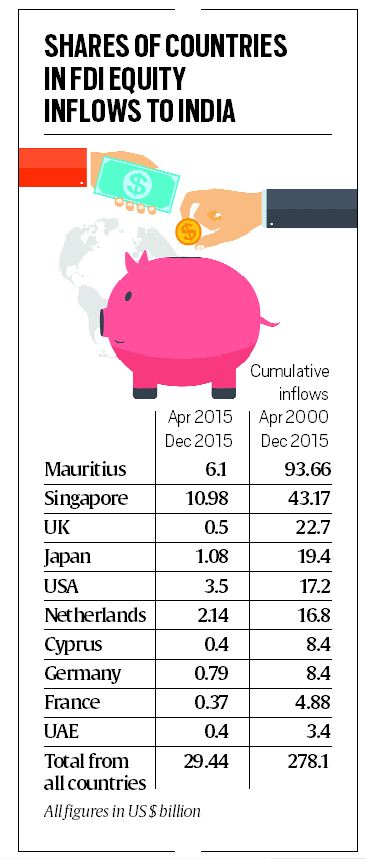 So, will investments through Singapore also get the grandfathering provision?
Article 6 of the protocol dated July 18, 2005 to the Singapore Tax Treaty says that the capital gains exemption under the Singapore Tax Treaty would remain in force only till the time Mauritius Tax Treaty provides for capital gains exemption on alienation of shares. Therefore, the benefits accorded under the Singapore Tax Treaty would fall away, unless amended. On Wednesday, Adhia said, "Now that Mauritius treaty stands revised, accordingly the Singapore treaty will also have to be revised. We will have to talk to the Singapore government and get it revised."
While it is expected that benefits of the Singapore treaty would also be available until March 31, 2017, experts hope the government would provide a level playing field for investments, and avoid arbitrage between jurisdictions. The grandfathering provisions should, therefore, be built into the Singapore Tax Treaty as well.
Will the treaty impact P-Notes?
While there have been concerns in the market that imposition of capital gains tax will deter investments through Participatory Notes or P-notes, Adhia on Wednesday said that there would be no change for P-notes as of now. "P-notes is a separate decision, it is not linked to the treaty. There is no change in decision with regard to taxation of P-notes because of signing of the Mauritius treaty," he said. P-Notes are instruments issued by registered foreign institutional investors to overseas investors. While the FPIs are registered with the Securities and Exchange Board of India (SEBI), the overseas investors investing in P-Notes are not registered with the market regulator, and thus their identity is not known to the authorities. SEBI's proposal to impose curb on P-notes on September 16, 2007, resulted in a sharp correction in the markets the following day, and forced the government to issue a clarification. Over the years, however, the share of P-notes in the total FPI investment has come down from around 50% in 2007 to 10% now.
Will foreign investments as a whole witness a decline as a result of the move?
Since investments until March 31, 2017 have been exempted from capital gains tax, there is no risk of an immediate outflow of funds. However, the protocol will impact all prospective investments with effect from April 1, 2017. Also, the benefit of the two-year transition period will be limited to companies that are not regarded as a shell/conduit company, and their total expenditure on operations in Mauritius has been at least Rs 27 lakh in the preceding 12 months. Experts feel that while some investors who are bullish on India may advance their plans and invest before April 1, 2017 in order to save tax, many others will raise their due diligence procedure on investments, factoring in the tax cost in the returns they generate.
Is any country likely to benefit as a result of the amendment?
Experts say the Netherlands may emerge as an alternative. "I think that Netherlands may emerge as an attractive destination for FPIs following the changes to the Mauritius treaty. The India-Netherlands treaty is a smart treaty, and it can emerge as a preferred alternative for FIIs especially those in Europe. The treaty provides that if a company based in Netherlands holds less than 10% equity in an Indian entity, it would not attract capital gains on the sale of those shares to residents or non-residents. Even if it were to own more than 10% equity in an Indian company, the treaty allows it to sell the shares to a non-resident without attracting tax," said Daksha Baxi, executive director of Khaitan & Co.
The Indian Express website has been rated GREEN for its credibility and trustworthiness by Newsguard, a global service that rates news sources for their journalistic standards.