The University Grants Commission (UGC) has granted autonomy to 60 universities and colleges across the country. The announcement has evoked mixed reactions. While the government has dubbed the decision "historic", teachers see it as a way to privatise higher education. So what kind of freedom will these 60 institutions enjoy?
How it all began
The UGC's ambitious plan to liberate educational institutions from regulatory control was first proposed by the NITI Aayog. In June 2017, the Prime Minister's Office (PMO) appointed a committee headed by the former vice-chairman of NITI Aayog, Arvind Panagariya, to suggest reforms in higher education. The panel submitted its report in August 2017. The UGC's new regulation on graded autonomy (formally known as Categorisation of Universities for Grant of Graded Autonomy Regulations, 2018), notified in February this year, was among the panel's recommendations.
Under these rules, central, state, deemed, and private universities will be graded into three groups, with a different degree of autonomy for each category. The categorisation hinges on an institution's performance in either reputed global rankings or the assessment done by National Assessment and Accreditation Council (NAAC).
Read | JNU among 60 institutions to get UGC graded autonomy nod
The NAAC assesses institutions on seven parameters — curriculum, teaching-learning and evaluation, research, infrastructure, student support, governance and leadership, and institutional values — and gives each a score out of four.
Three graded categories
Universities are considered for autonomy only if they submit a request in the prescribed format to UGC. An institution will be placed in Category-I if it has been accredited by NAAC with a score of at least 3.51, or if it has received a grade/score from a reputed accreditation agency empanelled by the UGC, or if it has been ranked among the top 500 institutions by reputed world university ranking agencies such as Times Higher Education and QS.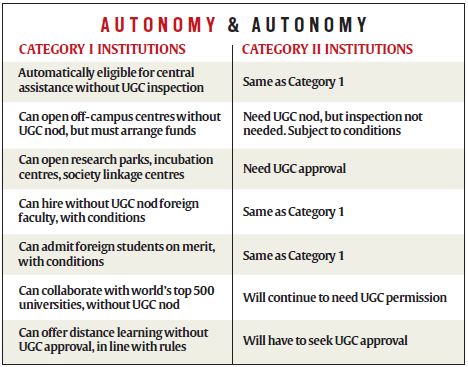 Category-I institutions will be free to start new programmes, departments, schools, and off-campus centres without UGC approval. They will also be exempt from the regulator's regular inspections, and can collaborate with foreign educational institutions without the UGC's permission. Their performance will be reviewed on the basis of self-reporting.
To be eligible for Category-II, universities should either have an NAAC accreditation score between 3.26 and 3.50, or have received a corresponding grade/score from a reputed accreditation agency empanelled by the UGC.
Even though these universities will be exempt from regular inspections, and can start new programmes, departments, schools, and centres in disciplines that are part of its existing academic framework without the regulator's approval, they will be subject to stricter control in comparison to Category-I institutions. So, Category-II universities will need the UGC's permission to sign MoUs with foreign universities. Their performance will be reviewed by a peer group.
The remaining will fall in Category-III, and they will be the regulated by the UGC. These institutions will not enjoy any of the exemptions granted to the other categories.
Autonomous institutions
On Tuesday, the UGC granted autonomy to 52 universities under Category-I and Category-II, and another eight colleges under a separate regulation called UGC (Conferment of Autonomous Status upon Colleges and Measures for Maintenance of Standards in Autonomous Colleges) Regulations, 2018. The 52 universities included five central universities, 21 state universities, 24 deemed universities, and two private universities.
Among those put in Category-I are Jawaharlal Nehru University, Hyderabad Central University, NALSAR, Jadavpur University, Kurukshetra University, Andhra University, TISS, Symbiosis International in Pune, and National Law University in Delhi.
Banaras Hindu University, Aligarh Muslim University, Madras University, Mysore University, Manipal Academy of Higher Education, and O P Jindal Global University are among those included in Category-II.
Legitimate fears
Teachers' unions have been sceptical of the government's claim that graded autonomy regulations will liberalise higher education. The fear stems from the fact that the freedom to start new courses, departments, centres, and schools without the UGC's permission is conditional. It can be exercised only if the autonomous institution does not demand funds from the government.
This is being interpreted by teachers' unions to mean that even state and central universities will be expected to generate their own funds to start new courses and departments. This could result in increased tuition fees, thereby making higher education more expensive and exclusive.
The apprehensions may not be entirely misplaced given the ongoing tussle between the UGC and Delhi University over the implementation of the recommendations of the Seventh Pay Commission.
The regulator has told the university to generate 30% of funds for paying the revised salaries of non-teaching staff members. The university has said it does not have the resources to do so.
The HRD Ministry has, however, assured that the government is "not in the business of transferring burden on to the students". "Government institutions that want to start new courses or departments can approach the government for funds and we will help them," Higher Education Secretary S R Subrahmanyam has said.