Vladimir V Putin took oath as Russia's President for a fourth term on Monday. He has now been in power, either as President or Prime Minister, continuously since December 31, 1999, and could stay on at the Kremlin until 2024. How has Russia fared under him?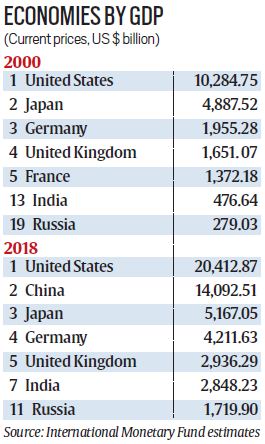 In the 18 years that Putin has been in power — either as President or behind-the-scenes as Prime Minister — the absolute value of Russia's domestic production at market exchange rates has gone from $279 billion (in 2000) to an estimated $1,720 billion in 2018, and Russia has moved up from
19th place to 11th place in world rankings of national GDPs.
However, this growth came entirely during his 2000-08 time as President, and 2008-12 as Prime Minister, as global oil prices remained high. Russia's economy has slowed sharply since, as oil has nosedived, and Western sanctions have kicked in since 2014. The country has, however, done well on social indicators, with child mortality (under age 5) having fallen from 19 per 1,000 live births in 2000 to eight in 2016, and life expectancy at birth going up from 65 to 72 during the same years (World Bank data).
According to the official Russian Federal State Statistics Service, Rosstat, the percentage of population with money income below the subsistence minimum level declined from 29% in 2000 to 10.7% in 2012, but then rose to reach 13.5% in 2016.
An analysis by the Financial Times in April 2016 noted that despite Russia's overall wealth gain during Putin I and II, the country's Gini coefficient, a measure of inequality, rose from 37 in 2000 to 41.6 in 2012.
***
Telling Numbers: In rupee's up and downs, oil, Fed policy and global trends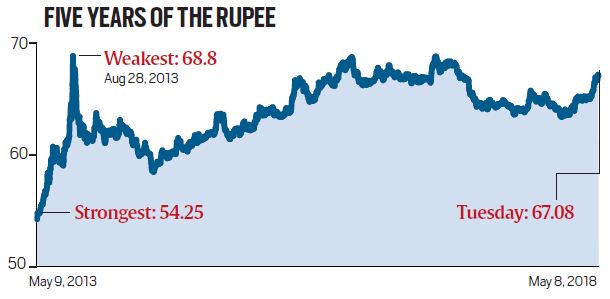 The rupee closed at 67.08 against the dollar Tuesday, staying below the 67 mark that it breached for the first time in 15 months on Monday (67.13). While rising treasury yields and strong economic data in the US have pushed the dollar up against all emerging economy currencies, the rise in crude oil prices and widening of the current account deficit in India have also played a significant role in the accelerated weakening of the rupee in recent weeks.
The rupee touched its lowest on August 28, 2013 when it closed at 68.8 under pressure from the strengthening dollar, rise in CAD and then Fed chief Ben Bernanke's announcement of a timeline for the withdrawal of the post-crisis quantitative easing programme in the US. Only months earlier, in May 2013, the rupee was around the 54-55 level against the dollar.
However, like the fall, the recovery too, was sharp. By April 2014, the rupee had climbed back to under 60 and, on May 23, 2014, following steps taken by the RBI that attracted huge inflows and provided stability, it hit 58.52.
In January 2016, the rupee weakened sharply again, hitting a 28-month low of 68 following weakness in Asian markets and FII funds outflows. —SANDEEP SINGH
***
Tip for Reading List: Assessing Tourism's Carbon Emission
The carbon footprint of tourism is about four times larger than previously thought, according to a study published Tuesday in Nature Climate Change. Researchers assessed that global tourism produces about 8% of global greenhouse gas emissions. They assessed the entire supply chain of tourism — including transportation, accommodation, food, souvenirs, clothing — and combined an international trade database on these goods and services. From a study on carbon flows between 160 countries from 2009 to 2013, they found that tourism-related emissions increased by around 15%, from 3.9 gigatonnes (Gt) of carbon-dioxide equivalent to 4.5Gt. This rise primarily came from tourist spending on transport, shopping and food, researchers Dr Arunima Malik and Dr Ya-Yen Sun wrote in The Conversation.