LAST WEEK, the US Department of Defense (DoD) announced a move to cut $300 million in aid to Pakistan, citing lack of Pakistani decisive actions against terror groups, and reprogramming that amount towards other priorities. The $300 million is authorised as part of the Coalition Support Funds (CSF), under which the US reimburses Pakistan for operations and maintenance costs incurred in direct support of OEF (Operation Enduring Freedom) operations, according to a Department of State fact sheet. Between FY2002 and FY2017, Pakistan has received a little under $34 billion in US aid — over $14 billion under the CSF, over $8 billion in security-related aid and over $11 billion in economic-related aid, according to data compiled by the Congressional Research Service in November 2017 for distribution to congressional offices.
The last reimbursement under CSF was $550 million, made in FY2016. The reprogrammed $300 was part of the $900 million authorised for FY2017. This total, in fact, had been suspended in January itself, and announced in a DoD press release that month. Since then, Congress has rescinded $500 million of this, followed by the DoD reprogramming another $300 million within a timeframe of July. The DoD is now awaiting congressional determination on its reprogramming request, a PTI report quoted Pentagon spokesman Lt Col Kon Faulkner as saying.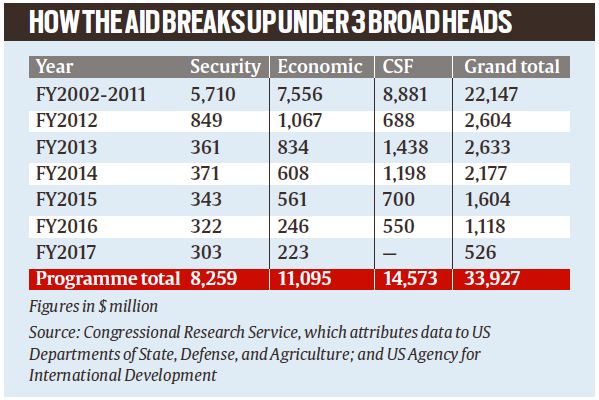 Since FY2002-11, a period during which $8.8 billion was released under CSF, the highest reimbursement was $1.4 billion in FY2013, after which the amounts have fallen progressively. Security-related reimbursements have gone down successively since FY2014, and economic-related reimbursements since FY2012.
Part of the CSF has been conditional over the years, the Congressional Research Service document shows. Out of $1 billion authorised for FY2015, for example, $300 million was subject to certification relating to the Haqqani network — whose founder Jalaluddin Haqqani died Tuesday —and was ineligible for waiver. Out of the $900 million authorised for FY2017, $400 million is ineligible for waiver and can only be released if the DoD certifies that the Pakistan government has made significant progress against the Haqqani network, the January press release said.
***
This Word Means: IDLIB
The theatre that could see the final act of Syria's 7-year war, and the greatest of its humanitarian tragedies yet
The seven-year civil war in Syria, which has killed over 350,000 people, appeared to have entered its final chapter after Russia resumed airstrikes against insurgents in the northwestern Idlib province Tuesday. Idlib is the last rebel bastion that is holding out against Syria's President Bashar al-Assad's vow to recapture "every inch" of the country, and his regime has declared Idlib's liberation as its priority. As a massive assault on Idlib loomed, the United Nations Monday warned of catastrophic consequences for the province's 3 million civilians, and US President Donald Trump posted on Twitter: "…Assad… must not recklessly attack Idlib Province. The Russians and Iranians would be making a grave humanitarian mistake to take part in this potential human tragedy. Hundreds of thousands of people could be killed."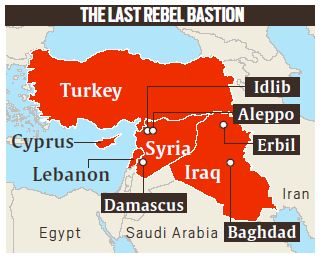 The bulk of the civilian population of Idlib, which includes 1 million children, are refugees from rebel-held areas that have been retaken by government forces. The province, which borders Turkey to the north, is controlled by a clutch of rebel groups, the biggest of which are the al-Qaeda linked Hayat Tahrir al-Sham and its rival, the Turkish-backed National Liberation Front which includes the Islamist Ahrar al-Sham and Nour al-Din al-Zinki Brigades, and fighters of the Free Syrian Army. Together, the rebels are believed to number about 30,000.
The UN has warned that the all-out assault on Idlib, when it comes, "will overwhelm capacities and has the potential to create a humanitarian emergency at a scale not yet seen through this crisis". With Turkey having shut its borders, there seems no escape route for the estimated 800,000 people who might try to flee — the adjoining areas in Syria being either controlled by the government or, if rebel-held, already full to bursting point.