India accounts for two-thirds of the world's most polluted cities — 21 of the most polluted 30 cities; 14 of the highest 20; and 6 of the highest 10 — in the 2019 World Air Quality Report released by the pollution tracker IQAir and Greenpeace on Tuesday. The ranking is based on a comparison of PM2.5 levels. Among countries, when population is taken into account, average PM2.5 pollution is highest in Bangladesh, followed by Pakistan, while India is at number 5.
While cities in India, on average, exceed the WHO target for annual PM2.5 exposure by 500%, national air pollution decreased by 20% from 2018 to 2019, with 98% of cities experiencing improvements. These improvements are believed to be largely a result of economic slowdown, IQAir said.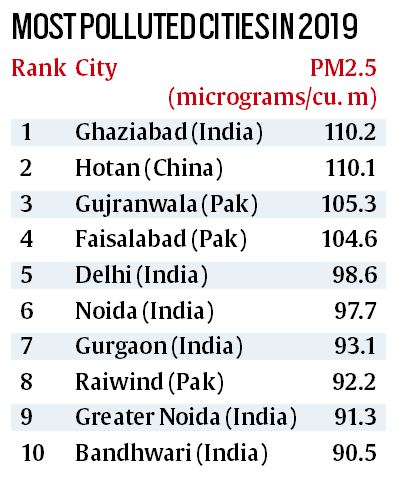 It said 90% of the global population breathing unsafe air. "While the new coronavirus is dominating international headlines, a silent killer is contributing to nearly 7 million more deaths a year: air pollution," IQAir CEO Frank Hammes said in a statement.
China is at number 11 in the list of countries affected by population, with population factored in. Chinese cities achieved a 9% average decrease in PM2.5 levels in 2019.
📣 The Indian Express is now on Telegram. Click here to join our channel (@indianexpress) and stay updated with the latest headlines
For all the latest Explained News, download Indian Express App.