By:
AP
|
Updated: December 4, 2015 7:49:16 am
What is the Russian allegation against Turkey?
Essentially that Turkey, and President Recep Tayyip Erdogan personally, is hand-in-glove with the Islamic State (IS). It started on November 24, after a Turkish air force jet shot down a Russian warplane near the Syrian-Turkish border, allegedly after it ignored warnings to exit Turkish airspace. Syrian Turkmen rebels on the ground shot and killed the pilot as he parachuted to earth. President Vladimir Putin described the downing of the jet as a "stab in the back by accomplices of terrorists", and this week directly accused Turkey of collaborating with the Daesh: he said the Russian Su-24M was downed to protect Ankara's clandestine oil trade with the terrorist group. "We have recently received additional reports that confirm that oil from ISIL-controlled territories is delivered to Turkey on an industrial scale," Putin said. "We have all grounds to suspect that the decision to down our plane was motivated by the intention to secure these routes of delivering oil…"
On Wednesday, senior Russian defence officials held a briefing in Moscow to display satellite images that they said showed columns of tankers loading with oil at installations controlled by Daesh in Syria and Iraq, before crossing the border into Turkey. "Turkey is the main consumer of the oil stolen from its rightful owners, Syria and Iraq. According to information we have received, the senior political leadership of the country — President Erdogan and his family — are involved in this criminal business," Deputy Defence Minister Anatoly Antonov said.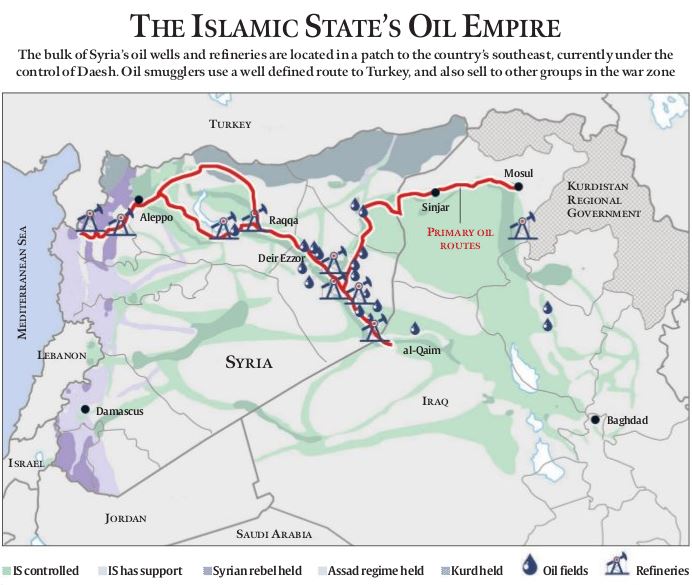 How has Turkey responded to the accusation?
Despite a statement from Erdogan saying that he wished the incident had not happened and hoped it would not happen again, Turkey has steadfastly refused to apologise to Russia. Its reaction has been belligerent since the shootdown on November 24, insisting that the Russian jet had violated its airspace, rejecting Russia's reaction as "unfitting" and "emotional" and, as Moscow imposed sanctions, warning it not to "play with fire". It has flatly denied helping Daesh, and challenged Moscow to prove its allegations. Erdogan has said Turkey only buys oil through legitimate channels, no one had the right to "slander" Turkey, and that he would leave power if the charges were proved.
How likely is it that the Russian allegations are true?
US spokespersons have said there is "no evidence" to support the Russian allegations, and to think that "the Turks are somehow working with ISIL" is "preposterous" and "ridiculous". Western security analysts have said it would be far-fetched and misleading to imagine an alliance between Turkey and Daesh, and that Ankara would shoot down a Russian aircraft to protect its illicit business.
This is not to say that no oil from Daesh-controlled areas makes its way over the border into Turkey — smugglers have been operating across the 550-mile, loosely patrolled Turkey-Syria border for many years now, dealing in oil, weapons, and other things. After the conflict broke out in Syria, and especially after the IS swept across the country, a murky war economy has taken root in the region, with fighters, smugglers and criminal networks supplying to any person or group who is willing to pay — in Iraqi Kurdistan, Turkey, Syria, Jordan, and, as the White House has said, even to the regime of President Bashar al-Assad. Daesh has captured some of Syria's largest oil installations and oil-bearing patches, and uses this oil to fund its war. For a long time, they were able to take tankers right from the wells to the Turkish border, their activities no doubt being winked at by Ankara, which was focussed on Assad's ouster. Analysts say a lot of the oil must also be consumed in IS areas, whose 8 million population needs fuel for homes and automobiles.
So, what exactly is the size of the Islamic State's oil trade?
There is no way to establish this for sure. Broadly, the area under IS control in Syria contains about a third of the country's pre-war production capacity, with much of the rest in Kurdish territory. The AP reported in October an IS claim that 161 of the 253 oil wells under its control in Syria were operational. The report estimated that the IS is extracting about 30,000 barrels per day from wells in Syria, and another 10,000-20,000 barrels per day in Iraq, mainly from two fields outside Mosul. It sells the crude to smugglers for about $ 35 per barrel, but sometimes for even $10, compared to just under $ 50/barrel on international markets, but still makes up to $ 50 million per month from the sales, the AP said, quoting Iraqi intelligence. It is generally assumed that the quality of the oil is not very good, but after it has gone through several layers of middlemen, buyers in the war zone still pay a high premium for it. The Russian estimate of Daesh's oil income is higher — about $ 3 million per day — but at the Wednesday briefing where officials accused Erdogan by name, it claimed that its airstrikes on IS assets and supply lines had cut this daily income by half.
The Indian Express website has been rated GREEN for its credibility and trustworthiness by Newsguard, a global service that rates news sources for their journalistic standards.