The "2G scam" pertains to alleged irregularities in the allocation of second generation (2G) spectrum in 2008, when Unified Access Services (UAS) licences were issued on a first come, first served (FCFS) basis at a price arrived at in 2001. In its chargesheet filed in April 2011, the CBI alleged the exchequer had suffered a loss of Rs 30,984 crore in the allocation of 122 licences for 2G spectrum.
The main accused in the 2G case is A Raja of the DMK, who was Minister for Communications and IT in the UPA government. The case centres around five main allegations: fixation of an arbitrary cut-off date; violation of FCFS policy in issuing Letters of Intent (LoIs); granting of UAS licences to two ineligible companies; cheating the exchequer by non-revision of entry fee; and payment of Rs 200 crore bribe to Kalaignar TV Pvt Ltd, promoted by the family of DMK patriarch M Karunanidhi.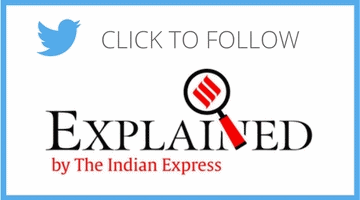 Verdicts on the 2G case and another CBI case related to the allocation of additional spectrum in which Ravi Kant Ruia and I P Khaitan are accused, and on the ED case involving Kalaignar TV, will be delivered Thursday. The following were the main questions in the trial.
Also Read | The defence of the accused: No personal gains, what about others, said those in dock
Change in cut-off date
Under the FCFS system introduced by the Vajpayee government, after the LoI was issued, in the second stage, 15 days were allowed to deposit entry fees and bank guarantees. In the third stage, companies applied to DoT for allocation of spectrum. They retained the seniority of their applications through all stages.
After taking over in 2007, Raja allegedly entered into a criminal conspiracy with his private secretary R K Chandolia, Unitech MD Sanjay Chandra, and DB Group officials Shahid Balwa and Vinod Goenka. Raja allegedly asked for a cut-off date for applications, even though "no such cap" was recommended by TRAI. DoT proposed October 10, 2007; Raja brought it forward first to October 1, and then to September 25, allegedly after Chandolia was informed that Unitech had applied on September 24.
Ineligibility of companies
Under the UAS Licences Guidelines, 2005, no single company can hold more than 9.99% equity in more than one licensee company in the same service area. This, CBI has alleged, made both Unitech and Swan Telecom, floated by DB Realty, ineligible. The majority stake in Swan was allegedly held by a Reliance ADAG associate company, and its ownership was allegedly misrepresented to DoT. Swan had applied for licences in 13 circles where Reliance Telecom was already offering CDMA services.
Irregularity in issuing LoIs
DoT officials allegedly leaked to some applicants the date of issuance of the LoI (October 10, 2008). In the letter, an arbitrary condition, that whoever deposited the fees first would get the licence first, was incorporated. Applicants who had this information in advance (including Swan and Unitech) were able to deposit the fee before others. The FCFS principle was subverted, and the order of priority of applicants based on date of application was "twisted to a new policy of first compliance with the LoI", the CBI said.
Rs 200 crore bribe
Dynamix Realty Ltd, a company of the DB Group, allegedly paid Rs 200 crore through banking channels as bribe to Kalaignar TV, where Sharad Kumar was MD and CEO, and DMK Rajya Sabha MP Kanimozhi was a key stakeholder. CBI alleged the money was transferred through Kusegaon Fruits and Vegetables, and was facilitated by Karim Morani through his firm Cineyug Films Pvt Ltd.
Entry fees at 2001 level
The CBI has alleged that the entry fee was not revised to benefit the two accused companies. Swan paid DoT Rs 1,537 crore for licences in 13 circles, and offloaded its 45% equity to Etisalat of UAE for Rs 4,200 crore; Unitech Wireless paid Rs 1,658 crore for licences in 22 circles and offloaded its 60% equity to Telenor of Norway for Rs 6,100 crore. These stakes were sold even before services had been rolled out, and the government lost around Rs 7,105 crore, the CBI has alleged.
📣 The Indian Express is now on Telegram. Click here to join our channel (@indianexpress) and stay updated with the latest headlines
For all the latest Explained News, download Indian Express App.
The Indian Express website has been rated GREEN for its credibility and trustworthiness by Newsguard, a global service that rates news sources for their journalistic standards.