The demand by Minister of State for External Affairs V K Singh to rename New Delhi's Akbar Road after Maharana Pratap marks another effort to wipe out the Mughals from the history of India. The demand was echoed on Wednesday by BJP spokesperson Shaina NC, who tweeted that an Akbar Road in India was akin to having a "Hitler Road in Israel", and that "no country honours its oppressors like we do!!"
Akbar, among the greatest of all rulers anywhere in the world and a monarch far ahead of his medieval times, has been consistently sought to be denigrated or cast in shadow by leaders of the BJP. Last August, Aurangzeb Road in the same Lutyens's Delhi was named after Dr APJ Abdul Kalam, replacing the memory of a "cruel" king with that of a much loved former President. BJP MP Maheish Girri, who proposed the move, spoke of the need to "correct the mistakes made in our history".
[related-post]
The Mughals are entwined inseparably with India's history and culture. Apart from the historical monuments that they have left behind, the most visible legacy of their rule is in the various towns and villages across India that bear their names.
Of the 6 lakh cities, towns and villages in the country, 704 carry the name of the first six Mughal Emperors (or, technically, of their namesakes), who were at the helm when the dynasty was at its strongest. From the founding of the dynasty after the First Battle of Panipat in 1526, Babur, Humayun, Akbar, Jahangir, Shah Jahan and Aurangzeb had an unbroken reign of 181 years, barring the period 1540-1554 when the Surs were in power.
The most evident legacy is that of Akbar, who has 251 villages and towns named after him. Uttar Pradesh, the heartland of the Empire, carries the deepest imprint of the legacy, with 396 villages and towns with populations of 1 lakh or more named after the Mughals.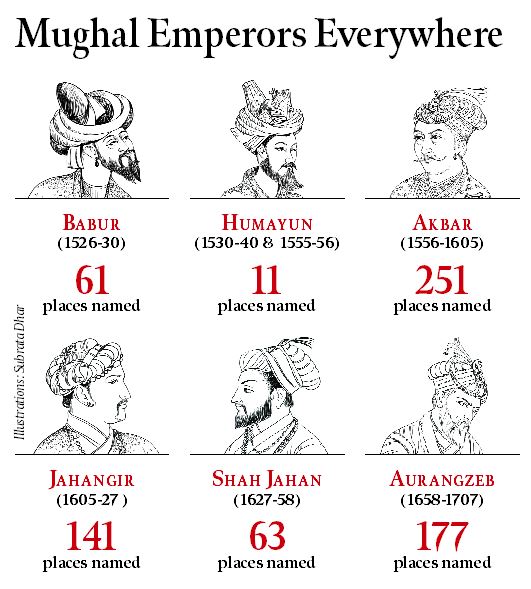 Nearly half of these Mughal names are standalone ones like Akbarpur, Aurangabad, Humayunpur and Baburpur, but there are also syncretic ones like Akbar Nivas Khandrika and Damodarpur Shahjahan. There are close to 70 Akbarpurs across the country, followed by 63 Aurangabads. The best known Aurangabad is the historical city in Maharashtra founded by Emperor Aurangzeb in 1653 — which senior leaders of both the Shiv Sena and the BJP have been talking about renaming.