Written by
Uma Vishnu
| New Delhi |
Updated: December 9, 2017 2:51:07 pm
After Rahul Gandhi's November 29 visit to the Somnath temple, Prime Minister Narendra Modi noted that Rahul had decided to "suddenly visit Somnath dada (the deity)" when his great-grandfather Jawaharlal Nehru didn't even want the temple to be reconstructed. "(Nehru) had expressed displeasure with the reconstruction undertaken by Sardar Vallabhbhai Patel. If it wasn't for Patel, the temple wouldn't have been reconstructed," Modi said.
What exactly happened in those years immediately after Independence? Was India's first Prime Minister, indeed, uncomfortable about reconstructing the temple? Why?
By most accounts, the ancient Shiva temple at Somnath, close to Veraval in Gujarat's Gir Somnath district, was ravaged in 1026 by Mahmud of Ghazni, who looted its riches and broke the idol — the best known among multiple attacks by a series of raiders who were drawn by the temple's legendary wealth over the centuries. These raids by Muslim invaders do not, however, appear to have triggered a sense of Hindu trauma until at least 1842, when Lord Ellenborough, Governor-General of India, issued his famous 'Proclamation of the Gates'. Ellenborough, historian Romila Thapar recorded, asked the British army in Afghanistan to return via Ghazni, bringing back the "sandalwood gates of Somnath" that the medieval conqueror was believed to have taken away. What his forces brought to India, however, turned out to have nothing to do with Somnath. (Somnatha: The Many Voices of A History, 2004)
"The British saw this as an act of attracting certain colonial citizens. There was a political motive behind this, quite obviously. If they had been the gates of Somnath, there would have been a great appeal to Hindu conservatism — that we brought back the gates of Somnath. There was politics there," Thapar told The Indian Express.
In the years leading up to Independence and Partition, however, the narrative of "Hindu pride" found many takers, among them K M Munshi, a Congress leader from Gujarat with strong Hindu nationalist leanings. Somnath, whose destruction had until then been of largely regional interest, was elevated into the consciousness of a deeply divided nation as a symbol of Muslim intolerance and iconoclasm.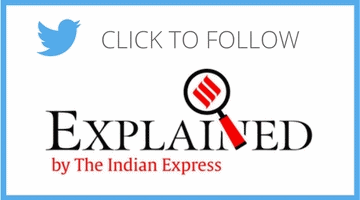 The first major articulation of the intention to rebuild the ruined temple is believed to have been made by Sardar Patel, Nehru's Deputy Prime Minister, at a huge public meeting in Junagadh on November 12, 1947. The nawab of Junagadh had fled to Pakistan, and the Indian Army had moved into the estate.
In one of several blogs written between 2009 and 2014 (later compiled into a book, My Take, 2014), L K Advani, the leader of the BJP's modern Somnath movement, said: "After returning to Delhi, (Patel) secured Gandhiji's blessings for the (temple reconstruction) and had Pandit Nehru have it endorsed by his Cabinet. The Cabinet's decision implied that the Government would incur the expenditure. But that evening itself, when Sardar Patel, Dr Munshi and N V Gadgil went to Gandhiji to apprise him of the Cabinet's decision, Gandhiji welcomed it but added: Let the people and not the Government bear the expenditure." Accordingly, a Trust was set up, with Munshi as chairman.
The next few years were traumatic for the fledgling nation. With Gandhi's assassination by a Hindu extremist, the Congress lost the glue that bound a set of patriots with disparate ideologies and aspirations, but who shared the one dream of a free India. The wounds of Partition were raw, and Nehru, stridently secular, had open differences with several partymen, including Patel, on issues ranging from the treatment of minorities to the choice of President (Nehru rooted for C Rajagopalachari; Patel wanted Dr Rajendra Prasad).
In December 1950, Patel died. The "one Congress leader who was of equal standing to Nehru", was removed, historian Ramachandra Guha wrote in his magisterial work, India After Gandhi: The History Of The World's Largest Democracy. One other opposing power centre now remained: Rajendra Prasad. The differences between the President and the Prime Minister came to the fore once again in 1951, when it was time to inaugurate the rebuilt Somnath temple.
In his Pilgrimage To Freedom, Munshi wrote that after a Cabinet meeting in early 1951, Nehru called him and said, "I do not like your trying to restore Somnath. It is Hindu revivalism." Munshi, then the Food and Agriculture Minister, wrote to the Prime Minister in reply: "Yesterday you referred to Hindu revivalism. You pointedly referred to me in the Cabinet as connected with Somnath. I am glad you did so; for I do not want to keep back any part of my views or activities… I can assure you that the 'Collective Subconscious' of India today is happier with the scheme of reconstruction of Somnath… than with many other things that we have done and are doing."
He then went ahead with his plan and approached President Prasad to inaugurate the rebuilt temple. Madhav Gobole, who was home secretary when Indira Gandhi was Prime Minister, and the author of The God Who Failed: An Assessment Of Jawaharlal Nehru's Leadership (2014), told The Indian Express that this incident alone — when a Minister was able to go ahead with his plan despite the PM's obvious displeasure — shows Nehru was a true democrat. "We all consider Nehru to be this all-imposing, supreme leader, but the truth is, he had his limitations. In his Cabinet, he had people with all kinds of opinions, but he believed he would be able to persuade them to come around to his view. Sometimes he was successful, sometimes he was not," Godbole said.
Nehru persisted, writing to the President, asking him to reconsider his decision to inaugurate the temple. He wrote to Prasad: "I confess I do not like the idea of your associating yourself with a spectacular opening of the Somnath temple. This is not merely visiting a temple… but rather participating in a significant function which unfortunately has a number of implications." (Sarvepalli Gopal, Selected Works of Jawaharlal Nehru)
What did Nehru have in mind when he said that?
It was not some "hardline secularism", said Guha. "It's important to look at what happened in those times, since we live in similar times. Partition had just happened. Millions of Muslims had stayed back in India and Nehru said that was enough affirmation of their citizenship; they don't need to go through some kind of loyalty test. He was very conscious of their vulnerability and insecurities. Hindus and Muslims had been at each other's throats only a couple of years earlier, and Nehru didn't want to polarise communities again, reopen old wounds just when India was settling down. Those were fragile times, and Nehru thought it was unnecessary for the President to associate himself with a temple that was destroyed by a Muslim invader hundreds of years ago, when Muslims of India have nothing to do with Mahmud of Ghazni."
But Prasad decided to inaugurate the temple anyway. On May 2, 1951, a distressed Nehru wrote to Chief Ministers: "It should be clearly understood that this function is not governmental and the GoI has nothing to do with it… We must not do anything that comes in the way of our state being secular. This is the basis of the Constitution and governments, therefore, should refrain from associating themselves with anything that tends to affect the secular character of our State."
Prasad wrote back, saying, "I believe in my religion and cannot cut myself away from it." (Durga Das, India: From Curzon To Nehru And After, 2004)
On May 11, 1951, the President inaugurated the grand, rebuilt Somnath temple.
uma.vishnu@expressindia.com
The Indian Express website has been rated GREEN for its credibility and trustworthiness by Newsguard, a global service that rates news sources for their journalistic standards.