Train a sheep to recognise a photograph of British actor Emma Watson and it will most likely be able to identify her from another photograph, even if the second one has been taken from a different perspective.
Scientists trained eight sheep to recognise the photographs of four celebrities — former US President Barack Obama, actors Watson and Jake Gyllenhaal, and TV journalist Fiona Bruce — and found that eight times out of 10, the sheep could correctly tell any of these "learned faces" apart from an unfamiliar, randomly chosen face displayed on a computer screen.
When a learned face was presented to them at an angle, the sheep recognised them about two times out of three. Although their performance dropped in such cases, the researchers note that this is true of humans, too, when they are asked to identify "learned-familiar" faces presented in a changed perspective.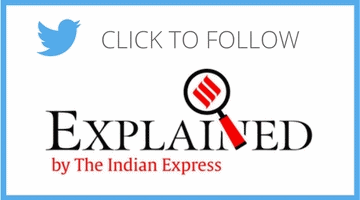 The study, led by University of Cambridge professor Jenny Morton, was published last week in Royal Society: Open Science. "This work is important as it shows that sheep have similar face-processing skills (independent of dimension — 2D or 3D) as monkeys or even humans," study co-author Franziska Knolle told The Indian Express by email.
Training involved the sheep making decisions as they moved around a specially-designed pen. "When they made a selection, they tapped the selected screen with their nose," Knolle said. "Only if they made a correct selection were they rewarded and received a couple of food pellets. This kept up their motivation to learn and do the task correctly."
All eight sheep were familiarised with the images of all four celebrities. At each of multiple trial stages, the sheep chose any one of a pair of photographs shown to them. One of these was from among the four celebrities, shown face-on, while the other image, stage by stage, was a black screen, a random object such as a lamp, and finally the face of an unfamiliar individual chosen randomly from a pool of 36 images. "Their correct selection performance was very well above chance, even when we presented them with completely new pictures of our four celebrities, which showed us that they had recognised their faces," Knolle said.
At the next stage, the test-probe, the sheep chose again between pairs of faces. One photograph in each pair was a learned-familiar face, presented not only front-on but also in two new perspectives, tilted either to the left or to the right. The other photograph was an unfamiliar face, either front-on or tilted. This time, the sheep's performance dropped by around 15%. "Interestingly, there was a drop in performance with the tilted images of a magnitude, similar to that seen when humans perform this task," the paper says.
The final stage looked at a new aspect — whether the sheep could recognise the picture of a handler who was familiar to them in person, but whose image they had never seen before. Here, the sheep did what the researchers describe as a "double take". They checked first the unfamiliar face, then the handler's image, and then the unfamiliar face again, before making a decision to choose the familiar face of the handler.
The researchers hope their findings will hold promise for the treatment of Huntington's disease, which impairs face perception. Professor Morton's team recently began studying sheep that have been genetically modified to carry the mutation that causes Huntington's disease. "We are hoping to be able to monitor the cognitive decline in HD sheep using our face-recognition task," Knolle said. "Ultimately this could lead to the development of new interventions."