LAST WEEK, Delhi Chief Minister Arvind Kejriwal blamed stubble burning in Punjab for rising air pollution in the National Capital Region. Until October 30, Punjab has seen 15,000 incidents of stubble burning in the current paddy season, according to state Pollution Control Board data. The number of incidents, in fact, has come down drastically from 27,000 during the corresponding period in 2016.
In all three paddy seasons between 2016 and 2018, Patiala and Tarn Taran have had among the highest counts of stubble burning incidents. These are down to 1,700 each during the 2018 season so far, from 2,400 (Patiala) and 2,100 (Tarn Taran) in the 2016 season at the same stage. Firozpur, on the other hand, has witnessed a smaller decline. Its 1,866 incidents is the highest among all districts this year, and is only slightly lower than the 1,939 recorded up to this stage in 2016. Bathinda, which is among the districts cited as a concern by Kejriwal, is also among the six districts with 1,000 or more incidents each year.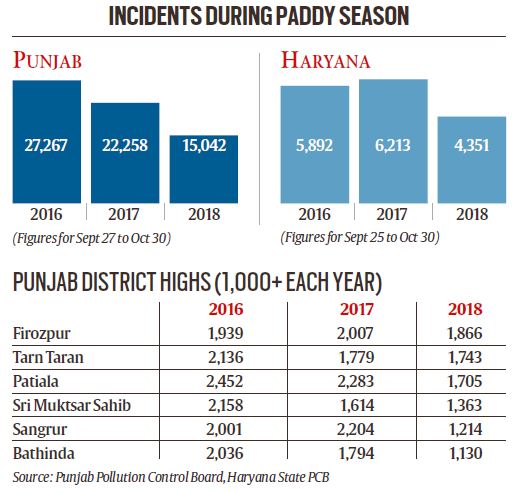 At his press conference last week, Kejriwal showed a satellite photograph indicating that stubble fires have affected large parts of Punjab and a much smaller area in north Haryana. The area under paddy in Haryana is 13 lakh hectares, as compared to the 29 lakh hectares under paddy in Punjab. This state, too, has witnessed the number of stubble burning incidents come down since 2016. From nearly 5,900 until October 30 in the 2016 paddy season, the number was down to under 4,400 at the same stage in the current season.
***
This Word Means | Green building
A structure that uses less resources than others. How many buildings in India meet that standard?
A RATING system has assessed that less than 2% of India's buildings are "green buildings", but underlined an opportunity to improve on this as new infrastructure is put in place. The assessment comes from Green Rating for Integrated Habitat Assessment (GRIHA) Council, a not-for-profit society jointly set up by The Energy and Resources Institute (TERI) and the Ministry of New and Renewable Energy to promote green buildings in India. Green buildings are structures that are designed to utilise less resources than conventional buildings. Buildings account for up to 40% of the total energy consumption in India, the Environment Ministry's ENVIS Centre says in a web post. It stresses the need for sustainable construction and operation strategies during design and planning stage itself. Objectives include minimising water demand and promoting recycling, besides air pollution control measures. "Green buildings are much more healthy entities in terms of designing but the air that is going to come inside would be something that is present outside but to a certain extent you could minimise or reduce the damage through a green building. A green building can reduce the interference from outside pollutants," PTI quoted GRIHA Council chief executive officer Sanjay Seth as saying. While less than 2% of India's buildings are green, Seth told PTI that there is a huge opportunity to increase that number as about 60% of infrastructure for the next 20 years is yet to be put in place. —ENS & PTI