WHILE many poor and marginalised OBCs, SCs and STs have borne the disproportionate brunt of Nitish Kumar's prohibition crackdown — accounting for, as an investigation by The Indian Express (editions of May 28 and 29) has shown, a higher share of their population inside prison than outside — the Bihar Chief Minister has, by this action, succeeded in carving out for himself a distinct new political constituency: women.
In village after village, The Indian Express reported in its Wednesday editions, a common refrain among women is that prohibition has led to a decline in the incidents of domestic violence, and left families with more money in hand at the end of the month. Many women, especially those married to alcoholics, say they feel empowered like never before.
READ | Where prohibition has a silver lining: Safer homes & more money
An indicator that Nitish Kumar has been able to tap into this spring of goodwill lies in the fact that the participation of women in Assembly elections in Bihar, after having risen through the 2000s, surpassed that of men in 2010, when the Chief Minister sought re-election at the end of his first full term.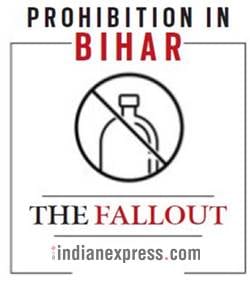 Election Commission data analysed by The Indian Express show that while the turnout of women in the elections of February 2000, February 2005, and October 2005 lagged behind that of men, this gap narrowed from 17.43% to just 2.53% over this period. The inflection point was reached in the elections held in October-November 2010, when the turnout of women voters was 3.37 percentage points more than that of men (54.49% to 51.12%). And in the elections of October-November 2015, the voting percentage among women was a significant 7.16 percentage points higher than among men (60.48% to 53.32%). READ | Editorial: Bihar's new sorrow
The prohibition law, which Nitish's government brought within six months of coming to power in 2015 was only one, though perhaps the most potent, of the elements of his strategy to create and nurture a political constituency among women. In 2006, in the early part of his first full term, the Chief Minister had reserved 50% seats in panchayat and local body elections for women, broadening the scope for their political training at the grassroots level. In that same year, he launched a bicycle scheme for schoolgoing girls — a decision to which is credited the manifold jump in the enrolment of girls in secondary (from 1 lakh in 2007 to 7 lakh in 2017) and senior secondary (from 70,000 in 2007 to 3.5 lakh in 2017) education, and which has since been replicated in several states across the country. And before the 2015 elections, Nitish promised — apart from prohibition — 35% reservation for women in state government jobs.
READ | Bihar's prohibition crackdown: Two years later, OBC, EBC, SC, ST face the brunt
Prohibition had seemed an odd move, given that Nitish had actually liberalised the liquor trade to boost the state's revenues during his first full term in power. As the network of licensed liquor shops spread, revenues zoomed from Rs 500 crore in 2005 to about Rs 4,000 crore in 2014-15. But this greater access to alcohol not only invited criticism from his political adversaries, it also appeared to directly impact rural poor women, increased drinking by whose menfolk started to eat into meagre household earnings.
According to people close to Nitish Kumar, prohibition was the Chief Minister's response to the concerns of the constituency of women that he had so carefully built up in his first two terms from 2005. It was subjectively assessed that the enhanced access to liquor, especially among the lower caste poor communities, was turning into a social menace of which women were the silent, helpless victims.
Unlike Nitish, however, Lalu Prasad's RJD was never comfortable with idea of the liquor ban — in significant part because Yadavs, the party's core base, make up a large chunk of liquor licencees. But the RJD, desperate as it was to defeat the BJP in the Mahagathbandhan with the JD(U) and Congress, did not oppose the Chief Minister's plans ahead of the 2015 elections.
READ | Widows and elderly jailed, children picked up for ferrying liquor
With Nitish back in the NDA, the political situation now is completely different. While the Chief Minister continues to talk about prohibition as his core agenda, he is believed to be increasingly concerned about a potential backlash from the Scheduled Castes, some of whom have traditionally earned their living by brewing and selling country liquor. Recent defeats for the NDA in the byelections for the Araria Lok Sabha seat and Jehanabad Assembly seat indicate that a section of Mahadalits, a constituency that Nitish created, may be drifting away.
READ | Bihar liquor law targeting Dalits, poor: Opposition
The Chief Minister has made his choice of prohibition at the cost of a substantial loss of revenue for his resource poor state. It is a testimony to the importance of liquor revenue that states did not allow it to be brought under the Goods and Service Tax (GST) regime when Parliament passed the law in 2016.
The Indian Express website has been rated GREEN for its credibility and trustworthiness by Newsguard, a global service that rates news sources for their journalistic standards.