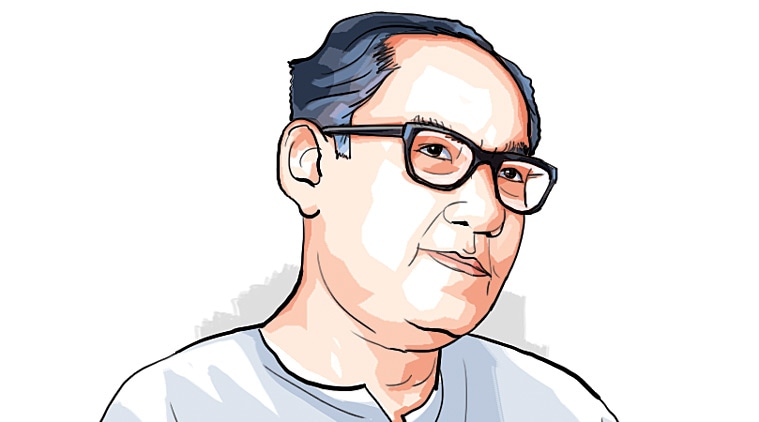 It happened nearly three decades ago. Sharad Pawar, then a Congress leader, was with party colleagues at Azad Maidan in Mumbai, where an AICC session was to begin that afternoon. He noticed a tall, lean man walking towards them from the Victoria Terminus (now CST) railway station. The man had a suitcase in one hand and a bedding on his head. As he walked up to the group, a stunned Pawar realised it was Sarat Chandra Sinha, the Chief Minister of Assam! He had travelled for more than two days in a third class railway compartment from Guwahati because that was all he could afford. The AICC session was not a government function, and so he couldn't have used the resources of his state.
The anecdote is part of a chapter in Sharad Pawar's autobiography, On My Terms: From the Grassroots to the Corridors of Power, released a couple of months ago. Assam has just concluded the celebrations for Sinha's birth centenary. Sinha, a man known for his strong Gandhian ideology, was Chief Minister for a little over six years, including the 18 months of the Emergency, and passed away in December 2005.
Pawar's experience was not his alone. "He (Sinha) was made of different material altogether. Who would now believe that Sinha had picked up his suitcase and walked 5 kms from the CM's bungalow to his private residence as news came that the Congress had lost the 1978 Assembly elections?" journalist Homen Bargohain wrote in his newspaper column at the time of Sinha's death.
Sinha lived alone in the CM's bungalow — without his family, including his wife. "Not to speak of letting them stay in that bungalow, Sinha disliked any of them even stepping into its precincts," Bargohain wrote. Though by no means true of only the current Chief Minister of Assam, the people of the state do contrast Sinha with Tarun Gogoi, whose assets increased from Rs 90 lakh in 2001 to over Rs 3.65 crore in 2011 — and who has alleged that Himanta Biswa Sarma, one of his most trusted lieutenants who is now in the BJP, had amassed a lot of property when he was a minister in Gogoi's government.
"He (Sarma) became rich when he became a minister. He also launched a TV channel. Where did he get the money?" Gogoi asked recently. Incidentally, both Gogoi and former Chief Minister Prafulla Kumar Mahanta figure in the list of top 10 crorepati legislators in the state.
Sinha's father Lalsingh Sinha ensured that his son always carried his slate and pencil while accompanying him to the paddy fields. Little Sarat learnt his arithmetic tables by counting his and his father's footsteps to the weekly village market. "Sometimes he would ask me to multiply the footsteps, sometimes divide," Sinha had said, recalling his childhood in a lengthy interview with All India Radio, Guwahati, about 30 years ago.
Sinha began his career as a science teacher in a rural school after quitting his MSc in Kolkata in 1940. He was a true Gandhian who wore khadi, and taught his students the art of making paper from straw. After becoming CM, he often spent his spare time in the CM's bungalow in Guwahati by sewing national flags out of khadi cloth he would procure from the local khadi bhandar.
"I would often find him continue to sew national flags even when taking briefs from senior officers, like Gandhiji used to work on his charkha," recalled JP Saikia, a journalist-turned-bureaucrat who served as a senior publicity officer under Sinha. At the time of the Emergency, he turned his creative energies to what was then the Congress line — coming up with slogans, jingles and, most interestingly, a list of 20 different things that citizens ought to do, each beginning with a letter of the word 'twenty-point-programme' which itself had 20 letters, Saikia said.
Sinha, who was an aggressive village-level organiser in undivided Goalpara district — setting up schools and cooperative samitis and organising campaigns against liquor and opium — entered politics rather by accident. "Elected to the Dhubri local board in 1945, Sinha was literally kidnapped and taken to Guwahati by veteran Congress leader Mahendra Mohan Choudhury (who later served as Chief Minister of Assam and Governor of Punjab), who then got him a Congress ticket to contest the state Assembly election of 1946. The party had given him Rs 750 as election campaign expenses, but on completion of the campaign, he duly went and returned Rs 250 that remained unspent," wrote Khagendra Nath Baishya, a former Secretary of the Assam Legislative Assembly.
Another story is about Sinha at the first sitting of the Assembly 20 days after Independence. "Even as (the) Speaker… announced the first day's proceedings with a resolution of gratitude to Mahatma Gandhi…, the 33-year-old Sinha stood up, raised a point of order and said that the legislators ought to take oath once again because when they had first joined the House, the oath was taken under a foreign government," wrote Baishya.
Sinha played a major role not just in preventing Goalpara district from being clubbed with East Pakistan during Partition, but also from the district being included in West Bengal. He failed, however, despite putting up a tough fight, in preventing Cooch Behar and Jalpaiguri — originally part of Assam — from going to West Bengal.
Sinha was a strong believer in, and practitioner of value-based politics. Old-timers in Guwahati still remember two sights. One, television visuals of Sinha clearing knee-deep water from his house after a heavy downpour. And two, a dhoti-clad old man vacating his seat for women commuters in a city bus. These images are now part of a gradually disappearing folklore in Assam, as people and the media keep talking about the assets of politicians jumping several times every time there is an election.