What is the SAUNI Yojna?
SAUNI stands for Saurashtra Narmada Avtaran Irrigation, a project launched by Narendra Modi in September 2012, three months before the Assembly election that would make him Chief Minister for a third consecutive term. SAUNI envisages filling 115 major dams of the arid Saurashtra region by diverting floodwaters overflowing from the Sardar Sarovar Dam across the Narmada in south Gujarat. It involves laying a 1,125-km network of pipelines at a cost of Rs 12,166 crore to carry Narmada water to these dams, and irrigate 4.13 lakh hectares (ha) land. Parts of Saurashtra are prone to drought, and irrigation water is also a politically sensitive issue in this region.
So, is the SAUNI project part of the Narmada dam project?
Not quite, even though it is based on it. The Narmada project, being implemented by Sardar Sarovar Narmada Nigam Limited (SSNNL), a Gujarat government undertaking, is expected to irrigate 1.8 million ha, mainly in Saurashtra, Kutch and north Gujarat, benefiting a million Gujarati farmers, but will also supply irrigation water to 2.46 lakh ha in drought-prone Barmer and Jalore in Rajasthan, and to parts of Maharashtra. It will also generate hydropower. SAUNI, by contrast, is an out-and-out irrigation and drinking water project designed solely for the Saurashtra peninsula.
WATCH VIDEO: PM Modi Rolls Out First Phase Of SAUNI Project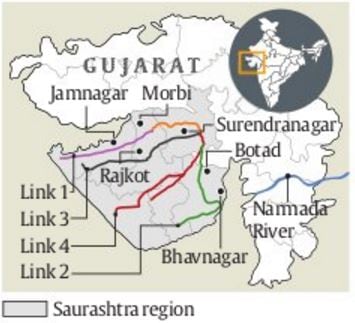 Even though the Sardar Sarovar reservoir's 4.75 million acre feet (MAFT) live storage capacity has been divided among Gujarat, Rajasthan and Maharashtra, lakhs of MAFT of floodwater overflows the dam in the monsoon and in to the sea. Of that floodwater, Gujarat's share is around 3 MAFT. The state government has allocated 1 MAFT of this floodwater to north Gujarat — major dams in the region are filled with Narmada water under the Sujalam-Suflam project, which is complete. Another MAFT has been allotted to the Kutch region; this project is at a planning stage. The remaining 1 MAFT has been allotted to Saurashtra; this water will be pumped to major reservoirs in the region under the SAUNI Yojna. The Saurashtra Branch Canal brings Narmada water to Surendranagar. Three of the four pipe canals of SAUNI will offtake from Surendranagar district, while one will originate from Morbi district.
Okay, and how is SAUNI different from traditional irrigation projects?
Some 3.77 lakh ha in Surendranagar, Botad, Bhavnagar and Morbi districts will get Narmada dam water, which will flow directly to the farms through open canals. SAUNI, on the other hand, aims to fill irrigation dams which already have canal networks to channel water to farms. Technically, therefore, SAUNI is a link project.
Also, SAUNI will have pipe canals instead of conventional open canals. The government decided on pipelines in the planning stage of the project, based on memories of land acquisition problems it had faced while building minor and sub-minor canals of the Narmada dam project. SAUNI's massive pipelines — of diameter 3 m to 500 mm — will run underground, require no land acquisition, and involve less loss of water as compared to conventional canals. Pumping stations will be constructed on government land.
And what will the pipeline web look like?
Four trunk lines — Link I, II, III and IV — will take water to the 115 dams spread across all Saurashtra's 11 districts. (See map) Link I (180 km) originates from the Machhu II dam in Morbi district and tails near Khambhaliya in Devbhoomi Dwarka, cutting across Morbi, Jamnagar and Devbhoomi Dwarka districts, and taking Narmada water to 30 dams.
Link II (253 km) offtakes from Limdi Bhogavo II dam in Surendrangar, and lands in Raydi dam in Khambha taluka of Amreli district, supplying to 17 dams.
Link III (245 km) begins from Dholi Dhaja dam in Surendranagar and ends at Venu I dam in Upleta taluka of Rajkot district, filling 28 dams along its length.
Link IV starts from Limdi Bhogavo II dam and ends at Hiran II dam in Talala taluka of Gir Somnath district.
The Machhu II dam — from where Link I originates — is the tail end of the Morbi Branch Canal of Narmada; Limdi Bhogavo II dam is fed by Limdi Branch Canal of Narmada; and Dholi Dhaja dam is the landing point of Saurashtra Branch Canal of Narmada.
Not all 115 dams will be directly connected to the pipe canals; in some cases, pipelines will release water in rivers — 87 rivers of Saurashtra too will, in fact, come alive through the project.
But will there be enough water to go around for all 115 dams even after the Narmada dam gates are installed?
The project rests on the estimate that Narmada floodwaters will be available for 100 days every monsoon. If that happens, SAUNI will get 1 MAFT. Officials say 1 MAFT can fill Saurashtra's largest dam, Shetrunji, thrice over.
Work on Sardar Sarovar's gates is likely to be completed by September 2018, raising the height of the dam and increasing its storage capacity. But officials insist there will still be water for SAUNI. N K Jadav, Secretary (Water Resources) of SSNNL, says average annual overflow in the last 18 years has been 3 MAFT.
The dam historically overflows every monsoon; it has overflowed twice so far this year. MoS (Independent Charge) Water Resources, Nanu Vanani, says the main Narmada canal passes downstream dams like Panam, Kadana and Dharoi, and floodwaters of rivers like Mahi and Sabarmati too can be channelled towards Saurashtra to feed the SAUNI network.
The bulk of SAUNI water will be pumped by motors, so how expensive will it be?
If the irrigation department's 84,000 kVA motors are run at full load, they can consume up to 2.5 million units per month, which can translate into a monthly electricity bill of Rs 7.56 crore. Minister Vanani says the government will not charge farmers extra for SAUNI water, but officials say the costs involved will make it as expensive as supplying bottled water. The government has been making budgetary allocations for the project for the past three years, has set aside Rs 1,500 crore for 2016-17, and taken a Rs 3,000 crore-loan from NABARD.
And what will the scheduled inauguration by the Prime Minister mark?
It will mark the commissioning of the 57.67-km phase I of Link I, and the flowing of water into 10 dams in Morbi, Rajkot and Jamnagar districts. Phase 1 work on Links II, III and IV is expected to be over by December 2016. The government has set the deadline of December 2019 for completing the entire project.
(With inputs from Aditi Raja in Vadodara)
📣 The Indian Express is now on Telegram. Click here to join our channel (@indianexpress) and stay updated with the latest headlines
For all the latest Explained News, download Indian Express App.