Written by
Sushant Singh
| New Delhi |
Updated: January 18, 2016 7:10:30 am
India's indigenous Light Combat Aircraft (LCA) Tejas reached Sakhir Air Base last week to participate in the Bahrain International Air Show 2016, which will be held from January 21. This will be the first appearance of Tejas at a foreign air show, and is bound to be compared with Pakistan's JF-17 Thunder fighter produced with Chinese help.
Thunder
JF-17 Thunder is a third-generation fighter co-produced by Pakistan Aeronautical Complex (PAC), Kamra, and China's Chengdu Aircraft Industry Corporation. It has been in service since 2010, with the PAC rolling out the 16th of its 50 Block-2 aircraft to complete the PAF's fourth JF-17 squadron last month.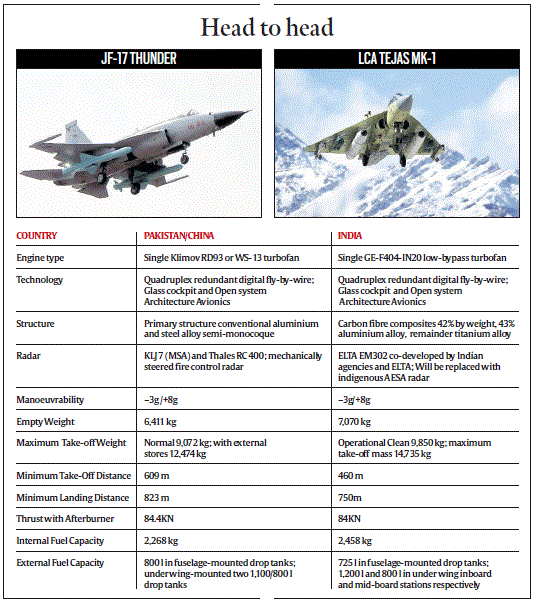 Tejas
LCA Tejas has not been inducted into the IAF yet. Starting in 1984, Tejas has been designed and developed by Aeronautical Development Agency with Hindustan Aeronautics Ltd and Defence Research and Development Organisation. Test pilots have done more than 3,000 flights on the fighter, which still awaits IAF's Final Operational Clearance. The IAF has ordered six squadrons (120 aircraft) of Tejas Mark-1A but there is no certainty over the induction schedule.
[related-post]
Match-up
How do the two fighters stack up against each other? Aviation expert Angad Singh says that "between the lack of publically confirmed data on the JF-17 (weapons, for example) and the in-development status of the LCA Tejas, any comparison is inherently apples to oranges. Tejas and JF-17 have been designed very differently. Tejas was meant as the next generation fighter — there is a lot of great technology on the Tejas, such as the Israeli HMD. For Pakistan, the JF-17 is meant to replace its old fleet of Mirage III and Chengdu J-7 fighters, which it has done."
Sources: www.geaviation.com, www.globalsecurity.org, IHS Jane's All the World's Aircraft, Development and Production, 2013-2014, www.jf-17.com, www.hal-india.com
The Indian Express website has been rated GREEN for its credibility and trustworthiness by Newsguard, a global service that rates news sources for their journalistic standards.