The Centre has informed the Supreme Court that it is vetting a draft law to permit "passive euthanasia" — The Medical Treatment of Terminally Ill Patients (Protection of Patients and Medical Practitioners) Bill — but that it is against letting people make "Living Wills", by which they can direct that they not be put on life support in case of terminal illness. The draft Bill was released by the Health Ministry in 2016, based on the Law Commission of India's Report No. 241 (August 2012).
What is passive euthanasia, and how does a Living Will differ from it? What is the draft law, and why is it needed?
What does the proposed Bill say?
It seeks to allow a patient faced with terminal illness to decide whether he/she wishes to continue medical treatment in the form of life support or medication. A "competent person" aged 16 or more can decide, with the consent of spouse or parents. The medical practitioner is supposed to inform the patient of all treatment options, and can provide palliative care to make the end of life less painful.
In Aruna Ramchandra Shanbaug vs Union Of India & Ors (March 7, 2011) the Supreme Court distinguished between "active" and "passive" euthanasia: "Active euthanasia entails the use of lethal substances or forces to kill a person, e.g. a lethal injection… Passive euthanasia entails withholding of medical treatment for continuance of life, e.g. withholding of antibiotics where without giving it a patient is likely to die…"
The petitioner, who claimed to be the "next friend" of former nurse Aruna Shanbaug, had prayed that Shanbaug, a victim of a brutal sexual assault in 1973, had been in a persistent vegetative state in Mumbai's KEM Hospital for 36 years, and that she should be allowed to die peacefully by stopping the mashed food that she was being fed. Between life and death for 42 long years, Aruna Shanbaug passes away
How is the new law expected to work?
In a situation where a patient cannot make a competent decision on continuing or withdrawing treatment (such as a patient in a coma, one who is mentally challenged, or is too ill to understand the consequences of treatment options), the Bill is expected to allow a doctor, hospital or relative to approach a court to withhold treatment. The court will appoint a panel that would dispose of the matter in a month. Doctors said the legal road may delay the process. "For rare cases, such as Aruna Shanbaug's, one could afford to wait. But there are situations where survival is not possible, and it will be painful for the family and the patient to wait until a decision comes," said Dr Roop Gursahani, neurologist with P D Hinduja Hospital and Research Centre, and part of the group advocating Living Wills.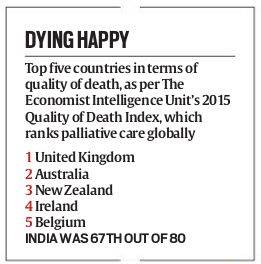 And what is a Living Will?
Also termed as "advance medical directive", it is defined as a direction issued by an individual that "he or she… shall or shall not be given medical treatment in future when or he she becomes terminally ill". The "medical treatment" in question is a life sustaining procedure so that death can be delayed. The current draft considers the concept of Living Will or medical power-of-attorney void, but the Supreme Court Wednesday found merit in the concept, paving the way for further discussion.
How did the question reach this stage?
According to an explanatory note by the Health Ministry, euthanasia was examined in 2006, based on the 196th Report of the Law Commission, but it was decided not to formulate a law. In Aruna Shanbaug, the Supreme Court permitted passive euthanasia and laid down comprehensive guidelines. The 2012 Law Commission Report recommended legislation on passive euthanasia and drew up a draft Bill — The Medical Treatment of Terminally Ill Patients (Protection of Patients and Medical Practitioners) Bill — but warned that a Living Will may be misused.
The case before the Supreme Court, filed by NGO Common Cause, is old — and was referred to a Constitution Bench in 2014. Over the last few years, an umbrella group called End of Life Care in India Task Force (ELICIT) has drafted an alternative Bill on legalising Living Wills. In 2016, ELICIT came out with its "Mathura Declaration", emphasising the need to discuss "end-of-life care" in India.
If "passive euthanasia is [already] the law of the land", how much more can formal legislation help?
Despite the 2011 judgment, hospitals often refrain from pulling the plug, fearing medico-legal consequences. KEM Hospital, where Shanbaug died in May 2015, continues to avoid ending life support for terminally ill patients. "It is difficult to counsel families. Also, in the absence of legislation, we are not able to legally take a decision," Dean Dr Avinash Supe said. In April, a South Mumbai hospital kept a 67-year-old stroke patient on ventilator support for 13 days, allowing him to die naturally, even though the family wanted him off life support, citing financial constraints. The family, which was handed a bill of Rs 6 lakh, claimed they were forced to take loans. By contrast, another private hospital in Mahim allowed a 50-year-old woman to die two months ago by removing ventilator support on the family's request. With a Living Bill law, doctors can be expected to be forthcoming in counselling families, and hospitals can be expected to have a uniform policy with regard to such cases.
And what exactly is "end-of-life care"?
It is a holistic approach to relieve a patient from suffering, which may or may not lead to immediate death. For instance, end-stage cancer patients may have only months to live, but require pain management. Passive euthanasia, by contrast, is the removal of life support with intent to end life, and thereby suffering, of vegetative or terminally ill patients. "The term euthanasia has too much baggage. Globally, medical practitioners have moved from 'passive euthanasia' to 'end-of-life care'. Both allow removal of life support to permit natural death," said Dr Raj K Mani, chairman of ELICIT.
Are Living Wills allowed elsewhere?
Australia has a system of "advance directive" to allow citizens to decide how they would like to be treated in future, if they are incompetent to make a decision at that point. The Patient Self Determination Act gives US citizens the right to make personal healthcare decisions. The Act recognises advance directives or living wills; the Common Cause petition is on the lines of the US Act, identifying the right to dignified death. Euthanasia, in varying forms, is permitted in Belgium, Canada, and Sweden.
What happens in India from here on?
The Supreme Court on Wednesday observed that living will may be held credible if a medical board certifies that the patient's medical condition is irreversible. Even though the court reserved its judgment, its observations may nudge the central government to reconsider the current draft, which disallows living will.
📣 The Indian Express is now on Telegram. Click here to join our channel (@indianexpress) and stay updated with the latest headlines
For all the latest Explained News, download Indian Express App.
The Indian Express website has been rated GREEN for its credibility and trustworthiness by Newsguard, a global service that rates news sources for their journalistic standards.