Written by
Jay Mazoomdaar
New Delhi |
Updated: November 6, 2017 7:58:55 am
What are the Paradise Papers?
A trove of 13.4 million corporate records, primarily from Bermuda firm Appleby, as well as from Singapore-based Asiaciti Trust and corporate registries maintained by governments in 19 secrecy jurisdictions, often referred to as "tax paradises".
The leaks — which constitute the most detailed revelations ever of such records — were obtained by the German newspaper Süddeutsche Zeitung, and shared with the International Consortium of Investigative Journalists (ICIJ).
As a partner of ICIJ, The Indian Express investigated all documents that had an India connection.
Must Read | Biggest data leaks reveals trails of Indian corporates in global secret tax havens
How are Paradise Papers different from Offshore Leaks (2013), Swiss Leaks (2015) and Panama Papers (2016)?
Like the three major global financial leaks in the past (all investigated by The Indian Express) Paradise Papers also reveal tracks of veiled offshore financial activities. Like Mossack Fonseca (of Panama Papers, 2016), Appleby helps set up companies and bank accounts overseas, provides nominee office-bearers, and facilitates bank loans or transfer of shares, in multiple secrecy jurisdictions.
But unlike in the previous leaks, the latest revelations are more about mega corporates than individual players and how they took advantage of and, in many cases, misused offshore jurisdictions.
What do the Paradise Papers show?
They reveal offshore footprints of some of India's major corporate players as well as of a few high-value individuals — the astounding scale of incorporating shell overseas companies to various ends. Internal communications show how a majority of these companies with offshore residency were wholly controlled from India.
Appleby itself red-flagged round tripping on occasion by questioning if offshore funds meant for investing in India were sourced from India. There are instances of assets of Indian companies being used to guarantee loans raised by offshore companies without disclosing it to Indian regulators. Changing ownership of offshore companies to actually change the ownership of shares held by them in Indian companies without paying taxes in India turns out to be another common malpractice.
Is it illegal to set up offshore companies?
Not necessarily. India has double-taxation avoidance agreements (DTAAs) with several countries with lower tax rates than its own, and companies — overseas corporate bodies (OCBs) — incorporated in such countries can use their tax residency certificates (TRC) to enjoy the tax benefits available legally.
So what is the excitement about? 
The revelations help regulators overcome the obstacle of secrecy. After the Panama Papers, for example, regulators everywhere were able to investigate several instances of financial malpractices hidden in the records of Mossack Fonseca. The sheer size of the Paradise Papers trove, and the corporate-centric leads they provide, mark a big step forward.
Normally, a company is entitled to arrange its financial affairs in whichever way it wishes to reduce its tax liability. Merely the fact that the motive for a particular transaction is to avoid tax does not invalidate the transaction unless the law of the land specifically says so. There is a corporate army engaged in imaginative bookkeeping to discover and exploit legal loopholes and evade tax under the corporate veil.
The burden of justification is always on regulators who are not encouraged to fish for motive or evidence of suspected wrongdoing. According to the Westminster principle, if a document or transaction is genuine, courts or the regulator cannot go behind it to look for any supposed underlying substance.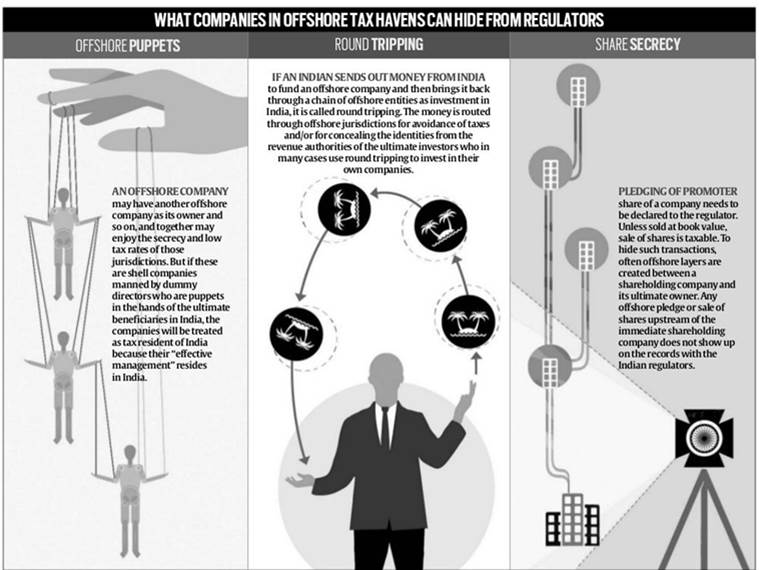 Only if a fraud is established can a court or regulator pierce the corporate structure, since fraud unravels everything — even a law, if it is a stumbling block — because no legislature intends to guard fraud. In such cases, the principle of lifting the corporate veil or the doctrine of (economic) substance over (legal) form can be applied.
The Paradise Papers are a treasure trove of such leads and evidence. For example, in its bouquet of services, Appleby provides proxy directors for companies set up in tax havens. These directors, either persons or shell companies, obviously have no real authority to decide the fate of the millions of dollars they move on the directions of their clients — holding companies or beneficiaries, or their representatives. Most often, these directors are no more than puppets.
Many offshore companies, the Papers reveal, are "sham" entities engaged in tax evasion/avoidance, manipulation of the market, money laundering, round tripping (taking untaxed money out of the country through inflated invoices and then bringing it back as investment), parking black money, bribing, etc. Such insight into corporate ingenuity allows regulators to step in, besides strengthening the case for better laws and global tax reforms.
What constitutes a fraud, and what are the remedies in Indian law?
The obvious malpractices, as evidenced by the Paradise Papers, are tax fraud, money laundering, round tripping, parking black money, bribing, etc. Also, treaty shopping, by which a resident of a third country can take advantage of the provisions of DTAA.
If an entity without any commercial/business substance, that is, a shell company that exists only on paper, is placed in a holding structure only to avoid tax, the test of "fiscal nullity" — substance over form — is applied.
If the decisionmaking powers of an offshore subsidiary's directors are fully subordinate to the holding company (or beneficiary) such that they are mere puppets, the offshore subsidiary, irrespective of its legal residency, may for all practical purposes be considered a resident of the same jurisdiction to which its holding company (or beneficiary) belongs.
With effect from April 2017, Section 6(3) of the Income Tax Act 1961 provides that if "the place of effective management" of a company is in India, the company will be considered "resident in India". The clause explains "place of effective management" as the "place where key management and commercial decisions that are necessary for the conduct of business of an entity as a whole are in substance made".
What about companies set up in countries that have a DTAA with India?
A DTAA does not stop the I-T Department from denying tax treaty benefits, if it is established that a company has been inserted as the owner of the shares in India, at the time of disposal of the shares to a third party, solely with a view to avoid tax. I-T, in such a situation, is entitled to look at the entire transaction as a whole, and may take into consideration the real transaction between the parties.
The corporate registries of 19 secrecy jurisdictions are part of the Paradise Papers. These are Antigua & Barbuda, Aruba, Bahamas, Barbados, Bermuda, Cayman Islands, Cook Islands, Dominica, Grenada, Labuan, Lebanon, Malta, Marshall Islands, St Kitts & Nevis, St Lucia, St Vincent, Samoa, Trinidad & Tobago and Vanuatu. Of these, India has DTAA with only Malta and Trinidad & Tobago.
How else does offshore secrecy help?
In several ways. For example, unless sold at book value, sale of shares in a company is taxable under Section 56(2)(vii)(a) of the I-T Act. One common practice is to transfer the offshore ownership of a shareholding company without effecting any change in the shareholding records to avoid taxation.
Consider: Company B owns shares of company A. B is owned by company C, which in turn is owned by an individual or company D. If D sells the shares held in A by changing the ownership of C, nothing will reflect in the shareholding records of A, which will still have B as its shareholder.
But if detected by tax authorities, income from such a transaction will be deemed as income accrued in India, and will be taxed accordingly. Section 9(1)(i) of the I-T Act says that "all income accruing or arising, whether directly or indirectly, through or from any business connection in India, or through or from any property in India, or through or from any asset or source of income in India, or through the transfer of a capital asset situate in India" shall be taxed as income accrued in India.
Why is it important to have better tax laws and global tax reforms?
Tax avoidance is a global problem. Recently, global corporations such as Google, Amazon and Starbucks have faced strong regulatory intervention and public backlash for allegedly manipulating legal loopholes to avoid paying tax. In the wake of the Panama Papers, then US President Barack Obama had called for international tax reform to curb the "huge problem" of global tax avoidance and make sure "everyone pays their fair share". Finance Minister Arun Jaitley had said: "It is a stern reminder to all of us that with the G20 initiative, FATCA (Foreign Account Tax Compliance Act, a 2010 US law under which foreign banks are required to report the overseas assets of American citizens) in place, bilateral transactions in place, with effect from 2017, the world is going to be far more transparent…"
What has been the progress so far?
Laws specifying general anti-avoidance rule (GAAR) are in force in countries like the UK, Canada, Australia, New Zealand, South Africa and Hong Kong. There is FATCA in the US. In Europe, anti-tax avoidance measures in the pipeline include a blacklist of offshore tax havens and a common consolidated corporate tax base (CCCTB) for the EU, meant to block transfer of profit to low-tax jurisdictions.
Lack of clarity and absence of appropriate provisions in the statute and/or the treaty regarding the circumstances in which judicial anti-avoidance rules would apply, has led to litigation in India. India's Direct Taxes Code Bill, 2010 envisages creation of an economically efficient, effective direct tax system, proposing GAAR to prevent tax avoidance.
Introduced by the then finance minister Pranab Mukherjee in 2012, GAAR came into effect from April 1, 2017. India introduced this retrospective clarification to the I-T Act to ensure that cross-border transactions of assets would be taxable if they derive, directly or indirectly, their value substantially from assets located in India.
How did The Indian Express go about the investigation?
A team of five reporters scanned the Paradise Papers for records related to India. The Panama Papers had produced 36,957 India-related files; the Paradise Papers threw up over 66,000 such records. Each of these documents was examined for reportable leads.
Next, information from the documents was crosschecked, including through physical verification. In a number of cases, the investigative team and local bureaus of The Indian Express went door-to-door, verifying addresses and identities across the country. Everyone who was being reported on was approached for their versions at least 96 hours before publication.
Sources: CBDT, Supreme Court rulings, ICIJ and GoI's white paper on black money.
The Indian Express website has been rated GREEN for its credibility and trustworthiness by Newsguard, a global service that rates news sources for their journalistic standards.