Incidents of rape against women have risen far more sharply as compared to a rise in other crimes against women. The latest NCRB data for the year 2016 shows that while overall crimes against women have risen by just about 3%, incidents of rape have gone up by 12%.
While 2015 saw the registration of 34,651 cases of rape, this increased to 38,947 in 2016. Conversely, overall crimes against women rose from 3,29,243 in 2015 to 3,38,954 in 2016.
The majority of cases categorised as crimes against women were reported under 'Cruelty by husband or his relatives' (32.6%), followed by 'Assault on woman with intent to outrage her modesty' (25%),'Kidnapping and abduction of women' (19%) and 'Rape' (11.5%).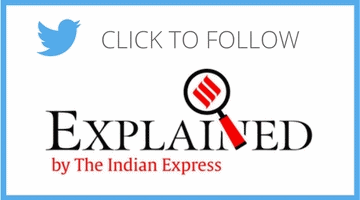 West Bengal (19,302), Rajasthan (13,811) and Uttar Pradesh (11,156) have reported the highest number of incidents of 'cruelty by husband' while Maharashtra (11,396), Uttar Pradesh (11,335) and Madhya Pradesh (8,717) have topped the charts under the category of 'Assault on woman with intent to outrage her modesty'.
Also read | Most atrocities against Dalits involve crimes against women, most cases in Bengaluru
The highest number of rapes have been reported from Madhya Pradesh (4882), Uttar Pradesh (4816) and Maharashtra (4189).
Uttar Pradesh reported 14.5% (49,262 out of 3,38,954 cases) of the total cases of crimes against women, followed by West Bengal (9.6% or 32,513 cases) during 2016.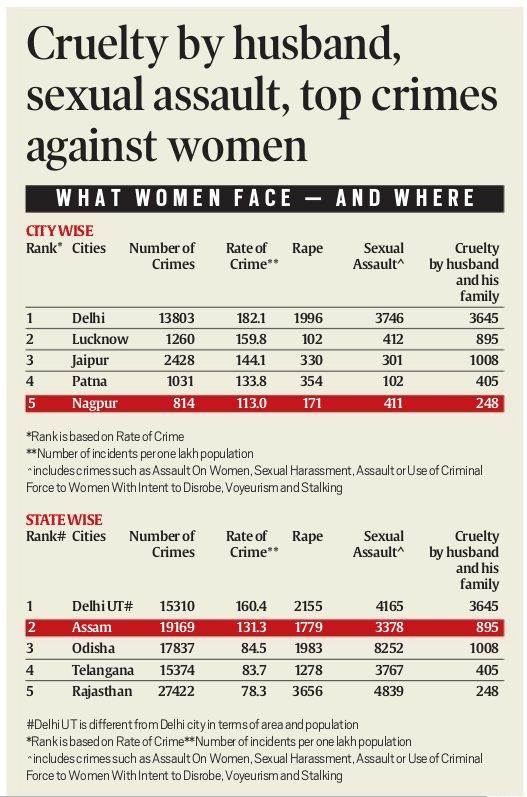 Delhi reported the highest crime rate (160.4) compared to the national average rate of 55.2. Assam was a close second with a rate of 131.3 while Odisha and Telangana recorded rates of just over 80. Rajasthan, which recorded 27,422 cases, had a crime rate of 78.3.
Also read | Huge spike in rape of children, up by 82% from 2015, UP, MP worst states, Tamil Nadu new entrant
Among cities, Delhi topped the charts again, followed by Lucknow which recorded 1260 incidents with a rate of 159.8. Jaipur and Patna followed closely with rates of 144.1 and 133.8 respectively. A surprise entry in the list of cities was Nagpur at the fifth spot with a rate of 113 and a total incident reporting of 814.
Kidnapping and abduction of women accounted for 64,519 cases. Madhya Pradesh (4882), Uttar Pradesh (4816) and Maharashtra (4189) were again top of the list in this category.
The Indian Express website has been rated GREEN for its credibility and trustworthiness by Newsguard, a global service that rates news sources for their journalistic standards.