On Tuesday, Narendra Modi will become the first Indian Prime Minister to speak at the World Economic Forum in Davos in over two decades. In 1997, HD Deve Gowda, then head of a weak, eight-month-old coalition government, had assured the world of the reforms road that India had committed itself to — his speech was to be followed within a month by Finance Minister P Chidambaram's pathbreaking "Dream Budget", which set an enduring benchmark for economic reforms and liberalisation. Twenty-one years on, Modi will address the world's financial and business elite as Prime Minister of one of the world's fastest growing economies — and as head of a government that has taken farreaching steps such as demonetisation and the introduction of the Goods and Services Tax (GST). Significantly, he will speak barely a week before Finance Minister Arun Jaitley presents his government's last full Budget before the Lok Sabha elections of 2019.
Promise and Delivery
Based on his government's visionary Budget for 1997-98, it can be surmised that Deve Gowda went to the WEF with a plan. Exhorting global business leaders to invest in India, he said, "Our sights are set high. Our vision of India is that in the next two decades, India should figure among the world economic powers… This will call for hard political decisions, but I want to dispel all suspicions and concerns about the pace and direction of reforms around which there is a national consensus."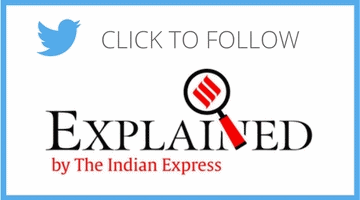 Weeks later, Chidambaram, who too spoke in Davos, announced big reforms in India's direct and indirect taxation policies in his Budget speech, bring them in line with the growing economies of Southeast Asia. Aiming to widen the tax base and encourage investment by corporates, he slashed the marginal tax rate slabs for individuals from 15, 30 and 40 per cent to 10, 20 and 30 per cent respectively, and reduced the corporate tax rate from 40 per cent to 35 per cent.
These marginal tax rate slabs remained the same until the last Budget (2017-18) when Jaitley halved the rate for the lowest bracket to 5 per cent. Over the same period, the government's personal income tax collections grew more than 18 times from Rs 18,800 crore in 1996-97 to Rs 3.49 lakh crore in 2016-17 (provisional figure).
On various other economic fronts too, India has progressed significantly since Gowda addressed the WEF. GDP has grown more than 6 times from $ 400 billion to around $ 2.6 trillion (2017-18); forex reserves have jumped from $ 26.4 billion to $ 413.8 billion. Exports and imports have grown by over 8 times and over 9 times respectively. Annual FDI flows increased from $ 2.8 billion in 1996-97 to $ 43.5 billion in 2016-17. And the benchmark Sensex at the Bombay Stock Exchange has risen from 3,361 on March 31, 1997 to 35,798 on January 22, 2018.
Eye on the Future
The February 2, 1997 edition of The Indian Express headlined the report on Gowda's speech as "Desperate PM woos foreign investment". From there to being the world's sixth largest economy (by nominal GDP), India has come a long way. Prime Minister Modi stresses vikas as his overwhelming preoccupation, and the world will be expecting him to provide insights into his vision for the next decade or two to put India on a par with the developed countries.
His government has already undertaken key reforms including implementing GST, relaxing FDI rules in multiple sectors, and working to make doing business in India easier. The Budget of February 1 — expected by many to be "populist" ahead of crucial elections — will be a litmus test for the government's commitment to reforms.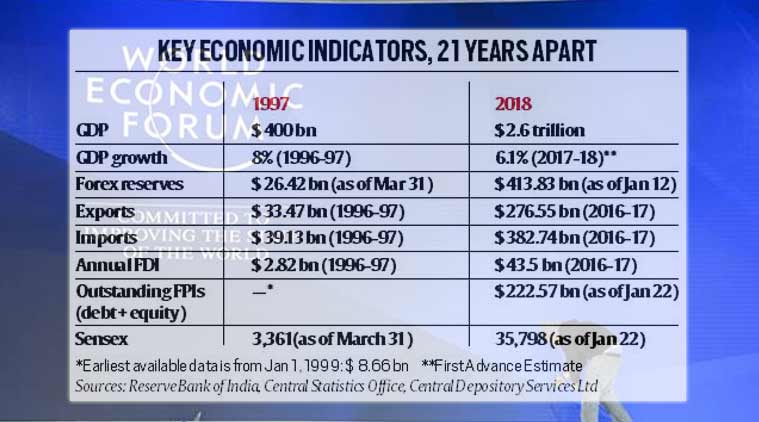 In terms of numbers in Lok Sabha, Modi is India's most powerful PM since Rajiv Gandhi in 1984 — the BJP alone has 282 MPs in the Lower House, and is in power, either on its own or with allies, in 19 states. Compare this with the Prime Ministership of Deve Gowda — his Janata Dal had 46 seats, the United Front had fewer than 200 MPs, and the government, a mish-mash coalition of over 10 parties, was at the mercy of the Congress party.
Modi is in a better position to sell the India story also because the world is infinitely more willing to buy it today. India is set to expand its GDP at around 6.5 per cent in 2017-18, has a strong demographic dividend, a big consumer market, a stable political environment, low interest rates and inflation, and a brand new indirect tax regime. It has received a sovereign credit rating upgrade by Moody's Investors Service recently.
The global economy too, is doing better. The IMF has pegged world output growth at 3.6 per cent this year, up from 3.2 per cent in 2016, and projected it to rise to 3.7 per cent in 2018. This, alongside a 4 per cent jump in global trade volumes, should be good news for Indian exports. India has been projected to grow at over 8 per cent in the medium term by global thinktanks, including the IMF.
There has been some recent good news on private sector investments as well. In November, gross bank credit expanded by 8.3 per cent, and the industrial sector saw an expansion in credit growth for the first time in 14 months — growing by 1 percentage point over the same period the previous year. Rising crude oil prices and swollen NPAs are, however, challenges the government has to deal with.
sandeep.singh@expressindia.com
The Indian Express website has been rated GREEN for its credibility and trustworthiness by Newsguard, a global service that rates news sources for their journalistic standards.